In the News: Homeopathic Teething Gels and Tablets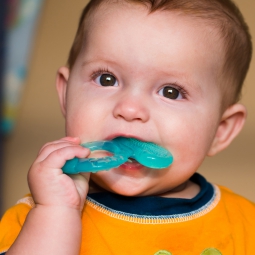 The U.S. Food and Drug Administration (FDA) is warning consumers that homeopathic teething tablets and gels may pose a serious risk to infants and children. The FDA recommends that consumers stop using these products and dispose of any in their possession. Homeopathic teething tablets and gels are distributed by CVS, Hyland's, and possibly others, and are sold as homeopathic products in stores and online.
The FDA is investigating reported serious adverse events regarding homeopathic teething tablets and gels, including seizures in infants and children who were given these products, since a 2010 safety alert about homeopathic teething tablets. That FDA safety alert was the result of an FDA analysis and testing that identified some Hyland's Teething Tablets that contained varying amounts of belladonna, a plant that can be toxic in large amounts.
The agency announced on January 27, 2017 that its laboratory analysis found inconsistent amounts of belladonna in certain homeopathic teething tablets, sometimes far exceeding the amount claimed on the label. The agency is currently investigating this issue, including testing product samples, and will continue to communicate with the public as more information is available. Homeopathic teething tablets and gels have not been evaluated or approved by the FDA for safety or efficacy. The agency is warning consumers that homeopathic teething tablets containing belladonna pose an unnecessary risk to infants and children and urges consumers not to use these products.
FDA has previously recommended that parents and caregivers not use benzocaine products for children younger than 2 years, except under the advice and supervision of a health care professional. Benzocaine—which, like viscous lidocaine, is a local anesthetic—can be found in such over-the-counter products as Anbesol, Hurricaine, Orajel, Baby Orajel Nighttime, and Orabase. The use of benzocaine gels and liquids for mouth and gum pain can lead to a rare but serious—and sometimes fatal—condition called methemoglobinemia, a disorder in which the amount of oxygen carried through the blood stream is greatly reduced. And children under 2 years old appear to be at particular risk.
Instead of teething gels or tablets, the American Academy of Pediatrics recommends gently rubbing or massaging the child's gums with your finger, and giving the child a cool (not cold) teething ring or a clean, wet, cool washcloth to chew on.
Additional Resources