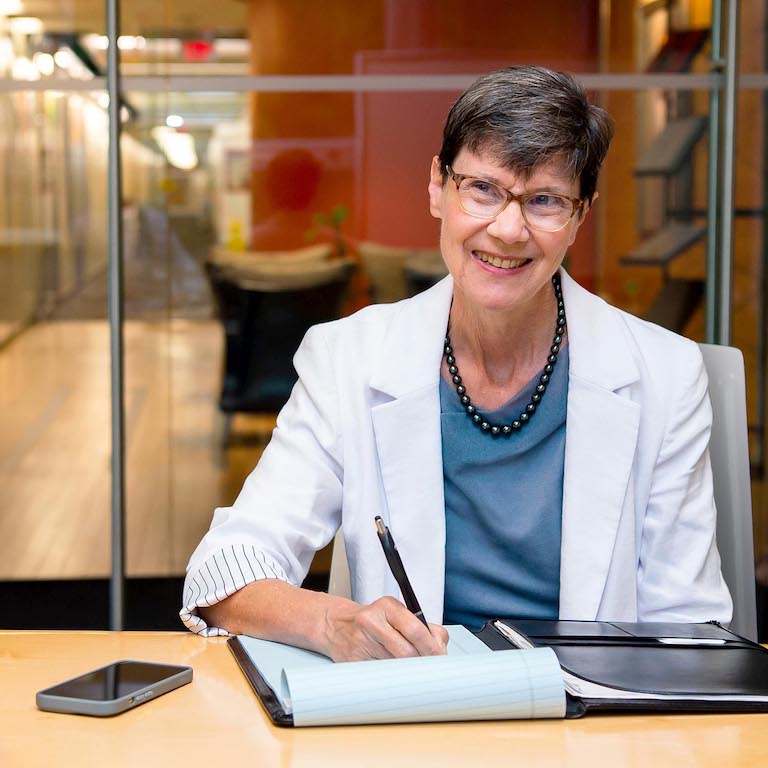 NCCIH Director's Page
Helene Langevin, M.D.
NCCIH Director's Message
April 7, 2021
This message is reposted from the National Library of Medicine's Musings From the Mezzanine. This piece was authored by staff across NIH that serve on the working group for the NIH Common Fund's Bridge2AI program—a new trans-NIH effort to harness the power of AI to propel biomedical and behavioral research forward. 
Read more
---
Director's Profile & Publications
Helene Langevin, M.D., was sworn in as director of the National Center for Complementary and Integrative Health (NCCIH) on November 26, 2018. Prior to her arrival, she worked at the Osher Center for Integrative Medicine, jointly based at Brigham and Women's Hospital and Harvard Medical School, Boston. Dr. Langevin served as director of the Osher Center and professor-in-residence of medicine at Harvard Medical School since 2012. She also previously served as a professor of neurological sciences at the University of Vermont Larner College of Medicine, Burlington.
Read more
---
Dr. Langevin's Research Interests
Dr. Langevin also serves as an Intramural Senior Investigator at the National Institute of Dental and Craniofacial Research. Dr. Langevin is exploring how to keep connective tissue flexible and free from pain, slow aging, and increase the health of the whole body.
Learn more
---
News and Upcoming Events
Dr. Langevin will present at the following meetings:
---
Videos
IHPC Connects: Research for Integrative and Whole Person Health
Dr. Helene Langevin talks about integrative and whole person health research at the Integrative Health Policy Consortium (IHPC) Connects webinar series for health professionals and public health policy makers.
Dr. Helene Langevin – Research!America 20 voices/ 3 minutes/ 1 question
Dr. Langevin answers the question, "What objective, personal or professional, are you most passionate about?" Whole person health means supporting the health and wellbeing of people across multiple domains (physical, social, psychological).
NIH Livestream Recording: "More Stretching, Less Stressing"
When social distancing and working from home, it is important to incorporate movement exercise into your daily routine.