Breaking Down the Barriers to Cannabinoids Research
Director's Page
Helene M. Langevin, M.D.
August 30, 2022
I'm proud to share a newly published Request for Information (RFI), "Investigators' Interests in and Barriers to Research on the Health Effects of Cannabis and its Constituents." The RFI presents an exciting opportunity for members of the research community and other stakeholders to offer insights and perspectives that will help the National Center for Complementary and Integrative Health (NCCIH) consider scientific priorities within our portfolio of cannabinoids research.
There is growing interest among health care providers and the public in understanding the potential therapeutic uses of cannabis-related products. But that interest must be matched by research that can deepen our knowledge and inform health decisions.
Research on cannabinoids is fraught with hurdles. For example, some researchers may not know how to navigate the process of securing a Schedule 1 license. Others might be hindered by the lack of broadly accepted measures for what constitutes a "dose" or modes of administration. Thus, a key step in successfully generating more scientific evidence around the potential clinical uses of cannabis products is to identify barriers to conducting research and subsequently develop approaches that can help overcome them. The RFI responses we receive will help broaden our understanding of the research infrastructure needed to foster rigorous studies and identify areas of interest within the field. While the comments we receive in response to this RFI will help guide future directions, NCCIH is currently working to advance this area of research.
NCCIH has been leading an National Institutes of Health (NIH)-wide working group called the Therapeutic Cannabinoid Research Working Group (t-CReW) with participation from 16 other NIH Institutes, Centers, and Offices (ICOs). This group is working to identify ways to stimulate research evaluating the therapeutic potential of cannabinoids. This RFI is one item originating from the t-CReW. But there are opportunities that investigators can explore right now. NCCIH partnered with ICOs from t-CReW to release a Notice of Special Interest (NOSI), "Promoting Mechanistic Research on Therapeutic and Other Biological Properties of Minor Cannabinoids and Terpenes." The NOSI highlights areas that each supporting ICO is keen to explore and "connects the dots" for investigators by identifying existing grant mechanisms that could potentially fund relevant research. t-CReW also created a webpage (to be published soon) that identifies cannabinoid-related interests, funding opportunities, and other resources to assist investigators in conducting cannabinoid-related research.
Together, these activities are timely, especially given the potential role of cannabinoids in managing pain. The overreliance on opioids has created a public health crisis and incalculable losses across the nation. Driving research that could yield new, potentially safer tools that meet the needs of people who suffer from chronic pain is an essential step in addressing the problem at its root.
More broadly, I see NCCIH's ongoing work in cannabinoids research as a natural extension of our broader effort to advance the scientific understanding of whole person health. Our commitment to whole person research means that, rather than focusing on singular body parts, systems, or interventions, we widen our lens to better recognize the interconnections between each of these. Most research to date on cannabinoids has narrowly focused on the potential harms of tetrahydrocannabinol (THC). As a result, little is understood about the other 110 cannabinoids and 120 terpenes contained within the plant that interact with multiple body systems. Gaining new insights on their properties, used together or in isolation, as well as potential therapeutic uses will open up new directions in whole person research.
It's time to chart a path forward—one that can lead to new understanding and reveal potential novel applications for these complex compounds. For those who have insights and perspectives, I hope you will share them in response to the RFI and help inform our directions.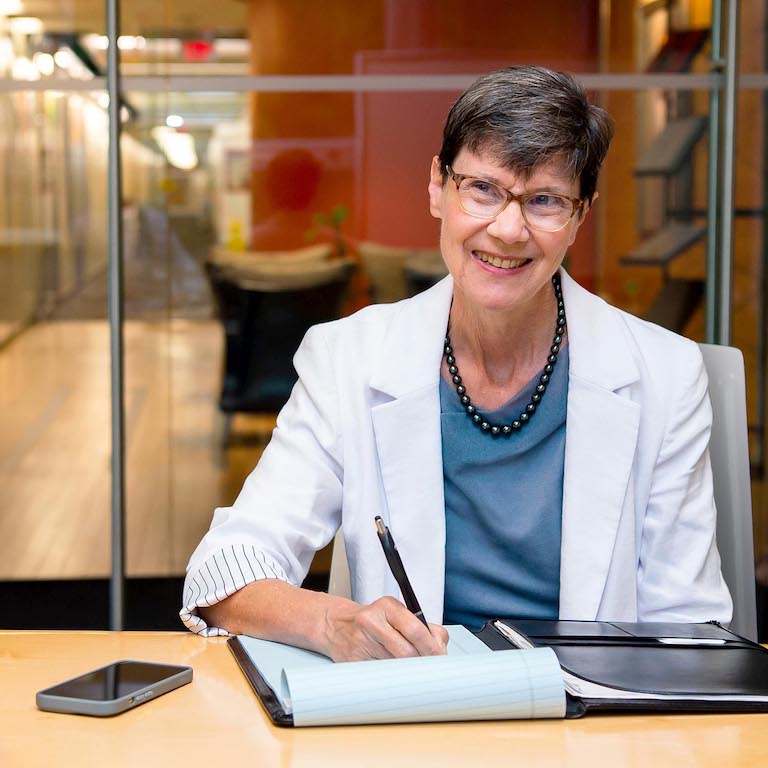 Helene M. Langevin, M.D.