Natural Products Research—Information for Researchers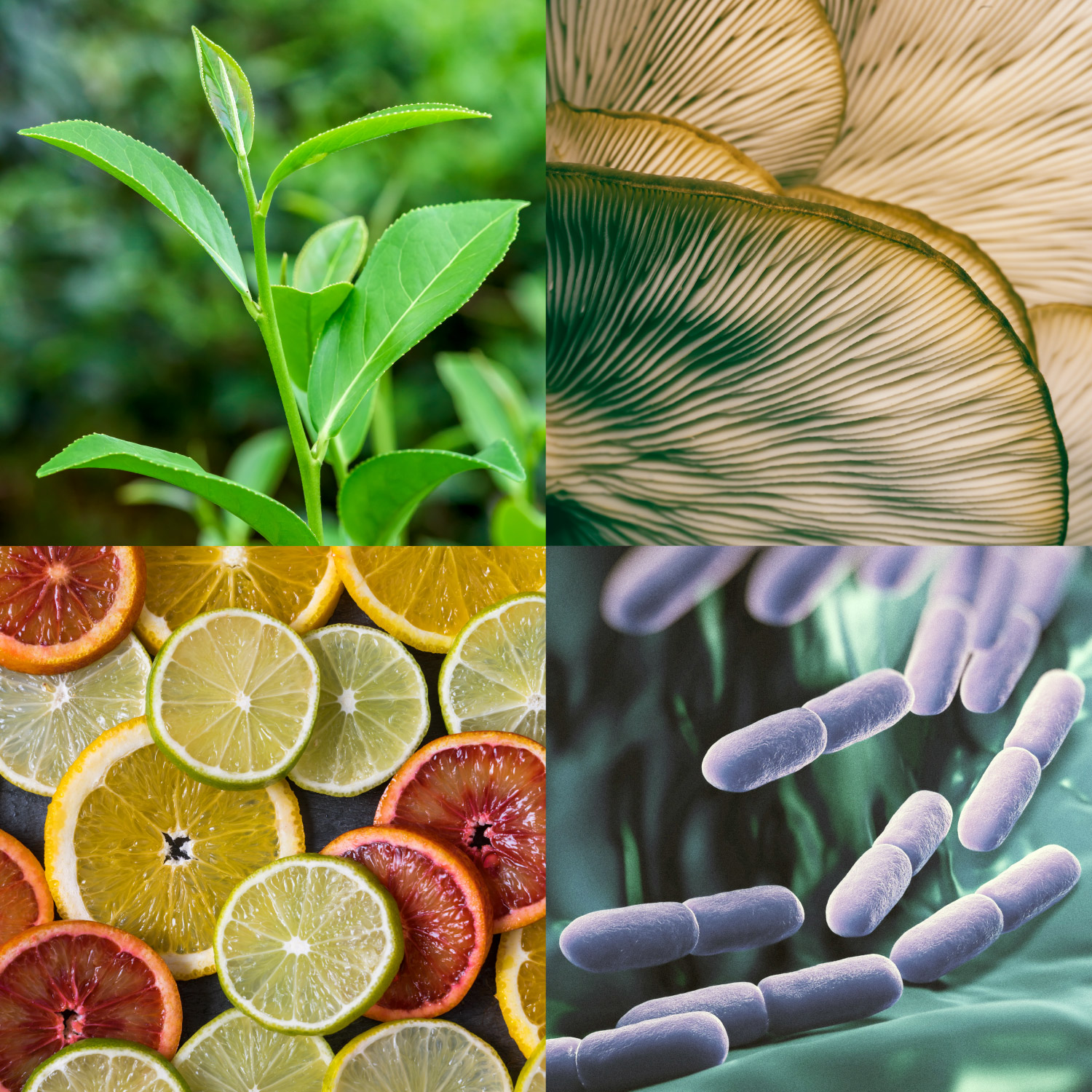 © Getty Images
The National Center for Complementary and Integrative Health (NCCIH) has a broad interest in studying the biological activities of natural products (also called nutritional interventions), such as prebiotics, dietary supplements, botanicals, and vitamins. A strong research emphasis is placed on products for which there is compelling preclinical evidence for potential biological activity that may lead to a health benefit or treatment intervention and/or products that are widely used by the American public.
Many natural products are complex, with multiple molecular constituents that may contribute to their effects. To fully understand their activity, it is necessary to identify the individual components responsible for a specific activity and determine how they interact with other components and biological targets. Preclinical model systems are valuable for these studies.
Clinical trials of natural products are maximally informative if they incorporate well-formulated biological hypotheses, are built on a sound foundation of basic mechanistic and pharmacologic understanding, and incorporate assessment of defined signatures of biological effects. Thus, the design of maximally informative trials of natural products requires mechanistic insight as a first step.
To move the field forward, NCCIH is emphasizing research to overcome methodological and technological hurdles that hinder advances in natural products research. This may be accomplished through technological innovation to monitor and possibly facilitate relevant underlying processes associated with these interventions. For example, omics-based and other high-throughput technologies may help researchers evaluate the validity of hypothesized additive or synergistic effects. In addition, the use of network pharmacology—the study of the web of biologic targets for any bioactive substance—will enable researchers to investigate the complex effects of natural products on multiple targets in ways that were not possible before.
Priorities in Natural Products Research
1. Background and Approach
NCCIH 2021–2025 Strategic Plan
The NCCIH 2021–2025 strategic plan includes complex interactions involving nutritional interventions as one of the Center's top scientific priorities, with four specific priority areas: botanicals, dietary phytochemicals, probiotics, and methods development. 
Botanicals
Use phenotypic models (e.g., cellular, invertebrate, rodent) to study the potential of multiple components in botanical mixtures to act through multiple mechanisms and produce better outcomes than individual constituents.

Explore innovative multisystem mechanistic interactions (e.g., between the digestive system and the brain or between immune and musculoskeletal or myofascial systems) of botanicals.

Investigate the theoretical framework underlying the roles of individual components in multibotanical formulae, including how they contribute to activity, bioavailability, and/or toxicity.
Dietary Phytochemicals
Investigate phytochemicals abundant in fruits and vegetables and how their diverse individual activities interact in combination and across multiple systems.

Develop and test a unifying hypothesis to explain the broad activity of polyphenols.
Probiotics
Explore spatial and temporal dynamics of biological activities of probiotics in the gastrointestinal tract.

Investigate novel mechanisms underlying multisystem effects (e.g., interlinking the gastrointestinal tract, immune system, and brain) of probiotics.

Conduct systematic and mechanistic studies of how the gut microbiome influences interactive effects of probiotics with other dietary interventions.

Explore discrete combinations of plants and/or plant constituents with probiotic strains to ascertain how their combined activities differ from either individually.
Methods Development
Develop and validate computational models to predict the presence of synergistic components in complex dietary interventions.

Develop and test advanced prognostic and diagnostic systems with a combination of biosensors and artificial intelligence to monitor and predict host physiological status improved by probiotics and complex dietary interventions.

Compare and validate various traditional diagnostic and prognostic medical systems in contrast to analogous contemporary Western medical diagnostic and prognostic systems.

Develop and validate in vitro and/or in vivo

 

models capable of simultaneously assessing multiple biological systems.

Develop and validate innovative systems biology models incorporating diverse phytochemical inputs and their interaction with multiple biological systems. 
Other Natural Products Research
In addition to the topics listed above, NCCIH is interested in research on natural products related to the Center's other top scientific priorities. 
For example, within the priority on complementary and integrative management of pain, NCCIH's interests include basic research to elucidate the biological mechanisms that underlie the analgesic properties of natural products, as well as clinical research to determine their analgesic potential. 
Similarly, within the priority on supporting impactful clinical trials of complementary and integrative health approaches, NCCIH's interests include trials of natural products to assess whether their impacts on biological signature(s) are reproducible, as well as fully powered randomized controlled efficacy or effectiveness trials when preliminary data have shown reproducible impacts on biological signature(s).
Natural Product Integrity Policy
NCCIH is committed to the rigorous scientific investigation of natural products used in complementary and integrative health practices. The Center's Natural Product Integrity Policy establishes guidance on the information required by NCCIH for different types of products used in both mechanistic and clinical research, including complex botanical products, complex animal products, probiotics, refined products, and placebos.
Sufficient product information must be included in the application to allow the peer reviewers to evaluate the significance, feasibility, and scientific strength of the project. Investigators must demonstrate that their investigative team has the appropriate product and analytical expertise to select the test and placebo agents for study and to ensure product integrity. For example, botanists trained in taxonomy may be required to identify voucher specimens accurately. Experts in natural products chemistry, microbiology, food science, botany, pharmacognosy, or analytical chemistry, etc., may need to be consulted to provide the analytic rigor with which to evaluate product composition. Applicants requesting funds to research natural products must review NCCIH's guidance regarding required information.
2. Examples of High-Priority Topic Areas
NIH HEAL Initiative
NCCIH is an active participant in the Helping to End Addiction Long-term® Initiative, or NIH HEAL Initiative®, an NIH-wide effort to accelerate scientific solutions to stem the national public health crisis related to opioids. The Center works to identify and fund research in two priority areas outlined in the NIH HEAL Initiative scientific research plan:
To improve treatments for opioid misuse and addiction through identifying new treatment options for addiction and optimizing effective existing therapies
To enhance pain management via improved understanding of chronic pain and developing new, nonaddictive pain treatments
Visit heal.nih.gov/funding/awarded to see examples (which so far have been primarily studies of mind and body modalities) of NCCIH-led or co-led initiatives under the NIH HEAL Initiative.
Biological Mechanisms of Natural Products
Another top priority is to advance fundamental research to increase understanding of basic biological mechanisms of action of natural products. Related requests for applications (RFAs) include:
RFA-AT-18-003, Discovery and Biological Signatures of Diet-Derived Microbial Metabolites (R01 Clinical Trial Optional)
RFA-AT-19-008, Exploring the Mechanisms Underlying Analgesic Properties of Minor Cannabinoids and Terpenes (R01 Clinical Trial Optional)
RFA-OD-19-001, Botanical Dietary Supplements Research Centers (BDSRC) (U19 Clinical Trial Optional)
Improved Methodologies
Many of the research techniques for studying natural products, especially complex mixtures, have remained unchanged over the years and have not yet leveraged advances in biological and chemical methodologies. NCCIH has an interest in catalyzing advances in methods in this area. Examples of announcements include:
NOT-AT-19-025, Notice of Special Interest for Small Business Research for Methods Development in Natural Products Chemistry
RFA-AT-19-003, Center for Natural Product Technology, Methodology, and Productivity Optimization (NP-TEMPO) (U41 Clinical Trial Not Allowed)
RFA-AT-19-002, Natural Products NMR Open Data Exchange (NP-NODE) (U24 Clinical Trial Not Allowed)
Natural Product–Drug Interactions
NCCIH published two RFAs in 2019 that focused on research into the identity and mechanisms of action of natural products that can interfere with pharmacokinetics of commonly consumed medications.
The NIH/NCCIH Natural Product–Drug Interaction (NaPDI) Center of Excellence is addressing issues related to consistency in design, implementation, and documentation of studies to assess clinical relevance of natural product–drug interactions.
Other Information
Potential applicants may also be interested in:
3. NCCIH Funding Opportunities
Current Announcements
NCCIH issues specific funding opportunity announcements (FOAs) for narrow areas of high priority. However, we will accept natural product applications through a number of investigator-initiated grant mechanisms. These include the Parent R01 and R21 announcements, the Omnibus SBIR (R43/R44) and STTR (R41/R42) announcements, and the various training mechanisms, including fellowships (F), mentored training (K), and institutional training (T).
Past NCCIH Research
Examples of NCCIH FOAs for the study of natural products include:
Research Spotlights—Review selected summaries of published NCCIH research.
Search for NCCIH-funded projects in NIH RePORTER.
NCCIH Contact Information
We encourage you to discuss your proposed research with an NCCIH staff member prior to submitting a grant application. Each program staff member is responsible for coordinating research portfolios in various scientific areas. For specific questions in those areas, please review the list of NCCIH program directors and contact the most appropriate individual.
For general questions about natural product research funding, please contact:
D. Craig Hopp, Ph.D.
Deputy Director, Division of Extramural Research
National Center for Complementary and Integrative Health
National Institutes of Health
hoppdc@mail.nih.gov
Patrick Still, Ph.D.
Program Director
National Center for Complementary and Integrative Health
National Institutes of Health
patrick.still@nih.gov