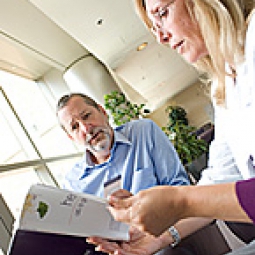 © Matthew Lester
Tips for Working With the Media
The science of complementary health practices is a hot topic in today's news. In 2012, 33.2 percent of U.S. adults used complementary health approaches. They spend about $34 billion annually (out-of-pocket). The media is eager to report on what the science says, and well-placed media coverage raises the profile of your research in both the public and scientific spheres. The media needs you as a reliable news source—one that is willing to help them provide context, background, and balance to a news story.
So, what do you do if you think your research might be newsworthy? Many academic institutions, organizations, and funding agencies have a network of people, such as media relations specialists or public information officers, who can help spread the word. In addition, for research it has funded, the National Center for Complementary and Integrative Health (NCCIH), part of the National Institutes of Health (NIH), is available to consult and assist in these efforts.
Here are five tips to help you work with the media:
Contact your institution's public information officer (PIO) early in the publication process.

Your public information office (sometimes called media relations or public relations) handles the news and media operations affiliated with your institution. Your PIO can collaborate with you to determine whether your publication should be publicized and prepare for media interviews when you publish a newsworthy article. It's a good practice to get in touch when you first receive a grant and let them know about the work you do; they may find other ways to work with you to disseminate information about the science you conduct.

Stay in touch with your funding institute's program officer.

As essential as it is to let your public relations and media teams know about research results you are publishing, it's equally important to inform your funding institute's program officer. This enables the scientific branch of your funding institute to be prepared if the media directly approaches your program officer about your research or related research. It's important to remember that each publication, press release, or other document about research supported by NIH must include an acknowledgment of NIH award support, including the grant number and a disclaimer that states that the content of the research does not represent the official views of NIH.

A list of NCCIH's Division of Extramural Research program directors is available.

Contact your funding institute's office of communications.

The NIH Office of Extramural Research asks that prior to issuing a press release concerning the outcome of your research, you notify the awarding institute or center at NIH—to allow for coordination. Media specialists in NCCIH's Office of Communications and Public Liaison work closely with the press to highlight interesting research related to complementary health practices. By informing NCCIH's communications team about upcoming study results, the media specialists can coordinate additional outreach through the NCCIH Web site as well as through other NCCIH-based information outlets, when appropriate.

Update NIH RePORTER with your recently published studies.

NIH maintains NIH RePORTER, a database of federally funded biomedical research, which the public can search to learn about the research NIH funds. NIH RePORTER includes a new feature that lists relevant press releases and other types of press materials related to a given project. This database draws from the profile you maintain in eRA Commons. Keeping an up-to-date profile will help you present your most current research to the press, policy makers, peer review panels, and the general public.

Keep in mind the importance of plain language.

When reporters write about a science- or health-related topic, they often boil down complex research results into quick sound bites that fall into two categories: what works and what doesn't work. When doing an interview, provide the reporter with your study's bottom-line scientific message. By using clear, concise, and easy-to-understand language to describe your work, you will be able to share your research to a more global audience.
If you have any questions or concerns, please contact
NCCIH's Office of Communications and Public Liaison Press Team:
301-496-7790 / nccihpress@mail.nih.gov