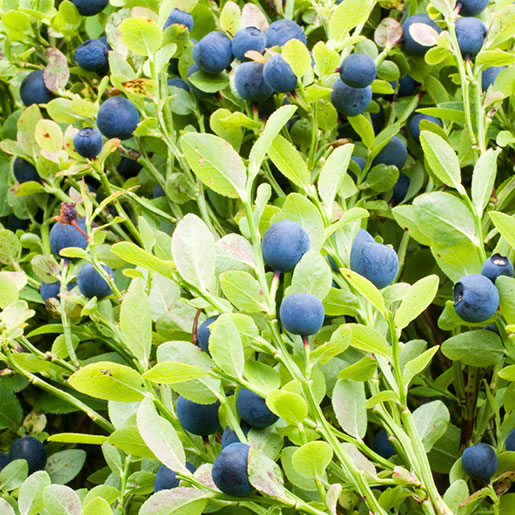 Common Names: bilberry, European blueberry, whortleberry, huckleberry
Latin Names: Vaccinium myrtillus
The bilberry bush is native to northern areas of Europe and Asia, the northern United States, and Canada. Its dark berries resemble blueberries.
Its name is derived from the Danish word bollebar, which means "dark berry."
Bilberry has been used for medicinal purposes since the Middle Ages. The berries and leaves are the parts of the plant that are used. Historically, bilberry has been used for a variety of conditions, including diarrhea, inflammation of the mouth, urinary problems, and diabetes. It's also been used traditionally to prevent scurvy, due to its high vitamin C content. During World War II, British pilots ate bilberry jam, thinking it would improve their night vision.
Today, bilberry is promoted as a dietary supplement for night vision, cataracts, varicose veins, and other conditions such as atherosclerosis (in which plaque builds up in arteries).
There are few high-quality clinical trials (studies in people) of bilberry supplements.
There's little scientific evidence to support the use of bilberry for many health conditions.
A few recent studies have suggested possible beneficial effects of bilberry. However, these studies involved small numbers of people. More research would be needed to confirm these findings.

Results from a small clinical study (24 people) suggest that consuming bilberries may reduce gum inflammation and bleeding.
Data from a Japanese study with 88 office workers suggest that a bilberry extract helped with eye fatigue.
Data from a small study with 21 people suggest that consuming bilberry juice for 5 days before and 2 days after a half-marathon may lead to small to moderate transient increases in muscle soreness and inflammation in recreationally trained runners.

The berries have a high concentration of polyphenols called anthocyanins, which some studies suggest may have health benefits.
What Do We Know About Safety?
Bilberry fruit is considered safe when consumed in amounts typically found in foods, or as an extract for 6 months to a year.
Bilberry leaves may be unsafe when taken orally (by mouth) in high doses or for long periods of time.
Little is known about whether it's safe to use bilberry during pregnancy or while breastfeeding. (Consuming amounts typically found in foods is considered safe.)
Bilberry may interact with a cancer drug called erlotinib (Tarceval), antidiabetes drugs, or medications that slow blood clotting. If you're taking medicine, talk with your health care provider before taking bilberry supplements.
Take charge of your health—talk with your health care providers about any complementary health approaches you use. Together, you can make shared, well-informed decisions.
NCCIH Clearinghouse
The NCCIH Clearinghouse provides information on NCCIH and complementary and integrative health approaches, including publications and searches of Federal databases of scientific and medical literature. The Clearinghouse does not provide medical advice, treatment recommendations, or referrals to practitioners.
Toll-free in the U.S.: 1-888-644-6226
Telecommunications relay service (TRS): 7-1-1
Website: https://www.nccih.nih.gov
Email: info@nccih.nih.gov (link sends email)
Office of Dietary Supplements (ODS), National Institutes of Health (NIH)
ODS seeks to strengthen knowledge and understanding of dietary supplements by evaluating scientific information, supporting research, sharing research results, and educating the public. Its resources include publications (such as Dietary Supplements: What You Need To Know) and fact sheets on a variety of specific supplement ingredients and products (such as vitamin D and multivitamin/mineral supplements).
Website: https://ods.od.nih.gov
Email: ods@nih.gov (link sends email)
Bilberry. Natural Medicines website. Accessed at naturalmedicines.therapeuticresearch.com on October 14, 2019. [Database subscription].
Bilberry. LiverTox: Clinical and Research Information on Drug-Induced Liver Injury [Internet]. Bethesda, MD: National Institute of Diabetes and Digestive and Kidney Diseases. Accessed at https://www.ncbi.nlm.nih.gov/books/NBK548250/ on October 29. 2019.
Lynn A, Garner S, Nelson N, et al. Effect of bilberry juice on indices of muscle damage and inflammation in runners competing a half-marathon: a randomised, placebo-controlled trial. Journal of the International Society of Sports Nutrition. 2018;15:22.
Ozawa Y, Kawashima M, Inoue S, et al. Bilberry extract supplementation for preventing eye fatigue in video display terminal workers. Journal of Nutrition, Health & Aging. 2015;19(5):548-554.
Tjelle TE, Holtung L, Bøhn SK, et al. Polyphenol-rich juices reduce blood pressure measures in a randomized controlled trial in high normal and hypertensive volunteers. British Journal of Nutrition. 2015;114(7):1054-1063.
Widén C, Coleman M, Critén M, et al. Consumption of bilberries controls gingival inflammation. International Journal of Molecular Sciences. 2015;16(5):10,665-10,673.
Yamaura K, Shimada M, Ueno K. Anthocyanins from bilberry (Vaccinium myrtillus L.) alleviate pruritus in a mouse model of chronic allergic contact dermatitis. Pharmacognosy Research. 2011;3(3):173-177.
This publication is not copyrighted and is in the public domain. Duplication is encouraged.
NCCIH has provided this material for your information. It is not intended to substitute for the medical expertise and advice of your health care provider(s). We encourage you to discuss any decisions about treatment or care with your health care provider. The mention of any product, service, or therapy is not an endorsement by NCCIH.
Last Updated: August 2020