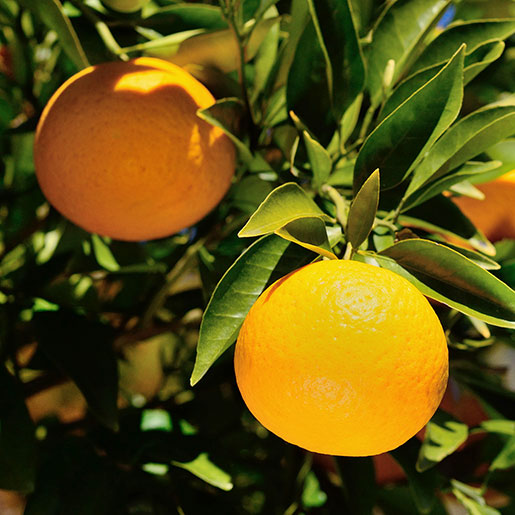 Common Names: bitter orange, Seville orange, sour orange, zhi shi
Latin Names: Citrus aurantium
Native to eastern Africa, the Arabian Peninsula, Syria, and Southeast Asia, bitter orange now is grown throughout the Mediterranean region and elsewhere, including California and Florida.
Bitter orange has been used in traditional Chinese medicine for indigestion, nausea, and constipation.
Today, various bitter orange products are promoted for heartburn, nasal congestion, weight loss, appetite stimulation or suppression, and athletic performance. Bitter orange is also applied to the skin for pain, bruises, fungal infections, and bedsores. Bitter orange is used in cooking and for adding flavor to beer and spirits.
The fruit of bitter orange contains p-synephrine and other naturally occurring chemicals. p-Synephrine is structurally similar to ephedrine, the main component in the herb ephedra, but p-synephrine has different pharmacologic properties (how the component acts). The U.S. Food and Drug Administration banned the use of ephedra in dietary supplements because it raises blood pressure and is linked to heart attack and stroke. Bitter orange is commonly used as a substitute for ephedra in dietary supplements.
The National Collegiate Athletic Association (NCAA) has placed "synephrine (bitter orange)" on its current list of banned drugs, listing it as a stimulant.
A small number of studies have investigated the usefulness of bitter orange for health purposes in people.
Applying bitter orange oil to the skin may help with ringworm, jock itch, and athlete's foot infections.
There's not enough scientific evidence to show whether bitter orange is helpful for other health purposes, such as weight loss, anxiety, and premenstrual syndrome.
What Do We Know About Safety?
Bitter orange is likely safe when used orally in amounts commonly found in foods.
There is one case report of a woman having a faster-than-normal heart rate at rest after taking a dietary supplement that contained only bitter orange. There are other case reports of healthy people experiencing fainting, angina, heart attack, and stroke after taking bitter orange as part of multicomponent products. However, because these products contained multiple ingredients, it is difficult to know the role that bitter orange played.
Evidence regarding the effects of bitter orange (alone or combined with other substances, such as caffeine and green tea) on the heart and cardiovascular system is inconclusive. Some studies showed that bitter orange raised blood pressure and heart rate, but other studies showed that bitter orange didn't have this effect at commonly used doses. 
Some sources list bitter orange as a stimulant whereas other sources say that it's not a stimulant at commonly used doses.
Little is known about whether it's safe to use bitter orange during pregnancy or while breastfeeding.
Take charge of your health—talk with your health care providers about any complementary health approaches you use. Together, you can make shared, well-informed decisions.
NCCIH Clearinghouse
The NCCIH Clearinghouse provides information on NCCIH and complementary and integrative health approaches, including publications and searches of Federal databases of scientific and medical literature. The Clearinghouse does not provide medical advice, treatment recommendations, or referrals to practitioners.
Toll-free in the U.S.: 1-888-644-6226
Telecommunications relay service (TRS): 7-1-1
Website: https://www.nccih.nih.gov
Email: info@nccih.nih.gov (link sends email)
Office of Dietary Supplements (ODS), National Institutes of Health (NIH)
ODS seeks to strengthen knowledge and understanding of dietary supplements by evaluating scientific information, supporting research, sharing research results, and educating the public. Its resources include publications (such as Dietary Supplements: What You Need To Know) and fact sheets on a variety of specific supplement ingredients and products (such as vitamin D and multivitamin/mineral supplements).
Website: https://ods.od.nih.gov
Email: ods@nih.gov (link sends email)
Bitter orange. Natural Medicines website. Accessed at naturalmedicines.therapeuticresearch.com on November 14, 2019. [Database subscription].
Bouchard NC, Howland MA, Greller HA, et al. Ischemic stroke associated with use of an ephedra-free dietary supplement containing synephrine. Mayo Clinic Proceedings. 2005;80(4):541-545.
Firenzuoli F, Gori L, Galapai C. Adverse reaction to an adrenergic herbal extract (Citrus aurantium). Phytomedicine. 2005;12(3):247-248.
Gange CA, Madias C, Felix-Getzik EM, et al. Variant angina associated with bitter orange in a dietary supplement. Mayo Clinic Proceedings. 2006;81(4):545-548.
Mannucci C, Calapai F, Cardia L, et al. Clinical pharmacology of Citrus aurantium and Citrus sinensis for the treatment of anxiety. Evidence-Based Complementary and Alternative Medicine. 2018;2018:3624094.
Nykamp DL, Fackih MN, Compton AL. Possible association of acute lateral-wall myocardial infarction and bitter orange supplement. Annals of Pharmacotherapy. 2004;38(5):812-816. 
Office of Dietary Supplements website. Dietary Supplements for Weight Loss. Accessed at https://ods.od.nih.gov/factsheets/WeightLoss-HealthProfessional/ on November 14, 2019.
Orange peel, bitter. In: Blumenthal M, Goldberg A, Brinckmann J, eds. Herbal Medicine: Expanded Commission E Monographs. Newton, MA: Integrative Medicine Communications; 2000:287-289.
Rasmussen CB, Glisson JK, Minor DS. Dietary supplements and hypertension: potential benefits and precautions. Journal of Clinical Hypertension. 2012;14(7):467-471.
Shara M, Stohs SJ, Smadi MM. Safety evaluation of p-synephrine following 15 days of oral administration to healthy subjects: a clinical study. Phytotherapy Research. 2018;32(1);125-131.
Smith TB, Staub BA, Natarajan GM, et al. Acute myocardial infarction associated with dietary supplements containing 1,3 dimethylamine and Citrus aurantium. Texas Heart Institute Journal. 2014;41(1):70-72.
Stohs SJ, Badmaev V. A review of natural stimulant and non-stimulant thermogenic agents. Phytotherapy Research. 2016;30(5):732-740.
Thomas JE, Munir JA, McIntyre PZ, et al. STEMI in a 24-year-old man after use of a synephrine-containing dietary supplement: a case report and review of the literature. Texas Heart Institute Journal. 2009;36(6):586-590.
This publication is not copyrighted and is in the public domain. Duplication is encouraged.
NCCIH has provided this material for your information. It is not intended to substitute for the medical expertise and advice of your health care provider(s). We encourage you to discuss any decisions about treatment or care with your health care provider. The mention of any product, service, or therapy is not an endorsement by NCCIH.