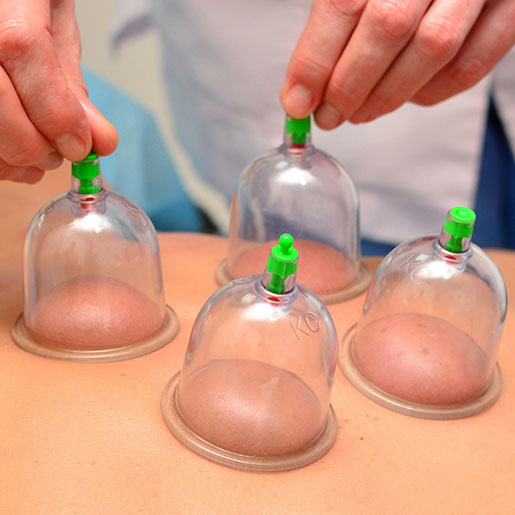 Cupping is a practice used in traditional medicine in several parts of the world, including China and the Middle East. It involves creating suction on the skin using a glass, ceramic, bamboo, or plastic cup. Negative pressure is created in the cup either by applying a flame to the cup to remove oxygen before placing it on the skin or by attaching a suction device to the cup after it is placed on the skin. In "wet cupping," the skin is pierced, and blood flows into the cup. "Dry cupping" doesn't involve piercing the skin.
There's been some research on cupping, but most of it is of low quality.
Cupping may help reduce pain, but the evidence for this isn't very strong.
There's not enough high-quality research to allow conclusions to be reached about whether cupping is helpful for other conditions.
Cupping leaves temporary marks on the skin. The origin of these marks should be explained to health care providers so that they won't be mistaken for signs of physical abuse.
Cupping can cause side effects such as persistent skin discoloration, scars, burns, and infections, and may worsen eczema or psoriasis.
Rare cases of severe side effects have been reported, such as bleeding inside the skull (after cupping on the scalp) and anemia from blood loss (after repeated wet cupping).
Because cupping equipment can become contaminated with blood (intentionally in wet cupping or inadvertently in dry cupping), using the same equipment on more than one person, without sterilization between patients, can spread bloodborne diseases such as hepatitis B and C.
NCCIH Clearinghouse
The NCCIH Clearinghouse provides information on NCCIH and complementary and integrative health approaches, including publications and searches of Federal databases of scientific and medical literature. The Clearinghouse does not provide medical advice, treatment recommendations, or referrals to practitioners.
Toll-free in the U.S.: 1-888-644-6226
Telecommunications relay service (TRS): 7-1-1
Website: https://www.nccih.nih.gov
Email: info@nccih.nih.gov (link sends email)
This publication is not copyrighted and is in the public domain. Duplication is encouraged.
NCCIH has provided this material for your information. It is not intended to substitute for the medical expertise and advice of your health care provider(s). We encourage you to discuss any decisions about treatment or care with your health care provider. The mention of any product, service, or therapy is not an endorsement by NCCIH.
Last Updated: November 2018