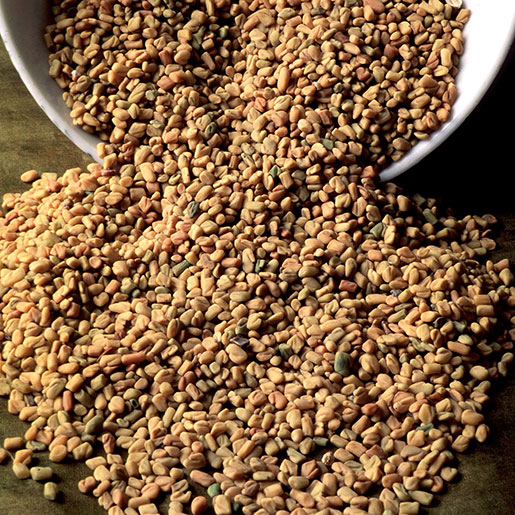 Latin Names: Trigonella foenum-graecum
Fenugreek is a clover-like herb native to the Mediterranean region, southern Europe, and western Asia. Its seeds, which smell and taste like maple syrup, have been used in cooking and as medicine. Fenugreek is used as an ingredient in spice blends and a flavoring agent in foods, beverages, and tobacco. Fenugreek extracts are also used in soaps and cosmetics.
In North Africa, Asia, and southern Europe, fenugreek was traditionally used for diabetes and to increase milk supply in women who were breastfeeding.
Today, fenugreek is promoted as a dietary supplement for diabetes, menstrual cramps, and other conditions and to stimulate milk production during breastfeeding.
We have little high-quality evidence about the effects of fenugreek on health conditions, but we do have a fair amount of information on its potential harmful effects.
A small number of studies have suggested that fenugreek may help lower blood sugar levels in people with diabetes or prediabetes, but most of these studies were not of high quality.
It's uncertain whether fenugreek can increase milk supply in breastfeeding women; studies have had mixed results.
The evidence on fenugreek for other health conditions is too limited for any conclusions to be reached.
Research partly funded by NCCIH is examining the effects of fenugreek on the function of adipose (fat) tissue and the composition of the gut microbiota (the microorganisms that live in the digestive tract) in mice.
What Do We Know About Safety?
Fenugreek is believed to be safe in the amounts commonly found in foods. Its safety in larger doses is uncertain. It should not be used by children as a supplement. Potential side effects of fenugreek include diarrhea, nausea, and other digestive tract symptoms and rarely, dizziness and headaches. Large doses may cause a harmful drop in blood sugar. Fenugreek can cause allergic reactions in some people. Cases of liver toxicity have been reported in people taking fenugreek alone or in combination with other herbs.
Fenugreek is not safe for use during pregnancy in amounts greater than those found in food; its use has been linked to increased risks of birth defects in both animals and people. Little is known about whether it's safe to use fenugreek in amounts greater than those found in food while breastfeeding.
Take charge of your health—talk with your health care providers about any complementary health approaches you use. Together, you can make shared, well-informed decisions.
NCCIH Clearinghouse
The NCCIH Clearinghouse provides information on NCCIH and complementary and integrative health approaches, including publications and searches of Federal databases of scientific and medical literature. The Clearinghouse does not provide medical advice, treatment recommendations, or referrals to practitioners.
Toll-free in the U.S.: 1-888-644-6226
Telecommunications relay service (TRS): 7-1-1
Website: https://www.nccih.nih.gov
Email: info@nccih.nih.gov (link sends email)
Office of Dietary Supplements (ODS), National Institutes of Health (NIH)
ODS seeks to strengthen knowledge and understanding of dietary supplements by evaluating scientific information, supporting research, sharing research results, and educating the public. Its resources include publications (such as Dietary Supplements: What You Need To Know) and fact sheets on a variety of specific supplement ingredients and products (such as vitamin D and multivitamin/mineral supplements).
Website: https://ods.od.nih.gov
Email: ods@nih.gov (link sends email)
Fenugreek. Drugs and Lactation Database (LactMed). Bethesda, MD: National Library of Medicine; 2019. Accessed at https://www.ncbi.nlm.nih.gov/books/NBK501779/ on February 18, 2020.
Fenugreek. Natural Medicines website. Accessed at naturalmedicines.therapeuticresearch.com on November 11, 2019. [Database subscription].
Gong J, Fang K, Dong H, et al. Effect of fenugreek on hyperglycaemia and hyperlipidemia in diabetes and prediabetes: a meta-analysis. Journal of Ethnopharmacology. 2016;194:260-268.
Ouzir M, El Bairi K, Amzazi S. Toxicological properties of fenugreek (Trigonella foenum graecum). Food and Chemical Toxicology. 2016;96:145-154.
Pattanittum P, Kunyanone N, Brown J, et al. Dietary supplements for dysmenorrhea. Cochrane Database of Systematic Reviews. 2016;(3):CD002124. Accessed at www.cochranelibrary.com/ on March 3, 2020.
This publication is not copyrighted and is in the public domain. Duplication is encouraged.
NCCIH has provided this material for your information. It is not intended to substitute for the medical expertise and advice of your health care provider(s). We encourage you to discuss any decisions about treatment or care with your health care provider. The mention of any product, service, or therapy is not an endorsement by NCCIH.
Last Updated: August 2020