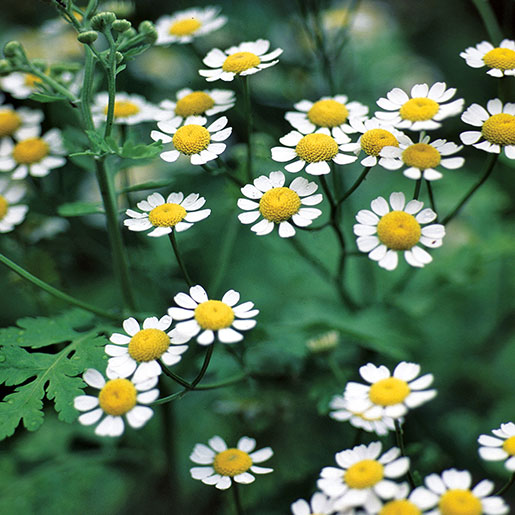 Common Names: feverfew, bachelor's buttons, featherfew
Latin Names: Tanacetum parthenium, Chrysanthemum parthenium, Matricaria parthenium
Feverfew grows naturally throughout Europe and North and South America.
Historically, people have used feverfew for fevers, headaches, constipation, diarrhea, difficulty in labor, and dizziness.
Today, people use feverfew as a dietary supplement for migraine headache prevention, problems with menstruation, rheumatoid arthritis, psoriasis, allergies, asthma, tinnitus (ringing or roaring sounds in the ears), dizziness, nausea, vomiting, and for intestinal parasites. Topically, people use it as a skin cleanser to reduce or prevent skin infections and for toothaches.
The dried leaves—and sometimes flowers and stems—of feverfew are made into capsules, tablets, and liquid extracts, and teas.
Only a few studies have looked into feverfew's use for migraine headache. There's little or no evidence about feverfew for any other health conditions.
Some research suggests that feverfew may help to prevent migraine headaches, but results have been mixed. However, evidence-based guidelines from the American Academy of Neurology and the American Headache Society suggest that a feverfew extract may be effective and should be considered for migraine prevention.
There's not enough evidence to know if feverfew helps other conditions.
What Do We Know About Safety?
No serious side effects have been reported from feverfew. Side effects can include nausea, digestive problems, and bloating; if the fresh leaves are chewed, sores and irritation of the mouth may occur.
People who take feverfew for a long time and then stop taking it may have difficulty sleeping, headaches, anxiety, and stiff and painful muscles.
Do not take feverfew while pregnant because it may affect uterine contractions.
Handling the plant may cause skin irritation.
Tell all your health care providers about any complementary or integrative health approaches you use. Give them a full picture of what you do to manage your health. This will help ensure coordinated and safe care.
NCCIH Clearinghouse
The NCCIH Clearinghouse provides information on NCCIH and complementary and integrative health approaches, including publications and searches of Federal databases of scientific and medical literature. The Clearinghouse does not provide medical advice, treatment recommendations, or referrals to practitioners.
Toll-free in the U.S.: 1-888-644-6226
tty (for deaf and hard-of-hearing callers):
1-866-464-3615
Website: https://nccih.nih.gov/
Email: info@nccih.nih.gov (link sends e-mail)
Office of Dietary Supplements (ODS), National Institutes of Health (NIH)
ODS seeks to strengthen knowledge and understanding of dietary supplements by evaluating scientific information, supporting research, sharing research results, and educating the public. Its resources include publications (such as Dietary Supplements: What You Need to Know), fact sheets on a variety of specific supplement ingredients and products (such as vitamin D and multivitamin/mineral supplements), and the PubMed Dietary Supplement Subset.
Website: https://ods.od.nih.gov/
Email: ods@nih.gov (link sends e-mail)
This publication is not copyrighted and is in the public domain. Duplication is encouraged.
NCCIH has provided this material for your information. It is not intended to substitute for the medical expertise and advice of your health care provider(s). We encourage you to discuss any decisions about treatment or care with your health care provider. The mention of any product, service, or therapy is not an endorsement by NCCIH.
Last Updated: September 2019