How To Find Information About Complementary Health Approaches on PubMed
Curious about whether a dietary supplement like St. John's wort or echinacea, or a complementary health approach such as yoga or acupuncture, may be safe and effective for a particular health condition? You can find evidence-based information on the National Center for Complementary and Integrative Health's (NCCIH) Web site at nccih.nih.gov. Or, if you'd like to look for individual scientific studies on certain complementary approaches, you can search PubMed®. The National Library of Medicine (NLM) maintains PubMed, a database that gives access to and identifies millions of published studies. PubMed often is used by researchers and health care providers, but it's available for anyone who wants science-based information on various health practices or products. With an Internet connection, this wealth of medical knowledge is at your fingertips.
To help you find what you're looking for on PubMed, follow the instructions below.
Start Your Search
1. Once you decide on the topic of your search, go to PubMed (type www.ncbi.nlm.nih.gov/pubmed in the address bar). You'll see: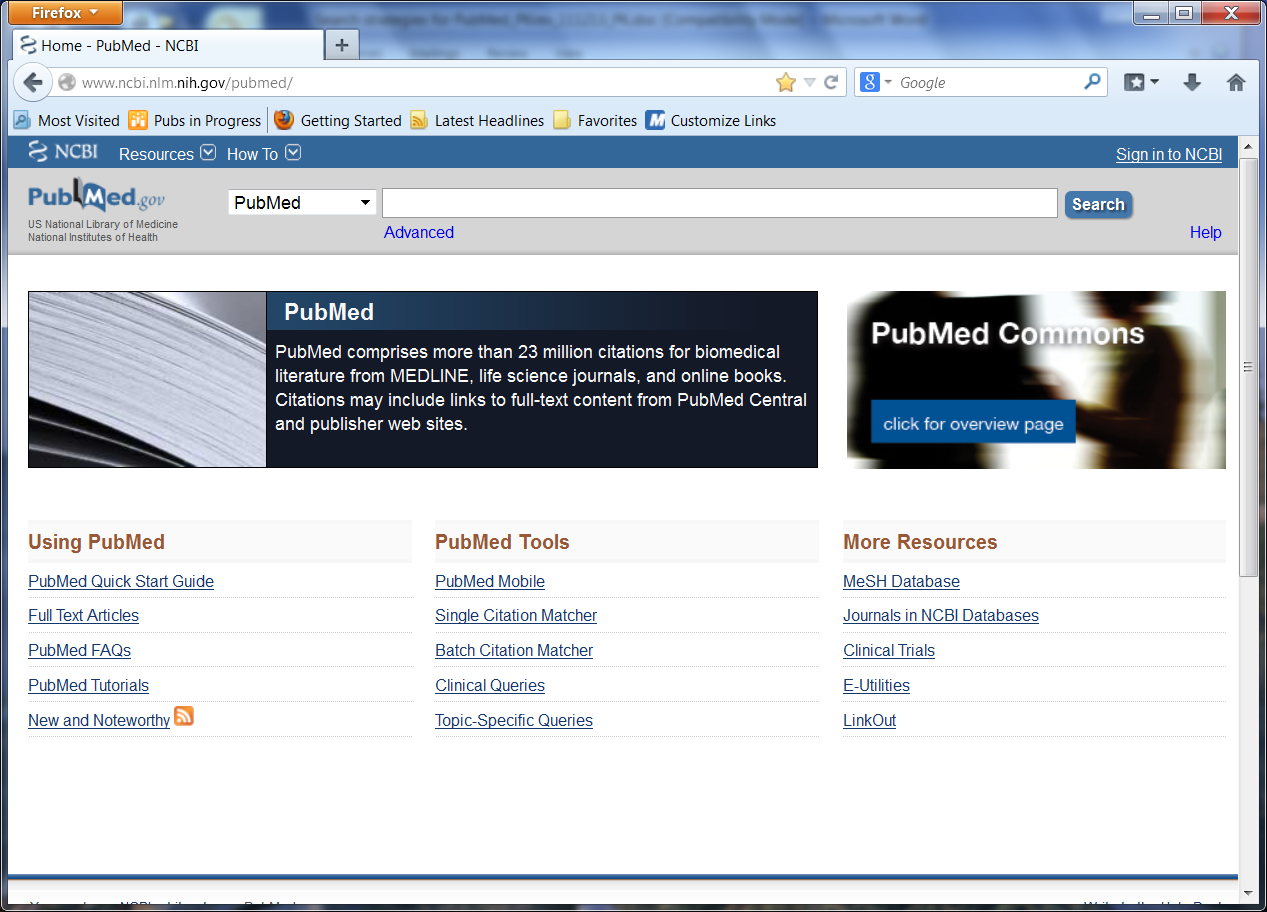 2. Enter your topic in the search bar. Perhaps you have symptoms of the common cold and a friend has suggested you take a dietary supplement called echinacea. After looking at NCCIH's information on this, you decide you want to do additional research on echinacea by reading studies about it. First, enter the word "echinacea" into the blank bar at the top of the screen. You'll see a drop-down menu that offers suggestions on topics related to echinacea.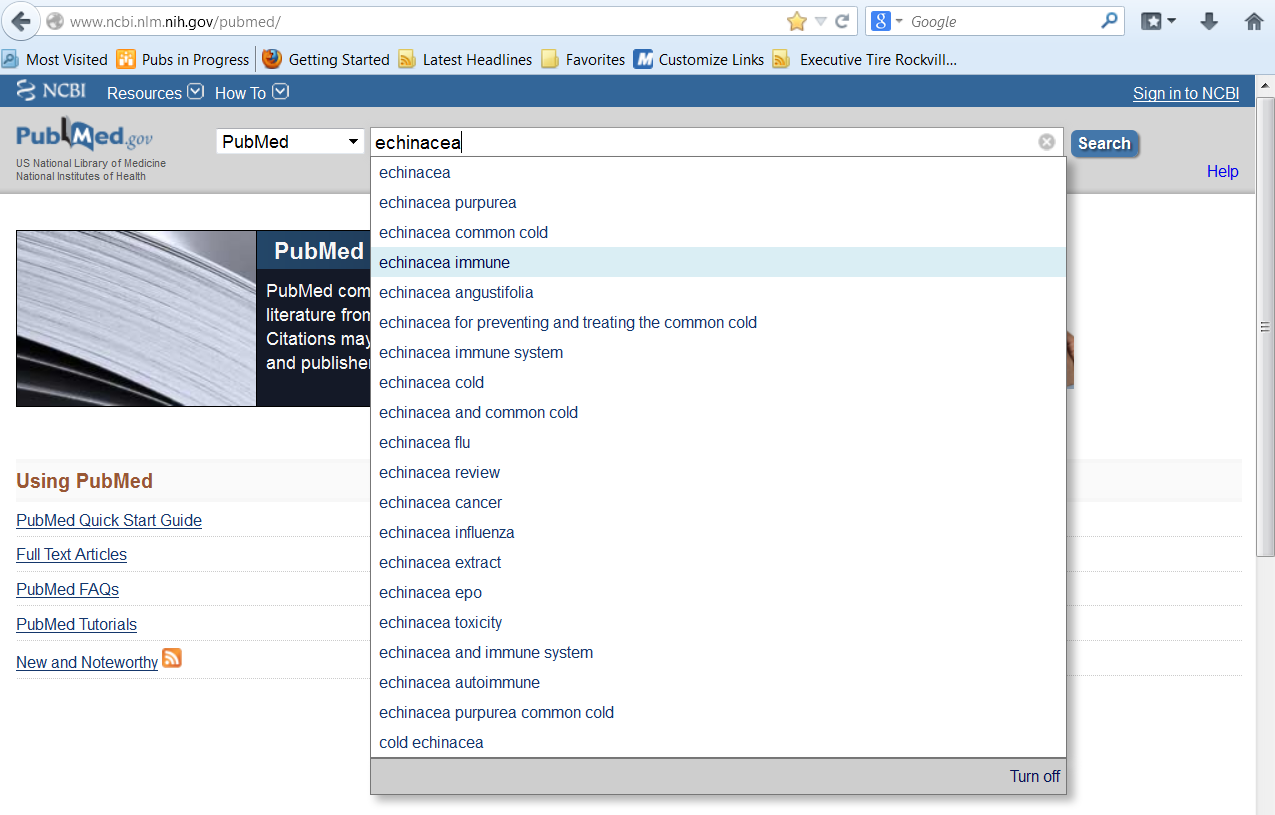 3. If you don't see the topic you're interested in, you can add the specific words in the search bar. Maybe you want to find out if the product is safe, but you don't see the words "safe" or "safety" in the drop-down list. Add "safety" in the search bar and click "Search." This gives you a list of published articles that discuss "echinacea" and "safety."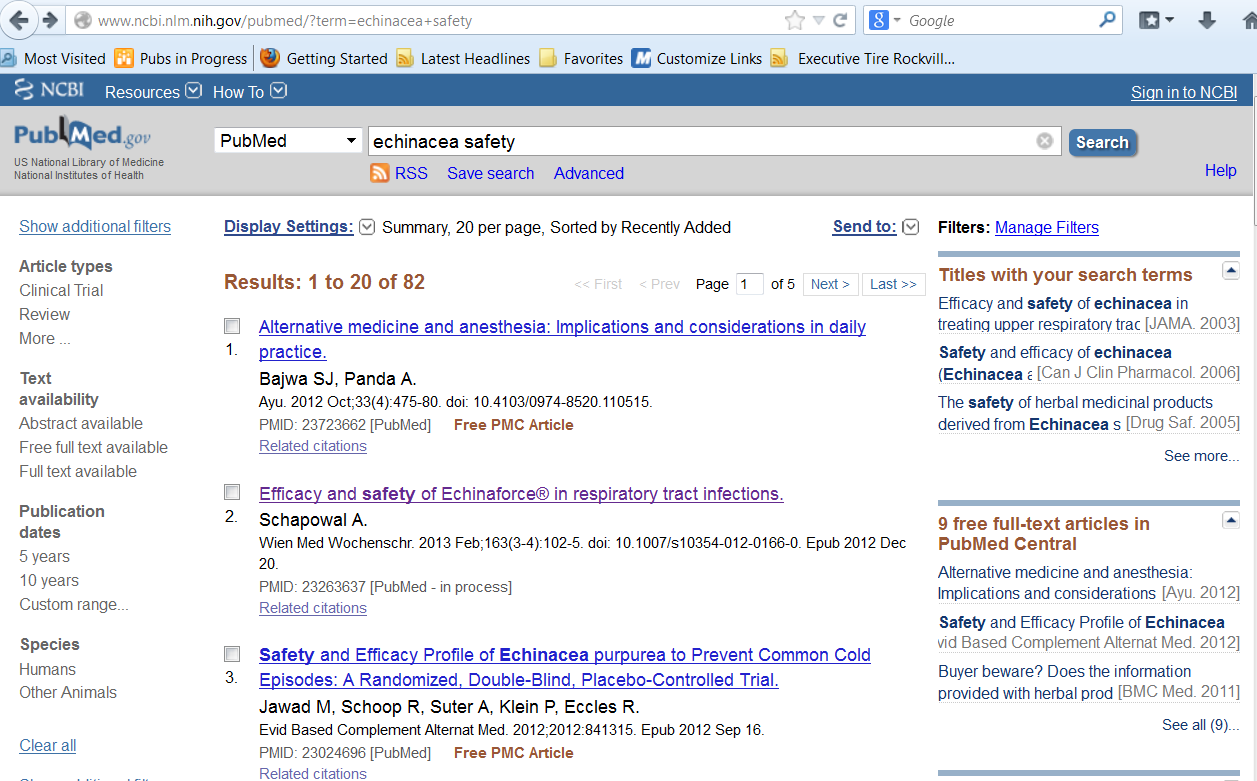 4. If you click on the title of an article, you'll usually see an abstract (a summary of the article). If you want to read the full article, you may need to pay for it. However, some listings have the words "Free PMC Article." Click on this to read the full article at no cost.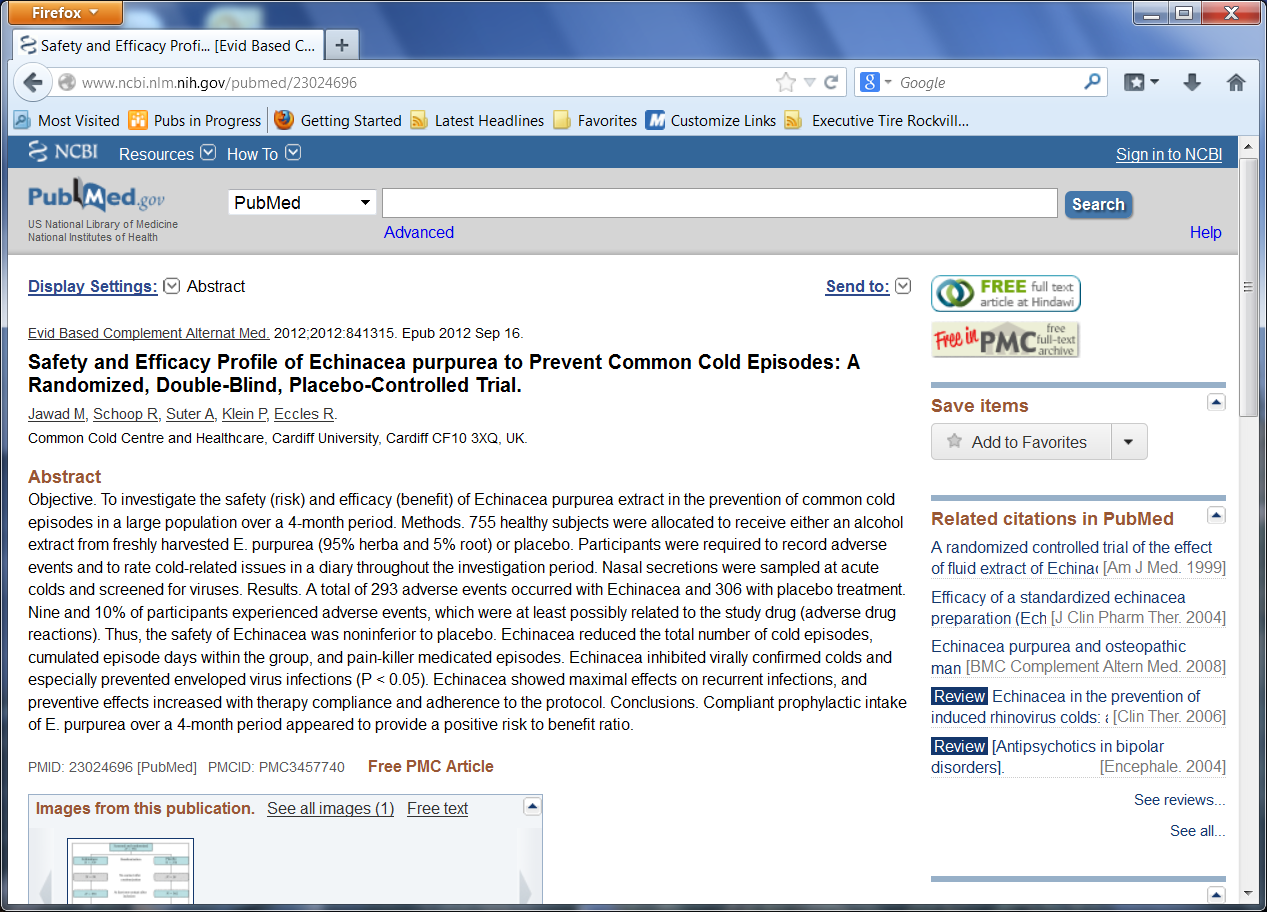 If you want to find out if echinacea can ease common cold symptoms, delete the word "safety" in the search bar, and you'll see the drop-down menu again. You may decide that the selection "echinacea common cold" will have that information. Click on that option and PubMed will take you to a list of published studies that discuss this topic.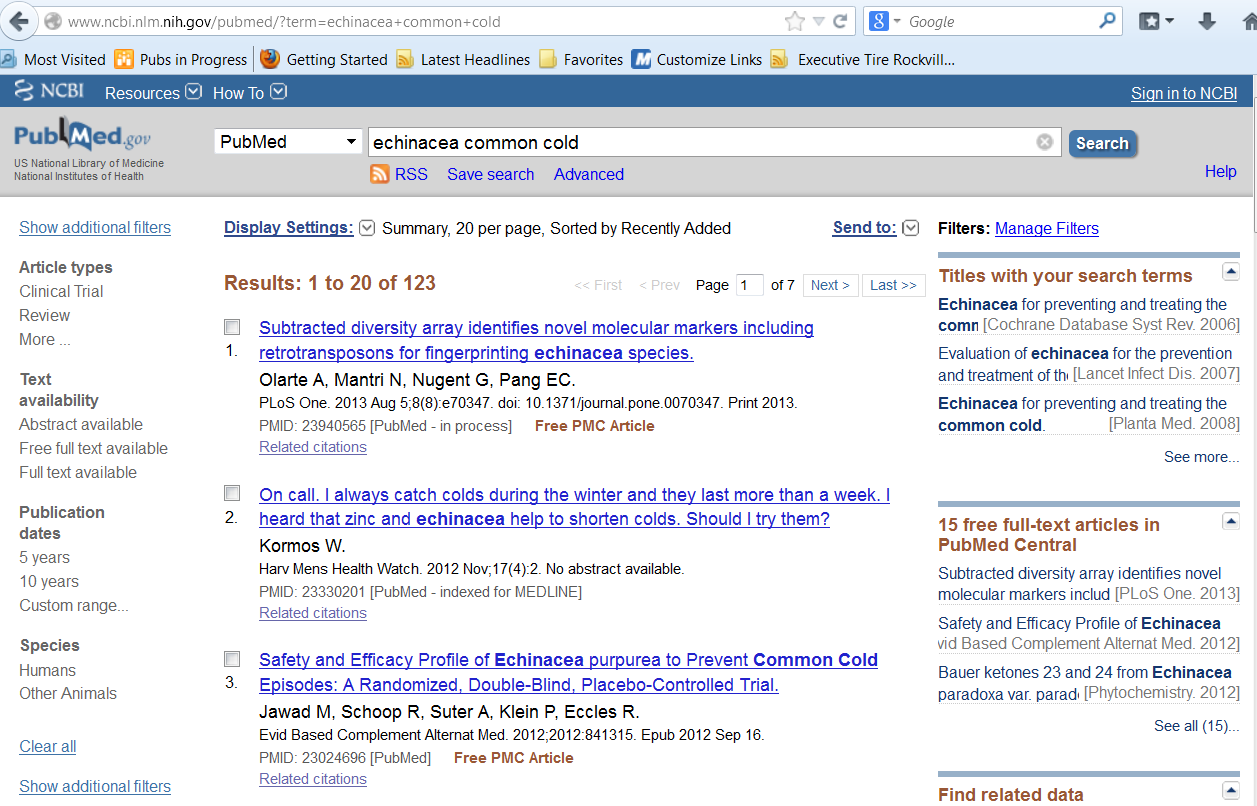 You can use filters to narrow your search even more. On the left side of the screen is a list of filters that help you find specific types of articles. For example, do you want to see only studies that have been done in people? If so, click on "Clinical Trial" (you can also click on "Humans" under the heading "Species").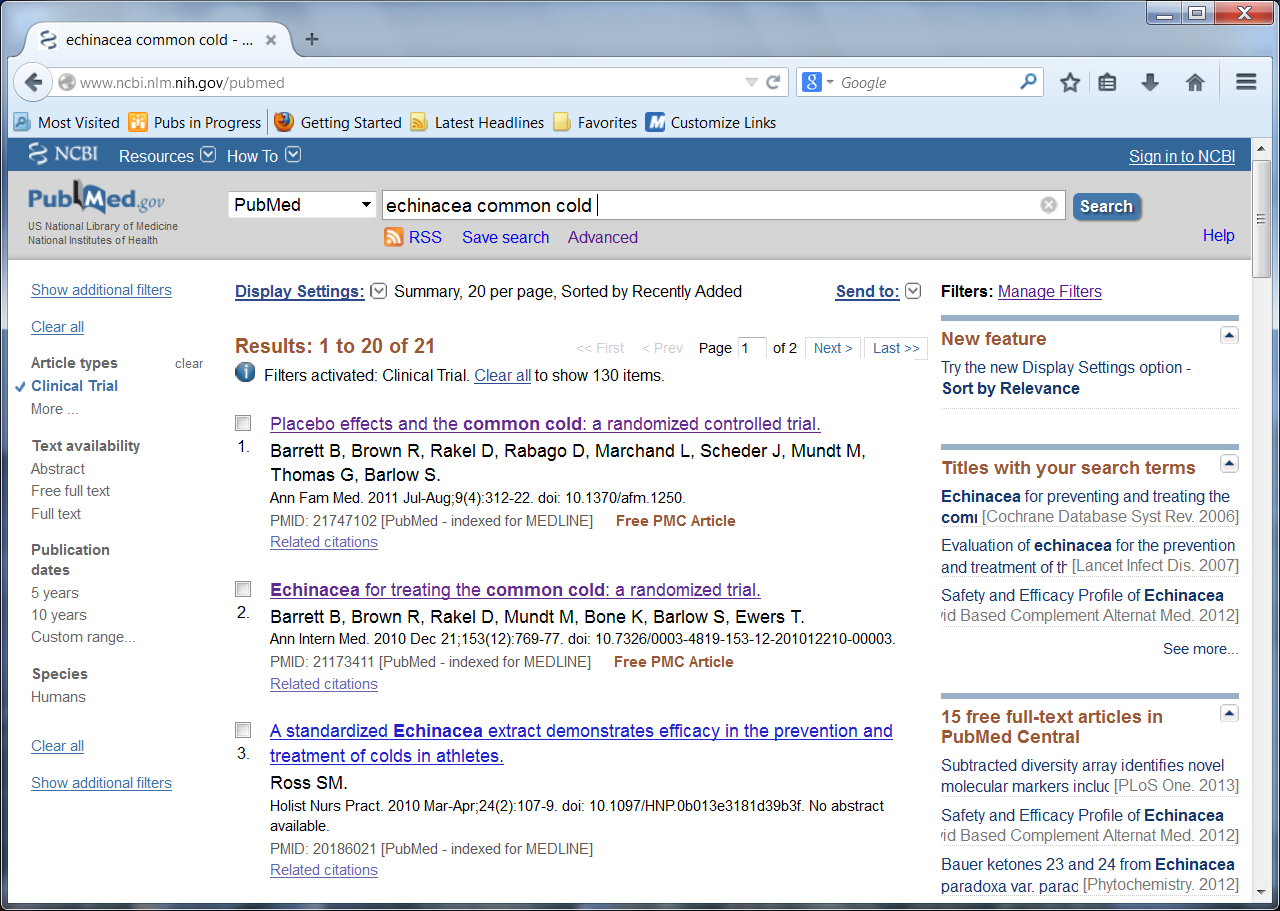 Perhaps you want to see articles that look at results from several studies. Click "More" under article types, and check the boxes next to "Review" or "Systematic Reviews" (you also can click on "Meta-Analysis," a special type of review article).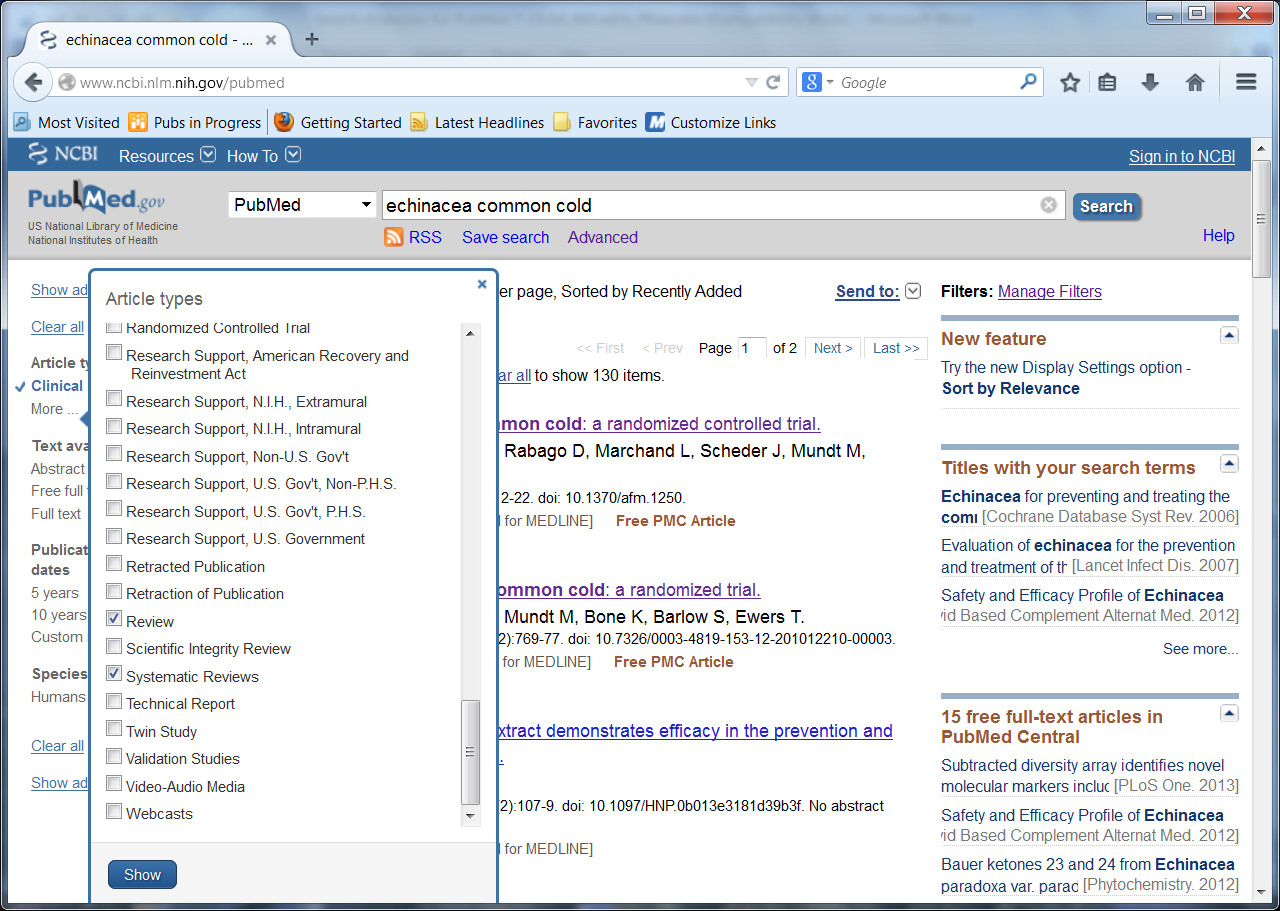 If you want to see full articles on clinical trials available to anyone without having to pay a fee, click on "Free full text."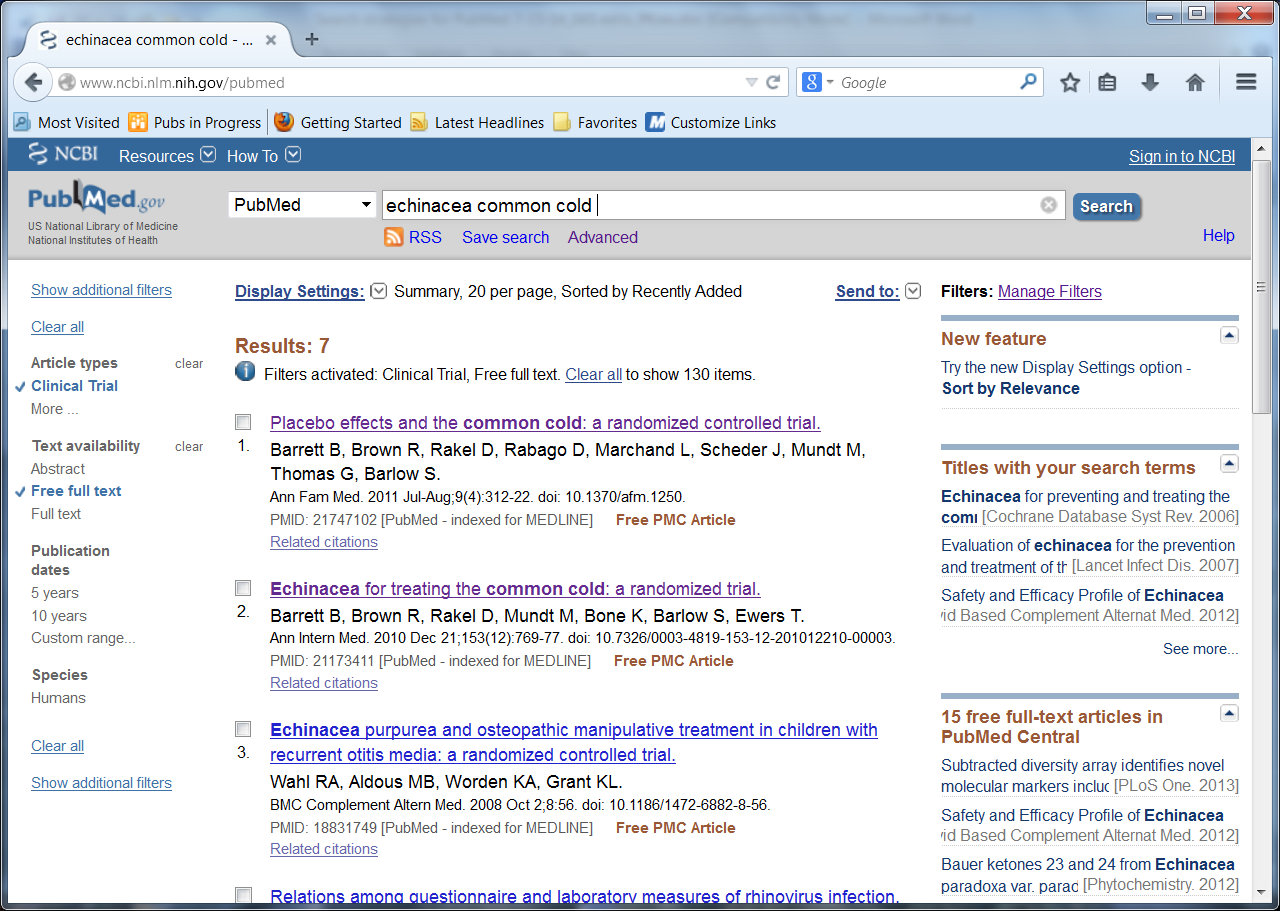 You also can look for articles that were published within a certain time range, such as within the past 5 years or the past 10 years, or studies that were published in a specific time range, such as from January 1, 2006, through December 31, 2009.
Search for Studies Funded by NCCIH
If you're interested in searching for studies that were funded by NCCIH:
1. Enter the term "nccih[gr]" into the search box. The "[gr]" is a search field tag that searches specifically for a grant number. You can add this term in front of an existing search, such as "low-back pain," to narrow your search to articles on NCCIH-funded research.

2. Add the topic of your search to the search box.

3. Click "Search." Your results will appear beneath the search box.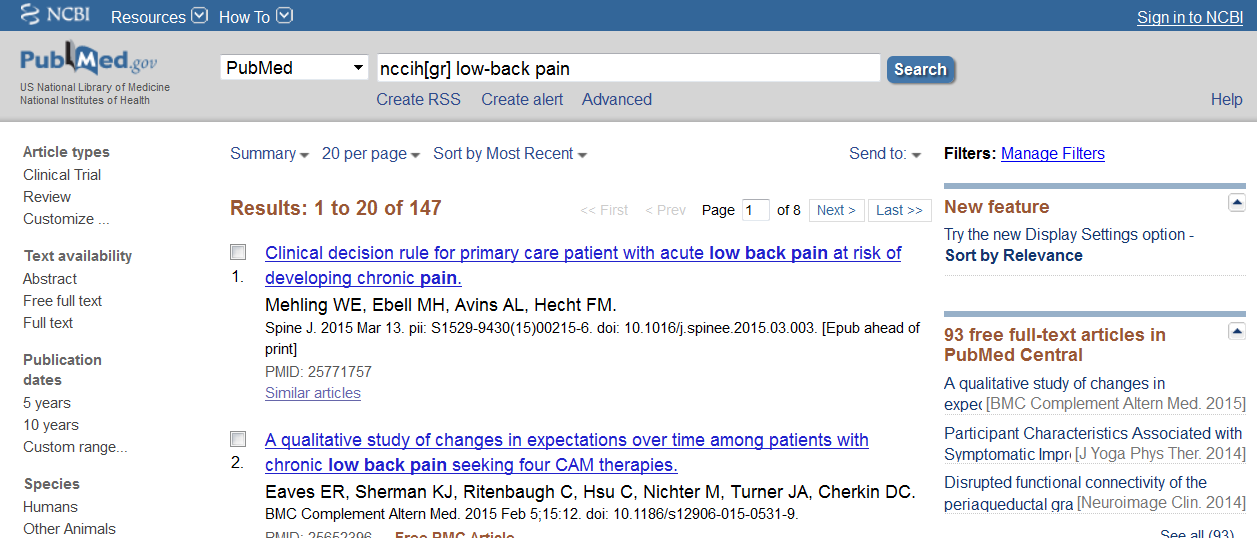 If you need additional information to help you search PubMed effectively, NLM has a variety of online resources—from simple tips to more advanced information. Here are links to key topics:
You can also call or email the NCCIH Clearinghouse to help you find information on PubMed on the specific complementary health topic you're researching.
For More Information
NCCIH Clearinghouse
The NCCIH Clearinghouse provides information on NCCIH and complementary and integrative health approaches, including publications and searches of Federal databases of scientific and medical literature. The Clearinghouse does not provide medical advice, treatment recommendations, or referrals to practitioners.
Phone Number: 1-240-618-3313
tty (for deaf and hard-of-hearing callers):
1-866-464-3615
Website: https://nccih.nih.gov/
Email: info@nccih.nih.gov (link sends email)
This publication is not copyrighted and is in the public domain. Duplication is encouraged.
NCCIH has provided this material for your information. It is not intended to substitute for the medical expertise and advice of your health care provider(s). We encourage you to discuss any decisions about treatment or care with your health care provider. The mention of any product, service, or therapy is not an endorsement by NCCIH.