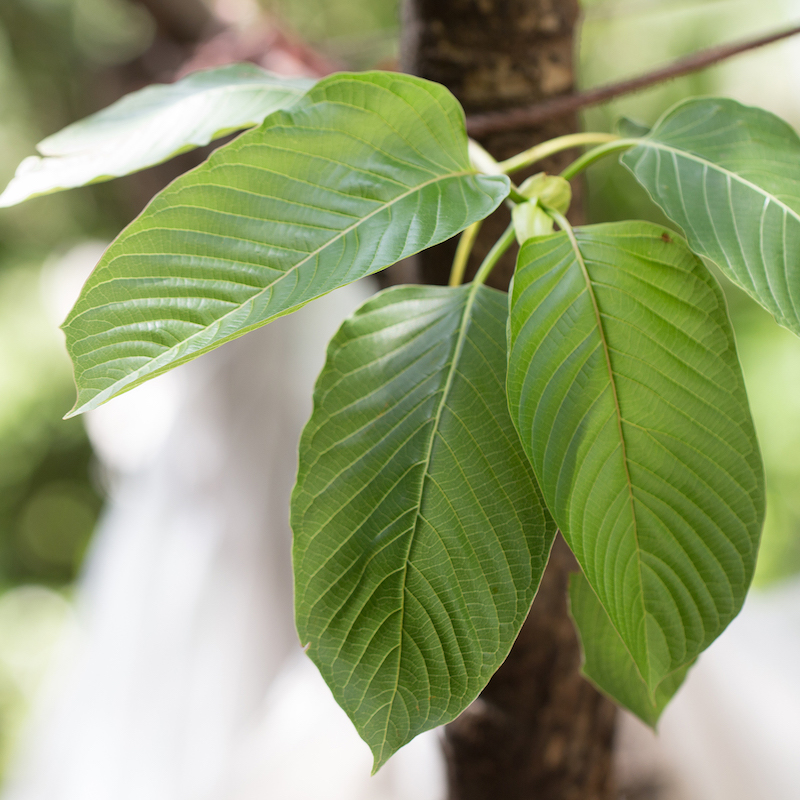 Kratom (Mitragyna speciosa) is a tree in the coffee family, found in Thailand and neighboring countries. Traditionally, in Southeast Asia, people have chewed its leaves or made them into a tea that is used to fight fatigue and improve work productivity. Kratom has also traditionally been used during religious ceremonies and to treat symptoms such as pain and diarrhea, sometimes as a substitute for opium.
Two compounds from kratom, mitragynine and 7-hydroxymitragynine, interact with opioid receptors in the brain. People who use kratom have reported both stimulant-like effects (increased energy, alertness, rapid heart rate) and effects like those of opioids and sedatives (relaxation, pain relief, confusion).
Some people in Western countries use kratom to try to treat pain or manage opioid withdrawal symptoms.
Research on kratom is in its early stages. Much remains to be learned about the short- and long-term effects of kratom in the body, its safety, and whether it may have therapeutic uses.
Very little research in people has evaluated the health effects of kratom; additional research is currently in progress. People have reported using kratom to manage opioid withdrawal symptoms and cravings, and researchers are studying whether kratom is helpful for this purpose. However, kratom has not been shown to be safe and effective for this or any other medical use.

Kratom is currently legal and accessible online and in stores in many areas of the United States. The U.S. Drug Enforcement Administration has listed kratom as a "drug of concern," but kratom and kratom compounds are not listed in the U.S. schedule of controlled substances. The U.S. Food and Drug Administration (FDA) has not approved kratom as safe and effective for any medical purpose. 

Under the Federal Food, Drug, and Cosmetic Act, kratom is considered a new dietary ingredient since it was not marketed as a dietary ingredient in the United States before October 15, 1994; evidence of safety is required for new dietary ingredients. The FDA has seized some shipments of kratom products labeled as dietary supplements. 
Although people may use kratom to try to overcome opioid addiction, kratom itself may have the potential to be addictive. Regular kratom users may experience withdrawal symptoms if they stop using it.

A variety of side effects of kratom have been reported. They include mild effects, such as nausea, constipation, dizziness, and drowsiness, and rare but serious effects such as seizures, high blood pressure, and liver problems.

Fatal overdoses from kratom alone appear to be extremely rare. The use of kratom in combination with other drugs has been linked to deaths and severe adverse effects such as liver problems. More research is needed on drug interactions involving kratom.

The long-term effects of kratom use are not well understood. There have been reports that long-term use of large doses of kratom may cause serious liver problems in some people.

Harmful contaminants such as heavy metals and disease-causing bacteria have been found in some kratom products.
NCCIH Clearinghouse
The NCCIH Clearinghouse provides information on NCCIH and complementary and integrative health approaches, including publications and searches of Federal databases of scientific and medical literature. The Clearinghouse does not provide medical advice, treatment recommendations, or referrals to practitioners.
Toll-free in the U.S.: 1-888-644-6226
Telecommunications relay service (TRS): 7-1-1
Website: https://www.nccih.nih.gov
Email: info@nccih.nih.gov (link sends email)
This publication is not copyrighted and is in the public domain. Duplication is encouraged.
NCCIH has provided this material for your information. It is not intended to substitute for the medical expertise and advice of your health care provider(s). We encourage you to discuss any decisions about treatment or care with your health care provider. The mention of any product, service, or therapy is not an endorsement by NCCIH.