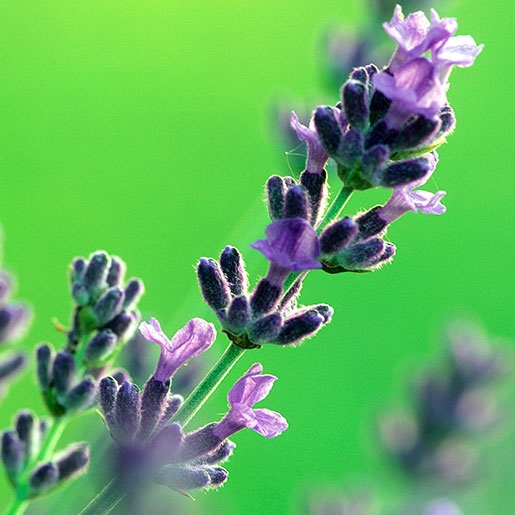 Common Names: lavender, English lavender, common lavender, French lavender
Latin Names: Lavandula angustifolia
Lavender is native to countries in the Mediterranean region, including France, Spain, and Italy.
The name lavender comes from the Latin verb "lavare," meaning "to wash." In ancient Rome, lavender was used as a bath additive.
Lavender is used to flavor foods and beverages and as a fragrance ingredient in soaps and cosmetics. It is promoted as a dietary supplement for anxiety, depression, digestive symptoms, and other conditions. It is also promoted for topical use (application to the skin) and use in aromatherapy.
Studies have been done on the use of lavender for a variety of conditions, but there hasn't been enough high-quality research to allow definite conclusions to be reached about its effectiveness.
Studies of a lavender oil product that is taken orally (by mouth) have suggested it might be beneficial for anxiety, but because of limitations of the research, including the small size of the studies, no definite conclusions can be reached about its effectiveness.
It's uncertain whether lavender oil used as aromatherapy is helpful for anxiety or other conditions.
What Do We Know About Safety?
Consumption of lavender in the amounts typically used in foods is likely to be safe. Short-term oral use in the amounts tested in studies of lavender for anxiety or other conditions may also be safe.
The topical use of products containing lavender may cause allergic skin reactions in some people.
A few cases of swelling of breast tissue have been reported in children who used topical products containing lavender. However, it's unclear whether the lavender was responsible for the breast swelling, a condition that can have many causes.
Little is known about whether it's safe to use lavender during pregnancy or while breastfeeding.
Take charge of your health—talk with your health care providers about any complementary health approaches you use. Together, you can make shared, well-informed decisions.
NCCIH Clearinghouse
The NCCIH Clearinghouse provides information on NCCIH and complementary and integrative health approaches, including publications and searches of Federal databases of scientific and medical literature. The Clearinghouse does not provide medical advice, treatment recommendations, or referrals to practitioners.
Toll-free in the U.S.: 1-888-644-6226
Telecommunications relay service (TRS): 7-1-1
Website: https://www.nccih.nih.gov
Email: info@nccih.nih.gov (link sends email)
Office of Dietary Supplements (ODS), National Institutes of Health (NIH)
ODS seeks to strengthen knowledge and understanding of dietary supplements by evaluating scientific information, supporting research, sharing research results, and educating the public. Its resources include publications (such as Dietary Supplements: What You Need To Know) and fact sheets on a variety of specific supplement ingredients and products (such as vitamin D and multivitamin/mineral supplements).
Website: https://ods.od.nih.gov
Email: ods@nih.gov (link sends email)
de Groot A, Schmidt E. Essential oils, part V: peppermint oil, lavender oil, and lemongrass oil. Dermatitis. 2016;27(6):325-332.
Generoso MB, Soares A, Taiar IT, et al. Lavender oil preparation (Silexan) for treating anxiety: an updated meta-analysis. Journal of Clinical Psychopharmacology. 2017;37(1):115-117.
Hawkins J, Hires C, Dunne E, et al. The relationship between lavender and tea tree essential oils and pediatric endocrine disorders: a systematic review of the literature. Complementary Therapies in Medicine. 2020;49:102288.
Lavender. Natural Medicines website. Accessed at naturalmedicines.therapeuticresearch.com on March 5, 2020. [Database subscription].
Lillihei AS, Halcon LL. A systematic review of the effect of inhaled essential oils on sleep. Journal of Alternative and Complementary Medicine. 2014;20(6):441-451.
This publication is not copyrighted and is in the public domain. Duplication is encouraged.
NCCIH has provided this material for your information. It is not intended to substitute for the medical expertise and advice of your health care provider(s). We encourage you to discuss any decisions about treatment or care with your health care provider. The mention of any product, service, or therapy is not an endorsement by NCCIH.
Last Updated: August 2020