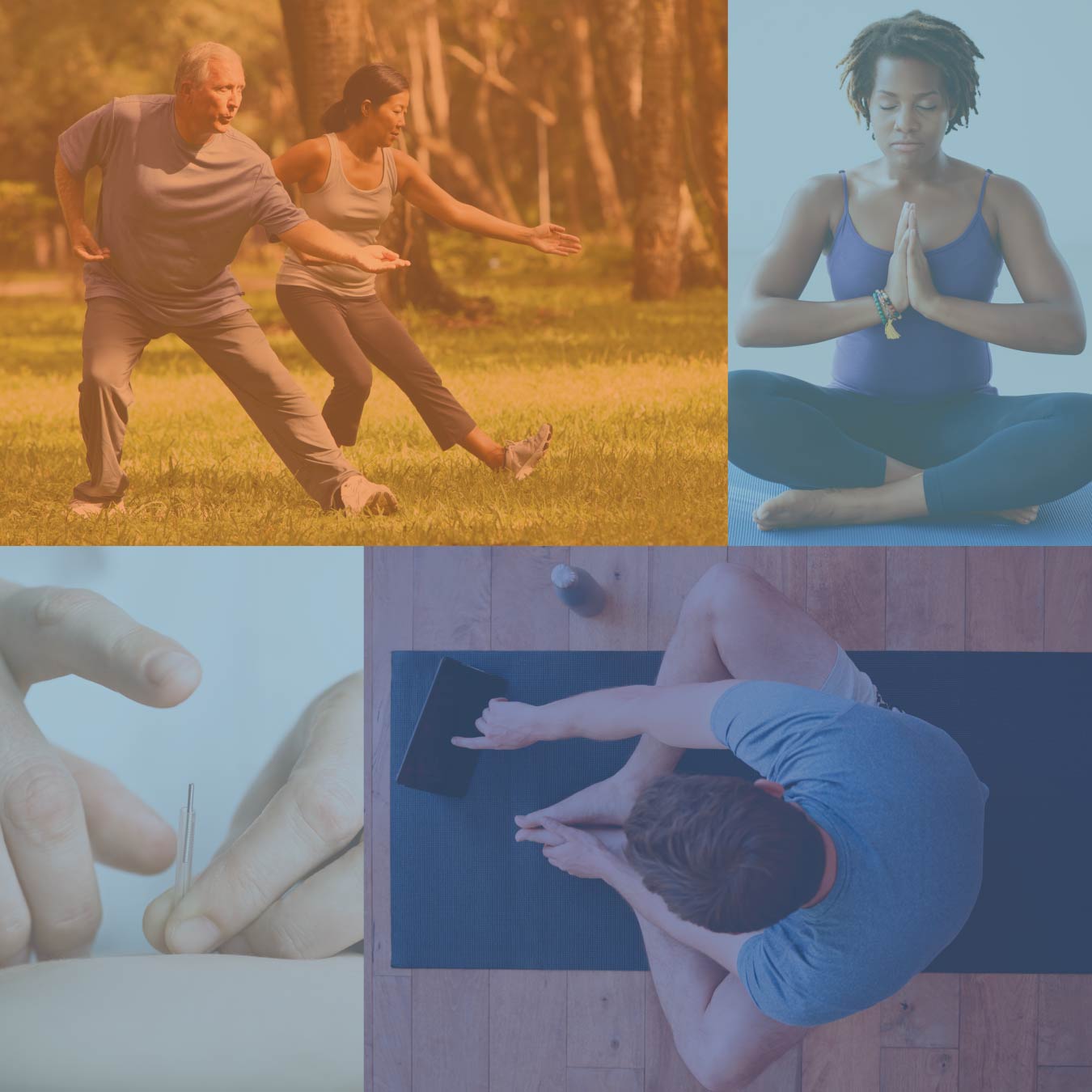 Mind and body practices are a large and diverse group of procedures or techniques that are administered or taught by a trained practitioner or teacher. Examples include acupuncture, massage therapy, meditation, relaxation techniques, spinal manipulation, tai chi, and yoga.
Research findings suggest that several mind and body practices are helpful for a variety of conditions. A few examples include the following:
Acupuncture may help ease types of pain that are often chronic, such as low-back pain, neck pain, and osteoarthritis/knee pain. Acupuncture may also help reduce the frequency of tension headaches and prevent migraine headaches.
Meditation may help reduce blood pressure, symptoms of anxiety and depression, and symptoms of irritable bowel syndrome and flare-ups in people with ulcerative colitis. Meditation may also benefit people with insomnia.
Tai chi appears to help improve balance and stability, reduce back pain and pain from knee osteoarthritis, and improve quality of life in people with heart disease, cancer, and other chronic illnesses.
Yoga may benefit people's general wellness by relieving stress, supporting good health habits, and improving mental/emotional health, sleep, and balance. Yoga may also help with low-back pain and neck pain, anxiety or depressive symptoms associated with difficult life situations, quitting smoking, and quality of life for people with chronic diseases.
Mind and body practices generally have good safety records when done properly by a trained professional or taught by a well-qualified instructor. However, just because a practice is safe for most people doesn't necessarily mean it's safe for you. Your medical conditions or other special circumstances (such as pregnancy) may affect the safety of a mind and body practice. When considering mind and body practices, ask about the training and experience of the practitioner or teacher, and talk with that person about your individual needs. Also, don't use a mind and body practice to postpone seeing a health care provider about a health problem.
Take charge of your health—talk with your health care providers about any complementary health approaches you use. Together, you can make shared, well-informed decisions.
NCCIH Clearinghouse
The NCCIH Clearinghouse provides information on NCCIH and complementary and integrative health approaches, including publications and searches of Federal databases of scientific and medical literature. The Clearinghouse does not provide medical advice, treatment recommendations, or referrals to practitioners.
Toll-free in the U.S.: 1-888-644-6226
Telecommunications relay service (TRS): 7-1-1
Website: https://www.nccih.nih.gov
Email: info@nccih.nih.gov (link sends email)
This publication is not copyrighted and is in the public domain. Duplication is encouraged.
NCCIH has provided this material for your information. It is not intended to substitute for the medical expertise and advice of your health care provider(s). We encourage you to discuss any decisions about treatment or care with your health care provider. The mention of any product, service, or therapy is not an endorsement by NCCIH.
Last Updated: September 2017