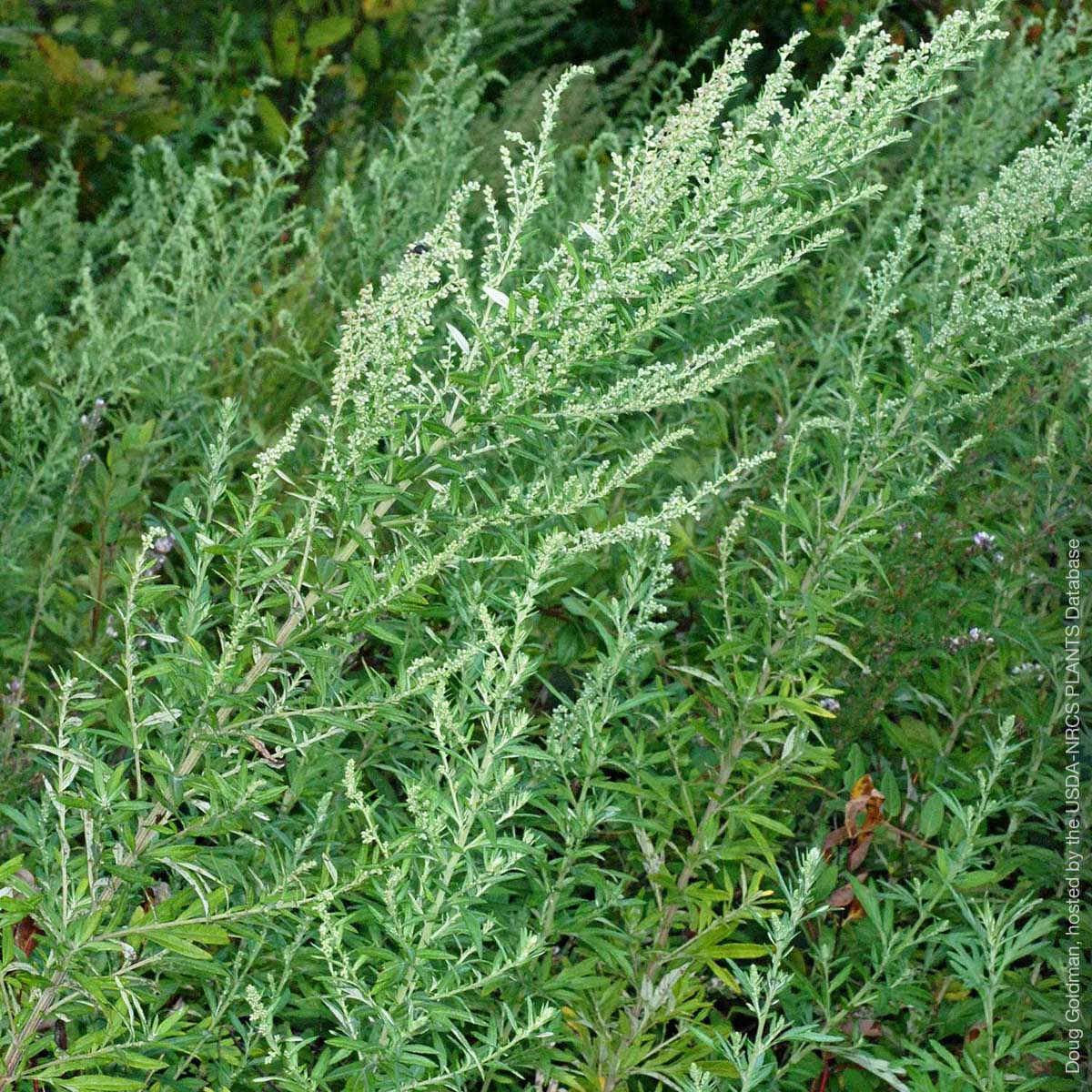 Common Names: mugwort, common wormwood, wild wormwood, felon herb, chrysanthemum weed, St. John's plant, sailor's tobacco
Latin Names: Artemisia vulgaris
Mugwort is a perennial plant that is native to Europe and parts of Asia and Africa. It now grows in many parts of the world, including North America.
Historically, mugwort has been used in traditional systems of medicine in different parts of the world.
Today, mugwort taken orally (by mouth) is promoted for digestive problems, irregular menstruation, and high blood pressure. It is also promoted as a sedative, laxative, and liver tonic.
Mugwort lotion applied topically (to the skin) is promoted for itching caused by hypertrophic scars (visible, raised scars that can sometimes cause restricted movement of muscles, joints, and tendons).
Very little research has been done on mugwort in people.
One preliminary study shows that a topical lotion containing mugwort and menthol relieves itching associated with hypertrophic scars from severe burns. Because it's only one very small study, definite conclusions cannot be made.
There's not enough evidence to say whether mugwort is beneficial for any other conditions.
What Do We Know About Safety?
Little is known about whether it's safe to take mugwort orally or to use it topically.
Mugwort should not be used during pregnancy because it may start menstruation and cause the uterus to contract. Little is known about whether it's safe to use mugwort while breastfeeding.
Take charge of your health—talk with your health care providers about any complementary health approaches you use. Together, you can make shared, well-informed decisions.
NCCIH Clearinghouse
The NCCIH Clearinghouse provides information on NCCIH and complementary and integrative health approaches, including publications and searches of Federal databases of scientific and medical literature. The Clearinghouse does not provide medical advice, treatment recommendations, or referrals to practitioners.
Toll-free in the U.S.: 1-888-644-6226
Telecommunications relay service (TRS): 7-1-1
Website: https://www.nccih.nih.gov
Email: info@nccih.nih.gov (link sends email)
Office of Dietary Supplements (ODS), National Institutes of Health (NIH)
ODS seeks to strengthen knowledge and understanding of dietary supplements by evaluating scientific information, supporting research, sharing research results, and educating the public. Its resources include publications (such as Dietary Supplements: What You Need To Know) and fact sheets on a variety of specific supplement ingredients and products (such as vitamin D and multivitamin/mineral supplements).
Website: https://ods.od.nih.gov
Email: ods@nih.gov (link sends email)
Abiri R, Silva ALM, de Mesquita LSS, et al. Towards a better understanding of Artemisia vulgaris: botany, phytochemistry, pharmacological and biotechnological potential. Food Research International. 2018;109:403-415.
Mugwort. Natural Medicines website. Accessed at naturalmedicines.therapeuticresearch.com on April 20, 2020. [Database subscription].
Ogawa R, Hyakusoku H, Ogawa K, et al. Effectiveness of mugwort lotion for the treatment of post-burn hypertrophic scars. Journal of Plastic, Reconstructive and Aesthetic Surgery. 2008;61(2):210-212.
Rabello FB, Souza CD, Farina Júnior JA. Update on hypertrophic scar treatment. Clinics. 2014;69(8):565-573.
This publication is not copyrighted and is in the public domain. Duplication is encouraged.
NCCIH has provided this material for your information. It is not intended to substitute for the medical expertise and advice of your health care provider(s). We encourage you to discuss any decisions about treatment or care with your health care provider. The mention of any product, service, or therapy is not an endorsement by NCCIH.
Last Updated: January 2021