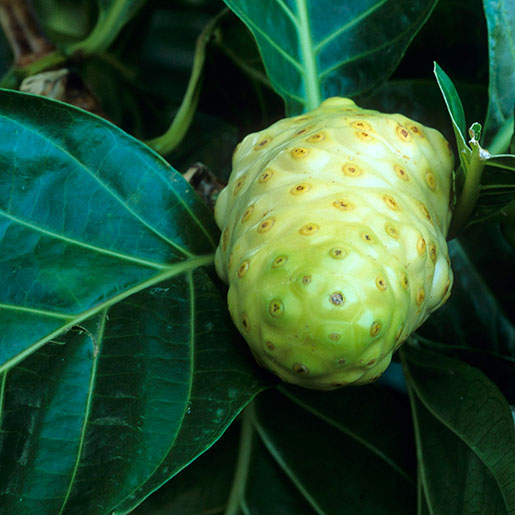 Common Names: noni, morinda, Indian mulberry, hog apple, canarywood
Latin Names: Morinda citrifolia
Noni is a small evergreen tree found in the Pacific Islands, Southeast Asia, Australia, and India. It often grows among lava flows.
Historically, noni has been used for thousands of years in Polynesia as a food source and for medicinal uses (usually applied to the skin).
Today, noni is promoted as a dietary supplement to prevent cancer, prevent infections, treat high blood pressure, and help with other conditions.
Only a few studies have investigated the effects of noni in people.
In laboratory research, noni has shown antioxidant, immune-stimulating, and tumor-fighting properties. These results suggest that noni may warrant further study for various diseases. However, noni has not been shown to have beneficial effects on any health condition in studies of people.
What Do We Know About Safety?
Noni might be safe when used orally or on the skin in appropriate doses. Few side effects have been reported in studies of noni. However, several cases of liver toxicity have been reported in people who had consumed noni. It is unclear whether noni caused the liver problems. A complete picture of noni's safety is lacking.
Noni contains a substantial amount of potassium. People who need to restrict their intake of potassium should consult a health care provider before using noni.
Noni should not be used during pregnancy. Little is known about whether it's safe to use noni while breastfeeding.
Take charge of your health—talk with your health care providers about any complementary health approaches you use. Together, you can make shared, well-informed decisions.
NCCIH Clearinghouse
The NCCIH Clearinghouse provides information on NCCIH and complementary and integrative health approaches, including publications and searches of Federal databases of scientific and medical literature. The Clearinghouse does not provide medical advice, treatment recommendations, or referrals to practitioners.
Toll-free in the U.S.: 1-888-644-6226
Telecommunications relay service (TRS): 7-1-1
Website: https://www.nccih.nih.gov
Email: info@nccih.nih.gov (link sends email)
Office of Dietary Supplements (ODS), National Institutes of Health (NIH)
ODS seeks to strengthen knowledge and understanding of dietary supplements by evaluating scientific information, supporting research, sharing research results, and educating the public. Its resources include publications (such as Dietary Supplements: What You Need To Know) and fact sheets on a variety of specific supplement ingredients and products (such as vitamin D and multivitamin/mineral supplements).
Website: https://ods.od.nih.gov
Email: ods@nih.gov (link sends email)
Inada AC, Figueiredo PS, Santos-Eichler RAD, et al. Morinda citrifolia Linn. (noni) and its potential in obesity-related metabolic dysfunction. Nutrients. 2017;9(6):540.
Nerurkar PV, Hwang PW, Saksa E. Anti-diabetic potential of noni: the yin and the yang. Molecules. 2015;20(10):17684-17719.
Noni. Natural Medicines website. Accessed at naturalmedicines.therapeuticresearch.com on March 31, 2020. [Database subscription].
Torres MAO, de Fátima Braga Magalhães I, Mondêgo-Oliveira R, et al. One plant, many uses: a review of the pharmacological applications of Morinda citrifolia. Phytotherapy Research. 2017;31(7):971-979.
This publication is not copyrighted and is in the public domain. Duplication is encouraged.
NCCIH has provided this material for your information. It is not intended to substitute for the medical expertise and advice of your health care provider(s). We encourage you to discuss any decisions about treatment or care with your health care provider. The mention of any product, service, or therapy is not an endorsement by NCCIH.
Last Updated: August 2020