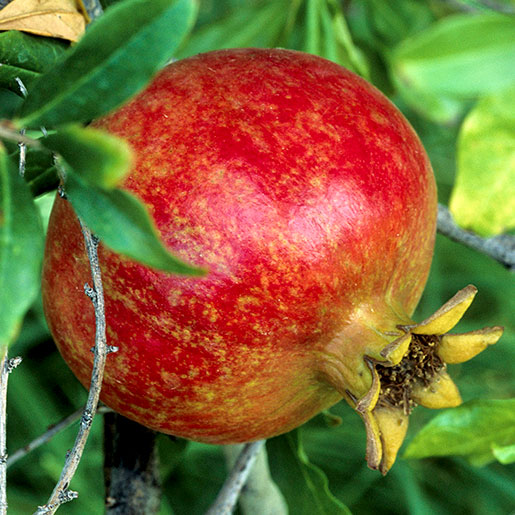 Common Names: Pomegranate
Latin Names: Punica granatum
Pomegranate is a small, fruit-bearing tree native to Iran and northern India and cultivated around the world.
Ancient writings described pomegranate as a sacred fruit that provided fertility, abundance, and luck.
Preparations from pomegranate including the juice or extract have been promoted for prevention or treatment of many conditions including heart disease, high blood pressure, high blood cholesterol levels, cancer, and diabetes.
We don't have a lot of strong scientific evidence on the effects of pomegranate on people's health.
The pomegranate fruit contains substances with antioxidant and anti-inflammatory activity. However, the limited research that's been completed so far has not shown benefits of pomegranate in preventing or treating heart disease, high blood pressure, high cholesterol levels, cancer, diabetes, or other conditions.
What Do We Know About Safety?
Pomegranate juice is believed to be safe. Pomegranate extract may also be safe. Pomegranate root, stem, and peel may not be safe when consumed in large amounts because they contain substances that can have harmful effects.
Pomegranate usually doesn't have side effects, but digestive tract symptoms, especially diarrhea, may occur in a small number of people. Allergic reactions to pomegranate have been reported.
Little is known about whether it's safe to use pomegranate extract during pregnancy or while breastfeeding. Drinking pomegranate juice at these times may be safe.
Take charge of your health—talk with your health care providers about any complementary health approaches you use. Together, you can make shared, well-informed decisions.
NCCIH Clearinghouse
The NCCIH Clearinghouse provides information on NCCIH and complementary and integrative health approaches, including publications and searches of Federal databases of scientific and medical literature. The Clearinghouse does not provide medical advice, treatment recommendations, or referrals to practitioners.
Toll-free in the U.S.: 1-888-644-6226
Telecommunications relay service (TRS): 7-1-1
Website: https://www.nccih.nih.gov
Email: info@nccih.nih.gov (link sends email)
Office of Dietary Supplements (ODS), National Institutes of Health (NIH)
ODS seeks to strengthen knowledge and understanding of dietary supplements by evaluating scientific information, supporting research, sharing research results, and educating the public. Its resources include publications (such as Dietary Supplements: What You Need To Know) and fact sheets on a variety of specific supplement ingredients and products (such as vitamin D and multivitamin/mineral supplements).
Website: https://ods.od.nih.gov
Email: ods@nih.gov (link sends email)
Aziz Z, Huin WK, Hisham MDB, et al. Effects of pomegranate on lipid profiles: a systematic review of randomised controlled trials. Complementary Therapies in Medicine. 2020;48:102236.
Gbingie OA, Onakpoya IJ, Spencer EA. Evidence for the effectiveness of pomegranate supplementation for blood pressure management is weak: a systematic review of randomized clinical trials. Nutrition Research. 2017;46:38-48.
Huang H, Liao D, Chen G, et al. Lack of efficacy of pomegranate supplementation for glucose management, insulin levels and sensitivity: evidence from a systematic review and meta-analysis. Nutrition Journal. 2017;16(1):67.
Pomegranate. Natural Medicines website. Accessed at naturalmedicines.therapeuticresearch.com on April 1, 2020. [Database subscription].
Sahebkar A, Ferri C, Giorgini P, et al. Effects of pomegranate juice on blood pressure: a systematic review and meta-analysis of randomized controlled trials. Pharmacological Research. 2017;115:149-161.
Sharma P, McClees SF, Afaq F. Pomegranate for prevention and treatment of cancer: an update. Molecules. 2017;22(1):E177.
Vlachojannis C, Erne P, Schoenenberger AW, et al. A critical evaluation of the clinical evidence for pomegranate preparations in the prevention and treatment of cardiovascular diseases. Phytotherapy Research. 2015;29(4):501-508.
Vučić V, Grabež M, Trchounian A, et al. Composition and potential health benefits of pomegranate: a review. Current Pharmaceutical Design. 2019;25(16):1817-1827.
Wang P, Zhang Q, Hou H, et al. The effects of pomegranate supplementation on biomarkers of inflammation and endothelial dysfunction: a meta-analysis and systematic review. Complementary Therapies in Medicine. 2020;49:102358.
This publication is not copyrighted and is in the public domain. Duplication is encouraged.
NCCIH has provided this material for your information. It is not intended to substitute for the medical expertise and advice of your health care provider(s). We encourage you to discuss any decisions about treatment or care with your health care provider. The mention of any product, service, or therapy is not an endorsement by NCCIH.
Last Updated: August 2020