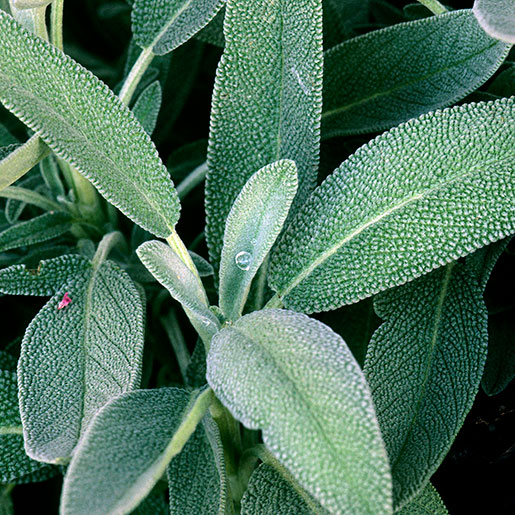 Common Names: sage, common sage, garden sage, true sage
Latin Names: Salvia officinalis, Salvia lavandulaefolia
Sage has a long history of use as a spice and for health purposes. It was used as a traditional herbal remedy in ancient Greece and Rome, as well as in Native American and Chinese medicine.
Today, sage is promoted for sore mouth or throat, memory loss, diabetes, high cholesterol levels, and other conditions.
We don't know much about the health effects of sage because little research has been done on it.
Sage has not been clearly shown to be helpful for any health condition.
There have been a few studies of sage for sore throat, mood, memory, diabetes, and blood cholesterol levels. However, the findings are preliminary, and some of the research is of poor quality.
What Do We Know About Safety?
Sage is safe in the amounts commonly found in foods, and larger amounts have been used safely for up to 4 months in research studies. However, some species of sage, including common sage (Salvia officinalis), contain a constituent called thujone that can cause seizures in experimental animals and may also do so in people. Cases of seizures associated with consumption of sage essential oil (which is high in thujone) have been reported in people. High-dose or long-term use of sage may not be safe.
It may be unsafe to use sage during pregnancy because its constituent thujone may have harmful effects. Little is known about whether it's safe to use sage while breastfeeding.
Take charge of your health—talk with your health care providers about any complementary health approaches you use. Together, you can make shared, well-informed decisions.
NCCIH Clearinghouse
The NCCIH Clearinghouse provides information on NCCIH and complementary and integrative health approaches, including publications and searches of Federal databases of scientific and medical literature. The Clearinghouse does not provide medical advice, treatment recommendations, or referrals to practitioners.
Toll-free in the U.S.: 1-888-644-6226
Telecommunications relay service (TRS): 7-1-1
Website: https://www.nccih.nih.gov
Email: info@nccih.nih.gov (link sends email)
Office of Dietary Supplements (ODS), National Institutes of Health (NIH)
ODS seeks to strengthen knowledge and understanding of dietary supplements by evaluating scientific information, supporting research, sharing research results, and educating the public. Its resources include publications (such as Dietary Supplements: What You Need To Know) and fact sheets on a variety of specific supplement ingredients and products (such as vitamin D and multivitamin/mineral supplements).
Website: https://ods.od.nih.gov
Email: ods@nih.gov (link sends email)
Behradmanesh S, Derees F, Rafieian-Kopaei M. Effect of Salvia officinalis on diabetic patients. Journal of Renal Injury Prevention. 2013;2(2):51-54.
Ghorbani A, Esmaeilizadeh M. Pharmacological properties of Salvia officinalis and its components. Journal of Traditional and Complementary Medicine. 2017;7(4):433-440.
Halicioglu O, Astarcioglu G, Yaprak I, et al. Toxicity of Salvia officinalis in a newborn and a child: an alarming report. Pediatric Neurology. 2011;45(4):259-260.
Kianbakht S, Abasi B, Perham M, et al. Antihyperlipidemic effects of Salvia officinalis L. leaf extract in patients with hyperlipidemia: a randomized double-blind placebo-controlled clinical trial. Phytotherapy Research. 2011;25(12):1849-1853. 
Kianbakht S, Dabaghian FH. Improved glycemic control and lipid profile in hyperlipidemic type 2 diabetes patients consuming Salvia officinalis L. leaf extract: a randomized placebo-controlled clinical trial. Complementary Therapies in Medicine. 2013;21(5):441-446.
Lachenmeier DW, Uebelacker M. Risk assessment of thujone in foods and medicines containing sage and wormwood—evidence for a need of regulatory changes? Regulatory Toxicology and Pharmacology. 2010;58(3):437-443.
Sage. Natural Medicines website. Accessed at naturalmedicines.therapeuticresearch.com on April 2, 2020. [Database subscription].
Sage. Drugs and Lactation Database (LactMed) [Internet]. Bethesda, MD: National Library of Medicine (US); 2018. Accessed at https://www.ncbi.nlm.nih.gov/books/NBK501816/ on April 16, 2020.
This publication is not copyrighted and is in the public domain. Duplication is encouraged.
NCCIH has provided this material for your information. It is not intended to substitute for the medical expertise and advice of your health care provider(s). We encourage you to discuss any decisions about treatment or care with your health care provider. The mention of any product, service, or therapy is not an endorsement by NCCIH.
Last Updated: October 2020