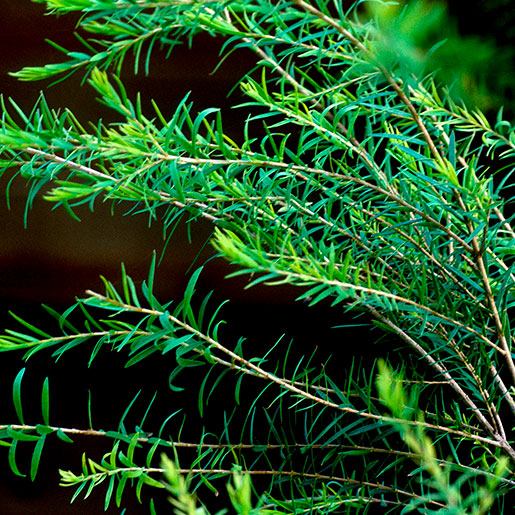 Common Names: tea tree oil, tea tree, Australian tea tree oil, tea tree essential oil, melaleuca oil
Latin Names: Melaleuca alternifolia
Tea tree oil comes from steam distillation of the leaves of the tea tree. The tea tree grows on the swampy southeast coast of Australia.
The aboriginal people of Australia have traditionally used tea tree oil as an antiseptic (germ killer) and an herbal medicine.
Today, external use of tea tree oil is promoted for various conditions such as acne, athlete's foot, lice, nail fungus, cuts, mite infection at the base of the eyelids, and insect bites.
A small amount of research has been done on the topical use (applying to the skin) of tea tree oil for health conditions in people. For instance, there have been only a few small studies in humans on each of the following conditions: acne, lice, athlete's foot, nail fungus, and mite infection at the base of the eyelids. There have been no studies in humans on the use of tea tree oil for insect bites. 
A limited amount of research indicates that tea tree oil might be helpful for acne and athlete's foot. One small study suggests that tea tree oil might help with nail fungus. But overall, the research is insufficient to allow clear conclusions to be reached about the use of tea tree oil for these conditions.
Some early research shows that tea tree oil might be promising for treating mite infections at the base of the eyelids (also called ocular demodicosis). The current evidence is insufficient, however, for a clear conclusion.
What Do We Know About Safety?
Tea tree oil should not be swallowed. Taking it orally can cause serious symptoms such as confusion, ataxia (loss of muscle coordination), breathing problems, and coma.
Most people can use topical products containing tea tree oil without problems, but some people may develop contact dermatitis (an allergic skin rash) or skin irritation on the parts of the body where the product was used.
Little is known about whether it's safe to use tea tree oil during pregnancy or while breastfeeding.
Take charge of your health—talk with your health care providers about any complementary health approaches you use. Together, you can make shared, well-informed decisions.
NCCIH Clearinghouse
The NCCIH Clearinghouse provides information on NCCIH and complementary and integrative health approaches, including publications and searches of Federal databases of scientific and medical literature. The Clearinghouse does not provide medical advice, treatment recommendations, or referrals to practitioners.
Toll-free in the U.S.: 1-888-644-6226
Telecommunications relay service (TRS): 7-1-1
Website: https://www.nccih.nih.gov
Email: info@nccih.nih.gov (link sends email)
Office of Dietary Supplements (ODS), National Institutes of Health (NIH)
ODS seeks to strengthen knowledge and understanding of dietary supplements by evaluating scientific information, supporting research, sharing research results, and educating the public. Its resources include publications (such as Dietary Supplements: What You Need To Know) and fact sheets on a variety of specific supplement ingredients and products (such as vitamin D and multivitamin/mineral supplements).
Website: https://ods.od.nih.gov
Email: ods@nih.gov (link sends email)
Cheng AMS, Sheha H, Tseng SCG. Recent advances on ocular Demodex infestation. Current Opinion in Ophthalmology. 2015;26(4):295-300.
Christoffers WA, Blömeke B, Coenraads P-J, et al. Co-sensitization to ascaridole and tea tree oil. Contact Dermatitis. 2013;69(3):187-189.
Deyno S, Mtewa AG, Abebe A, et al. Essential oils as topical anti-infective agents: a systematic review and meta-analysis. Complementary Therapies in Medicine. 2019;47:102224.
Halteh P, Scher RK, Lipner SR. Over-the-counter and natural remedies for onychomycosis: do they really work? Cutis. 2016;98(5);E16-E25.
Martin KW, Ernst E. Herbal medicines for treatment of fungal infections: a systematic review of controlled clinical trials. Mycoses. 2004;47(3-4):87-92.
Tea Tree Oil. Natural Medicines website. Accessed at naturalmedicines.therapeuticresearch.com on May 1, 2020. [Database subscription].
This publication is not copyrighted and is in the public domain. Duplication is encouraged.
NCCIH has provided this material for your information. It is not intended to substitute for the medical expertise and advice of your health care provider(s). We encourage you to discuss any decisions about treatment or care with your health care provider. The mention of any product, service, or therapy is not an endorsement by NCCIH.
Last Updated: October 2020