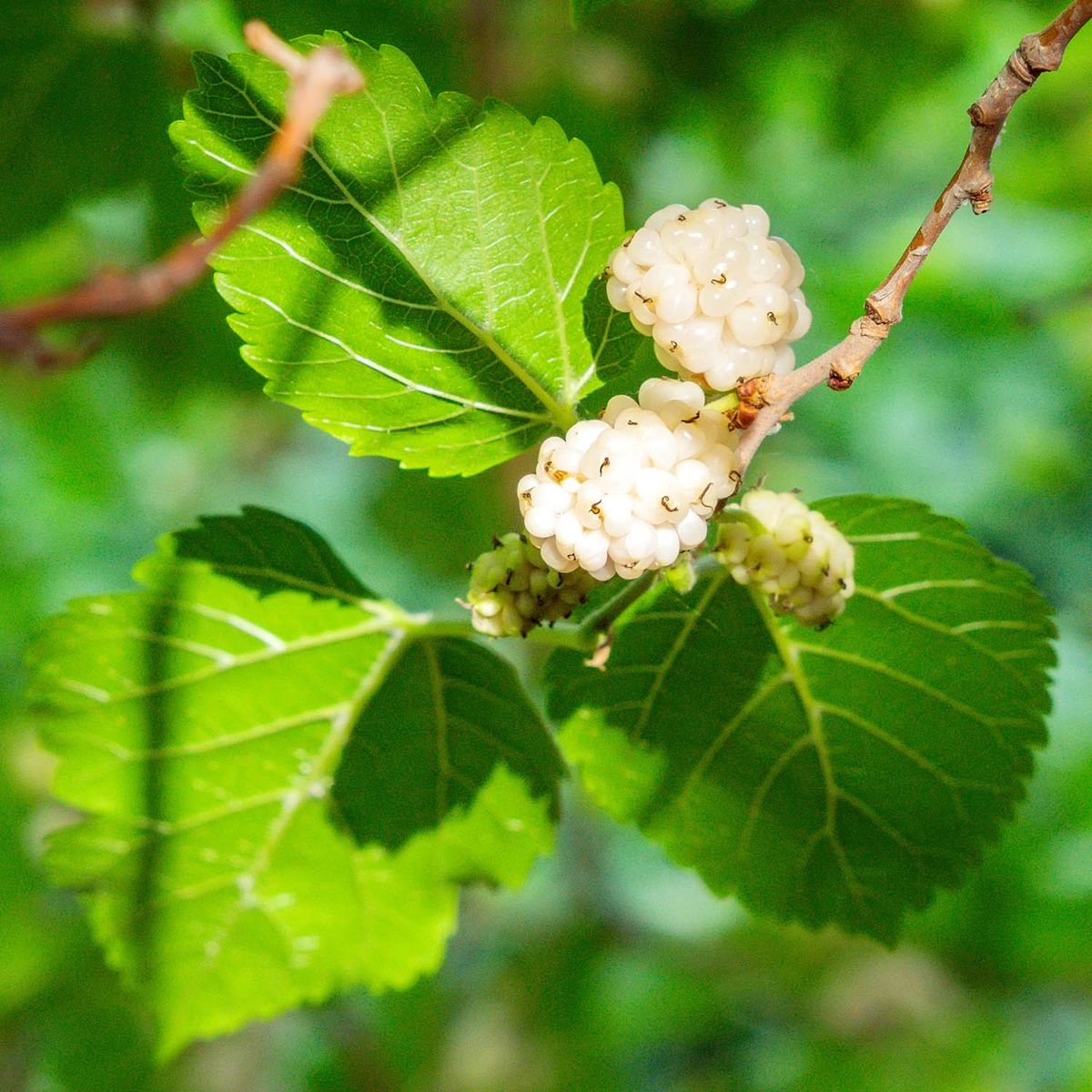 Common Names: white mulberry leaf, common mulberry, Egyptian mulberry, Russian mulberry, silkworm mulberry
White mulberry (Morus alba) is native to China but can be found throughout the world in temperate and tropical climates.
In parts of Asia, mulberry leaves have been used for tea, wine, bean curd, and noodles.
In traditional Chinese medicine, mulberry leaves are used to treat diabetes ("Xiao-ke") as well as cough, sore throats, fever, and bronchitis.
Preparations from white mulberry leaves are sold as dietary supplements for controlling weight and blood glucose.
While beyond the scope of this fact sheet, preliminary research suggests that morusin, a compound in the bark of white mulberry, may have antioxidant, antitumor, anti-inflammatory, anti-allergic, and neuroprotective activity. However, further study is needed to determine its efficacy. 
There have been several studies on the potential health benefits and safety of using white mulberry leaf, but most of the studies have been preliminary, and clinical studies (research in people) are limited.
Several studies suggest that white mulberry may reduce elevated blood glucose levels, but some of these studies have been preliminary or were not conducted in humans. Other trials have found no effect on blood glucose levels.
Some studies have shown that white mulberry leaves contain numerous chemical compounds that act as antioxidants and may provide therapeutic benefits.
What Do We Know About Safety?
White mulberry leaf has been used in studies lasting up to 12 weeks without serious harmful effects. 
The most common side effect is digestive upset, including bloating, constipation, gas, and loose stools.
There is a potential risk for low blood sugar when taken with diabetes medications.
There is insufficient reliable information available about the safety of white mulberry berries.
Little is known about whether it's safe to use white mulberry leaf during pregnancy or while breastfeeding.
Take charge of your health—talk with your health care providers about any complementary health approaches you use. Together, you can make shared, well-informed decisions.
Federal Regulation of Herbal Products

Depending on what's in them, how they're intended to be used, and how they're administered (orally or topically), herbal products are regulated in a variety of ways. Many herbal products intended for oral use are marketed as dietary supplements. The rules for making and distributing dietary supplements are less strict than those for drugs.
Unlike drugs, dietary supplements are not approved by the U.S. Food and Drug Administration (FDA) before they are sold to the public. When public health concerns arise about the safety of a dietary supplement or an ingredient including an herb, the FDA can take action to protect the public. Manufacturers and distributors of supplements are responsible for evaluating the safety and labeling of their products before marketing to ensure that they meet all regulatory requirements. 
NCCIH Clearinghouse
The NCCIH Clearinghouse provides information on NCCIH and complementary and integrative health approaches, including publications and searches of Federal databases of scientific and medical literature. The Clearinghouse does not provide medical advice, treatment recommendations, or referrals to practitioners.
Toll-free in the U.S.: 1-888-644-6226
Telecommunications relay service (TRS): 7-1-1
Website: https://www.nccih.nih.gov
Email: info@nccih.nih.gov (link sends email)
Office of Dietary Supplements (ODS), National Institutes of Health (NIH)
ODS seeks to strengthen knowledge and understanding of dietary supplements by evaluating scientific information, supporting research, sharing research results, and educating the public. Its resources include publications (such as Dietary Supplements: What You Need To Know) and fact sheets on a variety of specific supplement ingredients and products (such as vitamin D and multivitamin/mineral supplements).
Website: https://ods.od.nih.gov
Email: ods@nih.gov (link sends email)
Hao J-Y, Wan Y, Yao X-H, et al. Effect of different planting areas on the chemical compositions and hypoglycemic and antioxidant activities of mulberry leaf extracts in Southern China. PLoS One. 2018;13(6):e0198072.
Panek-Krzyśko A, Stompor-Gorący M. The pro-health benefits of morusin administration—an update review. Nutrients. 2021;13(9):3043.
Rodrigues EL, Marcelino G, Silva GT, et al. Nutraceutical and medicinal potential of the Morus species in metabolic dysfunctions. International Journal of Molecular Sciences. 2019;20(2):301.
Sánchez-Salcedo EM, Amorós A, Hernández F, et al. Phytochemical properties of white (Morus alba) and black (Morus nigra) mulberry leaves, a new food supplement. Journal of Food and Nutrition Research. 2017;5(4):253-261.
Tághizadeh M, Mohammad Zadeh A, Asemi Z, et al. Morus alba leaf extract affects metabolic profiles, biomarkers inflammation and oxidative stress in patients with type 2 diabetes mellitus: a double-blind clinical trial. Clinical Nutrition ESPEN. 2022;49:68-73.
Thaipitakwong T, Numhom S, Aramwit P. Mulberry leaves and their potential effects against cardiometabolic risks: a review of chemical compositions, biological properties and clinical efficacy. Pharmaceutical Biology. 2018; 56(1):109-118.
White Mulberry. Natural Medicines website. Accessed at naturalmedicines.therapeuticresearch.com on November 2, 2022. [Database subscription].
Yuan Q, Zhao L. The mulberry (Morus alba L.) fruit—a review of characteristic components and health benefits. Journal of Agricultural and Food Chemistry. 2017;65(48):10,383-10,394. 
Zhang R, Zhang Q, Zhu S, et al. Mulberry leaf (Morus alba L.): a review of its potential influences in mechanisms of action on metabolic diseases. Pharmacological Research. 2022;175:106029.
This publication is not copyrighted and is in the public domain. Duplication is encouraged.
NCCIH has provided this material for your information. It is not intended to substitute for the medical expertise and advice of your health care provider(s). We encourage you to discuss any decisions about treatment or care with your health care provider. The mention of any product, service, or therapy is not an endorsement by NCCIH.
Last Updated: September 2023