A Nation Under Pressure: The Public Health Consequences of Stress in America
Speaker: Dr. Vivek Murthy
19th U.S. Surgeon General
Date: September 7, 2017 - 11:00 a.m. ET to 12:00 p.m. ET
Masur Auditorium, Building 10
Watch live:
Stress levels are on the rise in our increasingly busy world. In a 2015 national survey, 24 percent of U.S. adults reported extreme stress, an increase from 18 percent just one year earlier. About one-third reported their stress had increased over the past year; fewer than half as many said it had decreased. The top sources of stress were money, work, and family responsibilities.
In this year's Stephen E. Straus Distinguished Lecture in the Science of Complementary Therapies, to be held on September 7, former U.S. Surgeon General Dr. Vivek Murthy will share his perspectives on stress in America. In a conversation with National Institutes of Health (NIH) Director Dr. Francis Collins, he will explore the individual- and population-level impact of stress and steps we can take to reduce its effect on our health and our lives.
In 2016, Dr. Murthy issued the first-ever Surgeon General's report on substance abuse, Facing Addiction in America: The Surgeon General's Report on Alcohol, Drugs and Health, which drew attention to alcohol and drug misuse as a major public health challenge for our country. Stress is a known risk factor for substance misuse and for relapse in people who are struggling with addiction.
Stress also contributes to a variety of other mental and physical health problems—such as headaches, anxiety, obesity, and heart disease. Stress can worsen health conditions both because of the strain it puts on the body and because people may respond to stress with undesirable behaviors, such as unhealthy eating. Stress may even play a role in pain, perhaps in part because of the overlapping pathways in the brain that interpret emotional and physical pain.
Dr. Murthy and Dr. Collins will discuss what research is revealing about not only the ways in which stress affects us, but also the approaches people can incorporate into their lives to help reduce stress, such as regular exercise, social connection, and contemplative practices, including meditation. They will also examine how improvements in mental and emotional well-being can have a positive impact on the lives of individuals and communities and explore how models of successful interventions might be scaled to reach larger communities.
Join us on September 7 from 11 a.m. to 12 noon ET at the Masur Auditorium, Building 10, at NIH to find out more about stress and its impact on America's health. The lecture will also be broadcast live via NIH Videocast and streamed live on Facebook at facebook.com/nih.gov and facebook.com/nih.nccih.  We'll use #Chatstress and #Straus17 on Twitter.
This lecture is made possible with support from the Foundation for the National Institutes of Health.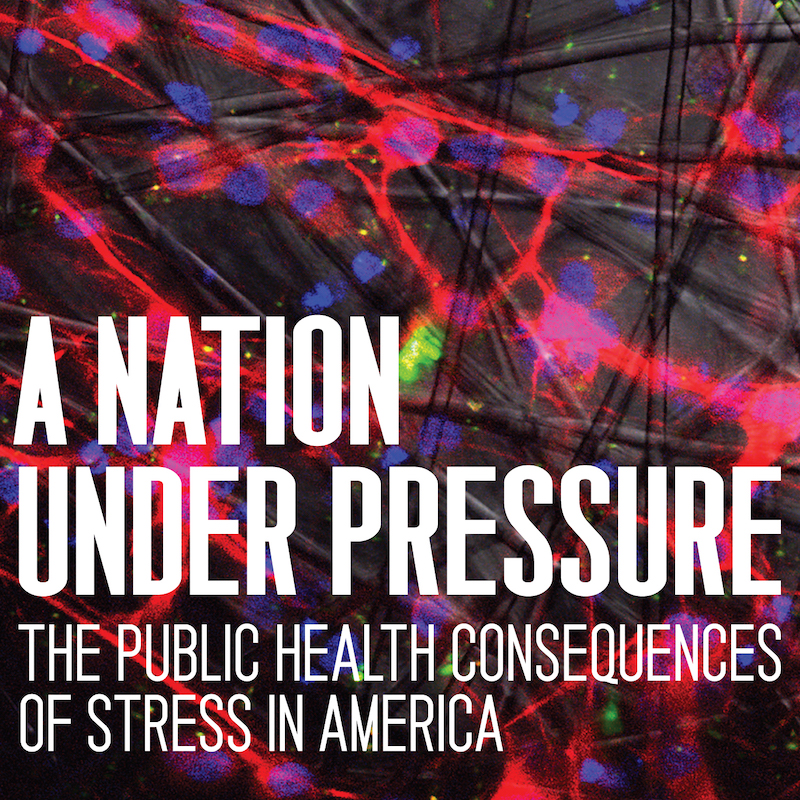 Courtesy of NCCIH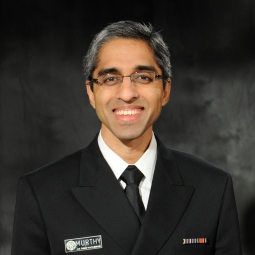 Courtesy: U.S. Office of the Surgeon General
Speaker Bio
Dr. Vivek H. Murthy served as the 19th Surgeon General of the United States between 2014 and 2017. In his role as the Nation's Doctor, he worked to address America's most pressing public health challenges, including Ebola, Zika, and the Flint water crisis. He launched the TurnTheTide campaign in 2016, urging health professionals to join a movement to address our Nation's opioid crisis. He also issued the first Surgeon General's report on alcohol, drugs, and health—in which he called the Nation to expand access to prevention and treatment and to recognize addiction as a chronic illness, not a character flaw.
Dr. Murthy continued his office's legacy on preventing tobacco-related disease, releasing a historic Surgeon General's report on e-cigarettes and youth. From the beginning of his tenure, Dr. Murthy spoke about the importance of health equity and creating a culture of prevention in America, one that is grounded in physical activity, nutrition, and emotional well-being. As the Vice Admiral of the U.S. Public Health Service Commissioned Corps, Dr. Murthy also oversaw a uniformed service of 6,700 public health officers, serving the most vulnerable populations domestically and abroad.
Dr. Murthy's commitment to medicine and health began early in life. The son of immigrants from India, he discovered the art of healing in his father's medical clinic in Miami. A believer in the power of community, he and his sister cofounded VISIONS, a peer-to-peer HIV/AIDS education program in India, and Swasthya ("health and well-being" in Sanskrit), a community health partnership that trained women to defy the odds in their patriarchal villages and become health care providers and educators.
As a health care entrepreneur, Dr. Murthy cofounded TrialNetworks, a technology company that improves research collaboration in clinical trials around the world. He also cofounded Doctors for America, a nonprofit organization with more than 16,000 physician and medical student members from all 50 states dedicated to creating a high quality, affordable health care system.
Dr. Murthy received his bachelor's degree from Harvard University and his M.D. and M.B.A. degrees from Yale University. He completed his internal medicine residency at Brigham and Women's Hospital in Boston and later joined Harvard Medical School as faculty in internal medicine. His research focused on vaccine development and later on the participation of women and minorities in clinical trials. Dr. Murthy resides in Washington, D.C., with his wife and young son.