Reframing the Primary Care Management of Chronic Pain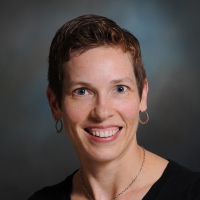 Speaker: Erin E. Krebs, M.D., M.P.H.
Associate Professor of Medicine
University of Minnesota Medical School
Date: April 23, 2018 - 11:00 a.m. ET to 12:15 p.m. ET
Lipsett Amphitheater, Building 10, NIH main campus Bethesda Maryland
Primary care is a specialty focused on providing comprehensive care over many years, regardless of the diagnosis or origin of the patient's problem. Primary care clinicians play a key role in caring for patients with chronic pain—a complex problem with diverse causes, co-occurring diseases/conditions, and consequences. 
Research has identified many barriers to the optimal management of chronic pain in primary care. The report from the National Institutes of Health's Pathways to Prevention workshop on "The Role of Opioids in the Treatment of Chronic Pain" notes, for example, that most primary care clinicians are overburdened and "work in health systems not designed or equipped for chronic pain management." 
Dr. Krebs will present on the characteristics and clinical needs of patients with chronic pain, including those receiving long-term opioid therapy; the implications of recent and ongoing research on managing chronic pain; and opportunities to improve its management in primary care.
Associate Professor of Medicine
University of Minnesota Medical School
Women's Health Medical Director, Core Investigator
Minneapolis Veterans Affairs Health Care System
Erin E. Krebs, M.D., M.P.H., is a general internist and a health services researcher at the Minneapolis Veterans Affairs (VA) Center for Chronic Disease Outcomes Research, and an associate professor of medicine at the University of Minnesota. She completed medical school and residency at the University of Minnesota, and fellowship training at the University of North Carolina at Chapel Hill in the Clinical Scholars program of the Robert Wood Johnson Foundation. Dr. Krebs's professional goal is to improve chronic pain management in primary care. Her research program is funded by the VA, the National Center for Complementary and Integrative Health (NCCIH), and the Patient-Centered Outcomes Research Institute (PCORI). Currently, she leads the VOICE (Veterans Pain Care Organizational Improvement Comparative Effectiveness) trial, a multisite, pragmatic trial comparing two collaborative care interventions for improving pain management among VA patients on high-dose, long-term opioid therapy, and the EPOCH study, a national, prospective, longitudinal study assessing patient-reported outcomes in veterans treated with long-term opioids.