Media Advisory: Lecture to explore health care transformation through the VA's patient-centered model
For Immediate Release:
Thursday, November 15, 2018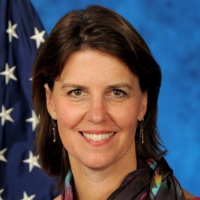 What: Tracy W. Gaudet, M.D., inaugural executive director, Office of Patient Centered Care and Cultural Transformation, Veterans Health Administration, U.S. Department of Veterans Affairs, will present on "Transforming Veterans' Health: Implementing a Whole Health System of Care."
Why: There are many challenges facing the American health care system, including the system that cares for our military veterans. One key issue is the "disease-driven approach to care" (National Academy of Medicine). Could we approach health care differently? The U.S. Department of Veterans Affairs (VA) has been attempting to answer this question by designing and implementing a new, whole health, patient-centered model of care. Such a model provides opportunities to research the effectiveness of health services. This "Whole Health System" is now in place at 18 flagship VA facilities and is showing transformative clinical results. Its components include empowering patients; developing a personal health plan; offering a well-being program of self-care, skill building, and support; and treating with a holistic approach that includes nondrug complementary and integrative therapies. Dr. Tracy Gaudet of the VA will discuss her agency's journey to and with this new model, which shows exciting potential for the Nation.
When: Thursday, November 29, 2018; 10:00 a.m. – 11:00 a.m. EST
Where: Lipsett Amphitheater, NIH Clinical Center (Building 10), NIH Main Campus, Bethesda, MD
This lecture is open to the public and can be viewed in person or via livestream on NIH Videocast and Facebook Live.
Who's hosting: This lecture is hosted by the National Center for Complementary and Integrative Health (NCCIH) at the National Institutes of Health as a Stephen E. Straus Distinguished Lecture in the Science of Complementary Therapies.
The event is supported by the Foundation for the National Institutes of Health with a generous gift from Bernard and Barbro Osher.
About the National Center for Complementary and Integrative Health (NCCIH):
NCCIH's mission is to define, through rigorous scientific investigation, the usefulness and safety of complementary and integrative health approaches and their roles in improving health and health care. For additional information, call NCCIH's Clearinghouse toll free at 1-888-644-6226. Follow us on X, Facebook , and YouTube.
About the National Institutes of Health (NIH): NIH, the nation's medical research agency, includes 27 Institutes and Centers and is a component of the U.S. Department of Health and Human Services. NIH is the primary federal agency conducting and supporting basic, clinical, and translational medical research, and is investigating the causes, treatments, and cures for both common and rare diseases. For more information about NIH and its programs, visit www.nih.gov.