NCCIH Introduces Know the Science Initiative
Science literacy efforts include interactive modules, videos to equip consumers for informed decision-making​​​​​​​
For Immediate Release:
Thursday, October 19, 2017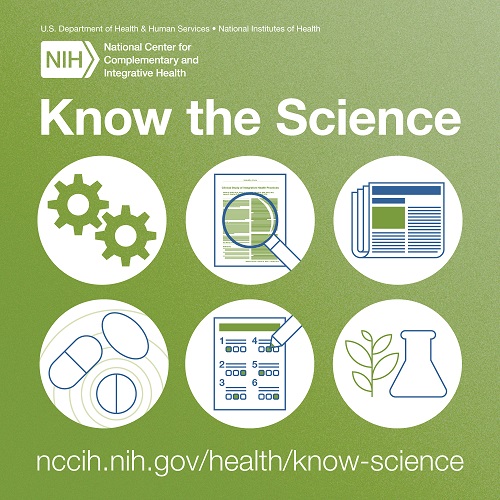 The National Center for Complementary and Integrative Health (NCCIH), part of the National Institutes of Health, has launched Know the Science, an initiative aiming to clarify and explain scientific topics related to health research. This effort features a variety of materials including interactive modules, quizzes, and videos to provide engaging, straightforward content for consumers to dive in and get to know the science. While complementary approaches are occasionally highlighted in examples, the materials cover topics common to all areas of health research.
"NCCIH sits at the crossroads between research and real-world consumer use. We're studying approaches that are already on the shelf or used by consumers," said David Shurtleff, Ph.D., acting director of NCCIH. "It's part of our mission to not only inform consumers about the research, but equip them with the tools to better understand it and apply it to smart decisions about their health."
Misinformation about health topics is widespread. The need for stronger science literacy efforts is especially clear in the complementary and integrative health space, where many approaches are readily available in the marketplace and are often selected for self-care. Recognition of science literacy gaps and identifying opportunities to fill them, led NCCIH to conduct a series of conversations with in-house experts across NIH and well as external stakeholders in the field.
These conversations, as well as work with a small team from the NCCIH Advisory Council, led to the creation of the Know the Science initiative and several resources that range from informative guides to interactive modules, such as:
All Know the Science resources can be accessed at nccih.nih.gov/health/know-science. In addition, the Know the Science portal links to informative content from the National Library of Medicine, the National Human Genome Research Institute, and other Federal resources designed to help consumers make sense of health information.
In the coming months, NCCIH will continue to roll out new Know the Science resources to address timely science literacy needs as well as connect with stakeholders to encourage sharing of NCCIH's online portal with consumers.
About the National Center for Complementary and Integrative Health (NCCIH):
NCCIH's mission is to define, through rigorous scientific investigation, the usefulness and safety of complementary and integrative health approaches and their roles in improving health and health care. For additional information, call NCCIH's Clearinghouse toll free at 1-888-644-6226. Follow us on Twitter, Facebook , and YouTube.
About the National Institutes of Health (NIH): NIH, the nation's medical research agency, includes 27 Institutes and Centers and is a component of the U.S. Department of Health and Human Services. NIH is the primary federal agency conducting and supporting basic, clinical, and translational medical research, and is investigating the causes, treatments, and cures for both common and rare diseases. For more information about NIH and its programs, visit www.nih.gov.