NIH to investigate minor cannabinoids and terpenes for potential pain-relieving properties
For Immediate Release:
Thursday, September 19, 2019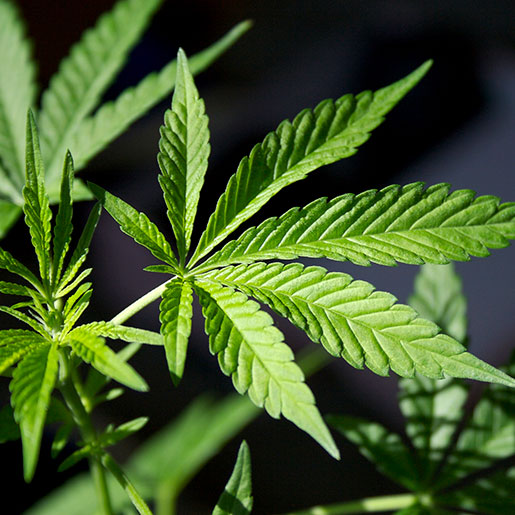 Despite a lack of robust evidence, cannabinoids—such as CBD—are often assumed to be safe and effective in managing pain and used for such purposes in real-world settings. Now, nine new research awards totaling approximately $3 million will investigate the potential pain-relieving properties and mechanisms of actions of the diverse phytochemicals in cannabis, including both minor cannabinoids and terpenes. These awards, funded by the National Center for Complementary and Integrative Health (NCCIH), part of the National Institutes of Health (NIH), will strengthen the evidence regarding cannabis components and whether they have potential roles in pain management.
"The treatment of chronic pain has relied heavily on opioids, despite their potential for addiction and overdose and the fact that they often don't work well when used on a long-term basis," said Helene M. Langevin, M.D., director of NCCIH. "There's an urgent need for more effective and safer options."
Minor cannabinoids (those other than THC, the high-inducing component of marijuana) and certain terpenes found in the cannabis plant may have analgesic properties, but there has been little research on these substances to understand their effects and underlying mechanisms. The cannabis plant contains more than 110 cannabinoids and 120 terpenes, but the only compound that's been studied extensively is THC.
"THC may help relieve pain, but its value as an analgesic is limited by its psychoactive effects and abuse potential," said David Shurtleff, Ph.D., deputy director of NCCIH. "These new projects will investigate substances from cannabis that don't have THC's disadvantages, looking at their basic biological activity and their potential mechanisms of action as pain relievers."
Natural products, including cannabinoids, have shown promise for potential use as nonopioid analgesics; however, we need to know more about whether they work, what they do in the body, and how they might be integrated into multidisciplinary pain management. These new awards support a broad range of cannabinoid and terpene studies, including:
Mechanism and Optimization of CBD-Mediated Analgesic Effects; Boston Children's Hospital, Boston; Zhigang He, Ph.D., B.M., and Kuan Hong Wang, Ph.D. This project will investigate how the pain-relieving effects of cannabidiol (CBD) and other minor cannabinoids may be modulated by the activity of potassium-chloride cotransporter 2 (KCC2), a chloride extruder expressed in most neurons. (Grant 1R01AT010779)
Neuroimmune Mechanisms of Minor Cannabinoids in Inflammatory and Neuropathic Pain; University of California, San Francisco; Judith Hellman, M.D., and Mark A. Schumacher, M.D., Ph.D. This project will explore the effects of minor cannabinoids on inflammatory and neuropathic pain in vitro and in vivo, focusing on the interactions of the cannabinoids with the peripheral receptor called TRPV1 and a cannabinoid receptor, CB1R. (Grant 1R01AT010757)
Minor Cannabinoids and Terpenes: Preclinical Evaluation as Analgesics; Research Triangle Institute, Research Triangle Park, North Carolina; Jenny L. Wiley, Ph.D. This project will evaluate purified biosynthesized minor cannabinoids and selected terpenes alone and in planned combinations to determine their potential efficacy as pain relievers against acute thermal, inflammatory, neuropathic, and visceral pain. (Grant 1R01AT010773)
Identifying the Mechanisms of Action for CBD on Chronic Arthritis Pain; New York University School of Medicine, New York City; Yu-Shin Ding, Ph.D. This project will use neuroimaging studies and behavioral assessments to investigate the mechanisms of action of CBD in the modulation of chronic pain associated with osteoarthritis in a mouse model. (Grant 1R21AT010771)
Synthetic Biology for the Chemogenetic Manipulation of Pain Pathways; University of Texas, Austin; Andrew Ellington, Ph.D. This project will use a novel method to evolve individual variants of cannabinoid receptor type 2 (CB2) that interact with high affinity with minor cannabinoids and evaluate the new variants in a mouse model of pain. (Grant 1R21AT010777)
Exploring the Mechanisms Underlying the Analgesic Effect of Cannabidiol Using Proton Magnetic Resonance Spectroscopy; University of Utah, Salt Lake City; Deborah A. Yurgelun-Todd, Ph.D. This project will use proton magnetic resonance spectroscopy (1H-MRS) to evaluate changes in brain chemistry in critical pain-processing regions after short-term administration of a cannabis extract enriched in CBD. (Grant 1R21AT010736)
Mechanistic Studies of Analgesic Effects of Terpene Enriched Extracts from Hops; Emory University, Atlanta; Cassandra L. Quave, Ph.D. This project will take a multidisciplinary approach to investigate the analgesic effects of terpenes from Humulus lupulus (hops), a plant that is closely related to cannabis and has a very similar terpene profile. (Grant 1R21AT010774)
Systematic Investigation of Rare Cannabinoids With Pain Receptors; University of Illinois at Urbana-Champaign; David Sarlah, Ph.D. This project involves synthesizing several classes of rare phytocannabinoids, systematically evaluating their anti-inflammatory potential, and examining the effects of the compounds with the strongest anti-inflammatory potential on the major receptors involved in pain sensation. (Grant 1R21AT010761)
Analgesic efficacy of single and combined minor cannabinoids and terpenes; Temple University, Philadelphia; Sara J. Ward, Ph.D. This project will use rodent models of pain to evaluate the effects of four biologically active components of cannabis that may act synergistically to protect against pain development and to assess the interactions of these four substances with morphine. (Grant 1R01AT010778)
About the National Center for Complementary and Integrative Health (NCCIH):
NCCIH's mission is to define, through rigorous scientific investigation, the usefulness and safety of complementary and integrative health approaches and their roles in improving health and health care. For additional information, call NCCIH's Clearinghouse toll free at 1-888-644-6226. Follow us on Twitter, Facebook , and YouTube.
About the National Institutes of Health (NIH): NIH, the nation's medical research agency, includes 27 Institutes and Centers and is a component of the U.S. Department of Health and Human Services. NIH is the primary federal agency conducting and supporting basic, clinical, and translational medical research, and is investigating the causes, treatments, and cures for both common and rare diseases. For more information about NIH and its programs, visit www.nih.gov.