Dr. Tracy Gaudet To Speak on Health Care Transformation in the VA's Patient-Centered Model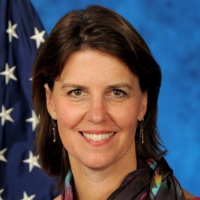 "What really matters to you in your life? What brings you a sense of joy and happiness? How can these things help us work together on your health challenges?"
These are questions that we don't typically hear in our current health care system, says Tracy W. Gaudet, M.D., who will deliver NCCIH's upcoming 2018 Stephen E. Straus Distinguished Lecture in the Science of Complementary Therapies (more details below). And they're at the center of an initiative Dr. Gaudet leads at the U.S. Department of Veterans Affairs (VA) to deliver personalized, proactive, and patient-centered care to our veterans.

The Veterans Health Administration's cultural transformation to a Whole Health System was initially deployed at 18 flagship VA facilities around the Nation. Key to the approach is to start with what matters most to the patient. For example, even when living with a difficult condition such as chronic pain, would the person like to return to a favorite sport or hobby? To play on the floor with his or her children or grandchildren? To feel and function better at work?

Whole Health, Dr. Gaudet says, is an approach to health care that empowers and equips people to take charge of their health and well-being and to live their lives to the fullest. VA facilities have been exploring what it takes to shift from a system designed around points of medical care primarily focused on disease management, to one based on a partnership across time focused on whole health. What we need, she adds, is a health system centered not only on treatment and clinical encounters but also on self-empowerment, self-healing, and self-care. Whole Health also provides opportunities for health services research.

Dr. Gaudet is the inaugural executive director of the VA's Office for Patient Centered Care and Cultural Transformation and was formerly director of Duke Integrative Medicine, Durham, NC. Since 2011, she has led the VA's initiative to redesign the delivery of health care. It is, she says, a movement away from the limited "find-it/fix-it, disease-driven" approach to a concept that includes conventional treatment, self-empowerment, a personalized health plan, self-healing, self-care, and nondrug complementary and integrative modalities.

The lecture, "Transforming Veterans' Health: Implementing a Whole Health System of Care," will take place on November 29, 2018, from 10:00 a.m. to 11:00 a.m. ET in the Lipsett Amphitheater, NIH Clinical Center. It will also be streamed and archived on NIH Videocast and the NCCIH Facebook page. We welcome you to join us in person or online to hear this dynamic speaker. More information about this annual NCCIH lecture, which honors Stephen E. Straus, M.D., the Center's Founding Director, and about Dr. Gaudet is available on the event page.
Comments
Comments are now closed for this post.