Uses and Misuses of Pilot Studies
As a program director at NCCIH, I frequently talk with investigators about the process of intervention development and the importance of pilot studies in this process. NCCIH has developed a Framework for Developing and Testing Mind and Body Interventions for our investigators to follow (depicted below).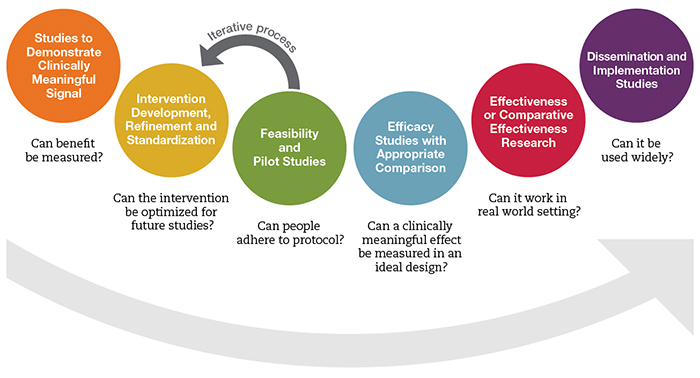 When discussing this framework, I have found that many investigators have questions about the uses of pilot studies and often have misconceptions about them. In response, we have developed a webpage—Pilot Studies: Common Uses and Misuses—to offer further guidance.
Uses of Pilot Studies
The goal of a pilot study should be to assess the feasibility and/or acceptability of an approach intended for a larger scale study; it should not be used to test hypotheses about the effects of an intervention. In other words, the pilot study should not attempt to answer "Does this intervention work?" Instead, it should help you gather information to help you answer "Can I do this?" Our new webpage offers specific guidance on feasibility questions you could pose in a pilot study, and on establishing benchmarks to determine if your pilot work demonstrates feasibility. Importantly, this testing of methods and procedures to be used in a larger scale study is the critical groundwork we wish to support in PAR-14-182, to pave the way for the larger scale efficacy trial.
Misuses of Pilot Studies
Too often, rather than focusing on feasibility outcomes, proposed pilot studies inappropriately focus on assessing safety and tolerability of a treatment, "preliminary efficacy," and/or estimating an effect size for power calculations of the larger-scale study. The new Web page provides guidance on why pilot studies should not be used for these purposes.
If you are developing a feasibility study or thinking about applying to PAR-14-182, please visit the Pilot Studies: Common Uses and Misuses webpage for more details on what pilot studies should and should not be used for, as well as advice on alternative approaches. You can also read more about the steps involved in developing and testing mind and body interventions on our website.
Comments
Comments are now closed for this post.