Emotional Well-Being: Emerging Insights and Questions for Future Research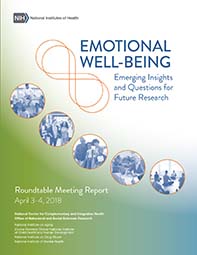 Report of a Roundtable Meeting
April 3-4, 2018
Bethesda, Maryland
To gain a deeper insight into the existing research on the role of emotional well-being in health and the implications for public understanding, the National Center for Complementary and Integrative Health (NCCIH) and the Office of Behavioral and Social Sciences Research (OBSSR), in collaboration with other National Institutes of Health (NIH) institutes, centers, and offices, cosponsored a roundtable discussion with the goal of advancing research in this area. Its focus was on issues in developing, testing, and implementing intervention strategies to promote emotional well-being.
Presentations focused on models of success, identified as follows:
Interventions that either produced better health outcomes through promotion of emotional resilience, including cases in which: (1) a component of emotional well-being is explicitly identified as the intervention target, or (2) a change in emotional well-being is found to be a mediator of change in health, or (3) interventions in which improvement of some aspect of emotional well-being itself was the desired outcome.
Roundtable participants were asked to discern common themes across the models of success with the goal of identifying research gaps and opportunities for NIH's consideration.
View Report of the Roundtable: Emotional Well-Being: Emerging Insights and Questions for Future Research (1.1MB PDF)