Americans Are in Pain: Analysis of Data on the Prevalence and Severity of Pain From National Survey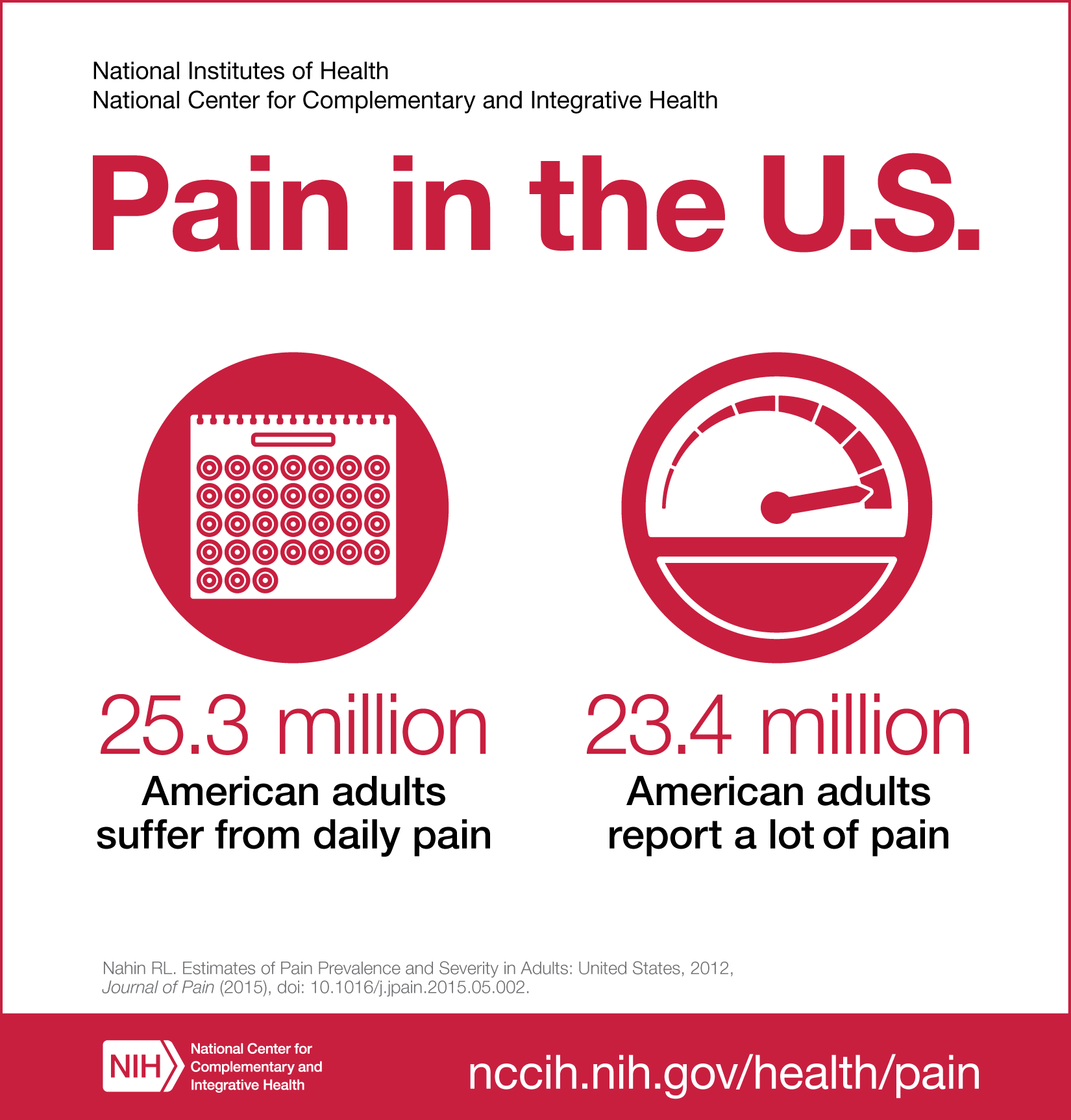 A new analysis based on data from the 2012 National Health Interview Survey (NHIS) found that an estimated 25.3 million adults (11.2 percent) experience daily pain—that is, they had pain every day for the 3 months prior to the survey. In addition, nearly 40 million adults (17.6 percent) experience severe levels of pain and are also likely to have worse health status. The analysis was funded by NCCIH and was published in The Journal of Pain.
According to the Institute of Medicine, obtaining a definitive picture of the extent and significance of pain is challenging, in part, because pain is often treated as a symptom and the data collected is on underlying conditions or events. The NHIS is an annual study in which tens of thousands of Americans are interviewed about their health- and illness-related experiences. The 2012 NHIS asked participants about the frequency and intensity of pain experienced in the prior 3 months. The 2012 survey results are based on combined data from 8,781 American adults.
Researchers assigned pain severity using an approach developed by the Washington Group on Disability Statistics, which provides four categories of pain. Among the findings of the analysis:
An estimated 23.4 million adults (10.3 percent) experience "a lot" of pain.
An estimated 126 million adults (55.7 percent) reported some type of pain in the 3 months prior to the survey.
Adults in the two most severe pain groups were likely to have worse health status, to use more health care, and to suffer from more disability than those with less severe pain. However, approximately half of individuals with the most severe pain still rated their overall health as good or better.
There were associations between pain severity and race, ethnicity, language preference, gender, and age. Women, older individuals, and non-Hispanics were more likely to report any pain, while Asians were less likely.
Minorities who did not choose to be interviewed in English are markedly less likely to report pain.
The impact of gender on pain prevalence was modest.
The researchers concluded that while these data are promising, additional work is required to determine the utility of the Washington Group pain categories for pain research or clinical practice.
Publication Date: August 11, 2015