Compound in North American Botanical Oplopanax horridus Inhibits Colorectal Tumor Growth in Mouse Model and Human Cells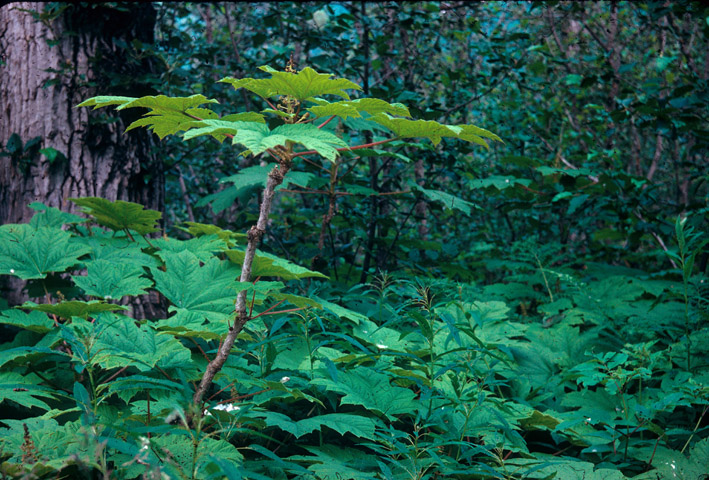 A new compound isolated from the Pacific Northwest shrub Oplopanax horridus, sometimes called Alaskan ginseng or devil's club, showed beneficial effects on human colorectal cells in a recent laboratory study. The study, funded in part by the National Center for Complementary and Integrative Health and involving researchers from the University of Chicago and two Chinese universities―Central South University and University of Macau, was published in the journal Nutrients.
The study first evaluated in vivo (within the cell) whether the compound―called oplopantriol A―inhibited tumor growth in mice with colon cancer. Mice with transplanted human colon cancer cells received oplopantriol A at 15 mg/kg or 30 mg/kg doses, or a control, every other day. Mice treated with oplopantriol A showed a significant decrease in tumor size compared with the control group, and tumor growth inhibition occurred in a dose-related manner. It took 3 weeks for tumor growth inhibition to appear, and a more than 40-percent reduction in tumor size was evident by the end of the fifth week. No adverse events were seen.
The researchers then examined in vitro (in an artificial environment, such as a test tube) the compound's growth inhibition effect in two human colorectal cancer cell lines. One of them (HCT-116) showed a significant sensitivity to oplopantriol A. Cells from this line are p53 wild-type while those from the other (SW-480) line are mutant in the p53 suppressor gene. This suggests that some activity of the p53 tumor suppressor protein (which has a role in preventing cancer formation) may be linked to the compound to achieve the antitumor effects.
Publication Date: July 18, 2014