Tai Chi Has Similar or Greater Benefits Than Aerobic Exercise for Fibromyalgia, Study Shows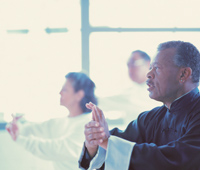 © Getty Images
Tai chi results in similar or greater improvement in fibromyalgia symptoms when compared to aerobic exercise, according to a new study from Tufts University and Brown University. Aerobic exercise, a core part of standard fibromyalgia treatment, is the most commonly prescribed nondrug treatment for the disorder, which can involve widespread pain, tenderness, fatigue, and other symptoms. Findings from the new study, however, suggest that tai chi is another therapeutic option. The study, partially funded by the National Center for Complementary and Integrative Health (NCCIH), was published in the BMJ.
Tai chi is a traditional Chinese mind and body practice that combines meditation with deep breathing, relaxation, and gentle movements. Past research found that tai chi lessened pain and improved physical and mental health in patients with fibromyalgia. However, larger and more rigorous studies were needed to confirm the benefits. The new study's purpose was to help fill that knowledge gap by comparing the effectiveness of tai chi with that of aerobic exercise and determining whether tai chi's effects were related to its frequency and duration.
The study involved 226 adults with fibromyalgia who had not participated in tai chi or similar practices in the 6 months prior to the study. Their average age was 52 years, 92 percent were women, and 61 percent were white. The average duration of body pain was 9 years.
Participants were randomly assigned to either supervised exercise, twice weekly for 24 weeks, or to one of four tai chi groups (once or twice weekly, for 12 or 24 weeks). Tai chi sessions, lasting 60 minutes each, were in the classic Yang style and taught by one of three tai chi instructors. Aerobic exercise sessions involved group format cardiovascular exercise that met current recommended guidelines of moderate intensity exercise for fibromyalgia.
The researchers assessed changes in total scores on the revised fibromyalgia impact questionnaire (FIQR), which measures overall severity of fibromyalgia including intensity of pain, physical function, fatigue, morning tiredness, depression, anxiety, job difficulty, and overall well-being. At 24 weeks, FIQR scores had improved in all five treatment groups, but the combined tai chi groups improved significantly more than the aerobic exercise group. Tai chi resulted in greater benefit than aerobic exercise when each was practiced twice weekly for 24 weeks. Greater improvement was seen with 24 weeks than 12 weeks of tai chi, but twice-weekly tai chi wasn't more helpful than weekly tai chi. Participants in the tai chi groups attended sessions more often than those in the aerobic exercise group. Tai chi's effects were consistent across all three instructors, and there were no reports of serious adverse events related to either intervention. Limitations of the study included participants' awareness of their treatment assignments and the attendance differences between groups.
The researchers noted that extensive evidence has suggested that aerobic exercise is effective in treating fibromyalgia. Some patients with fibromyalgia, however, struggle with exercise programs. This study showed that tai chi appears to be as effective or better for managing fibromyalgia, that a longer duration of tai chi results in greater benefits, and that patients are more likely to attend tai chi classes than aerobic exercise sessions. The researchers therefore concluded that tai chi may be a therapeutic option in the multidisciplinary management of fibromyalgia.
Publication Date: March 22, 2018