Yoga Similar to Physical Therapy in Helping Low-Back Pain in a Diverse Urban Population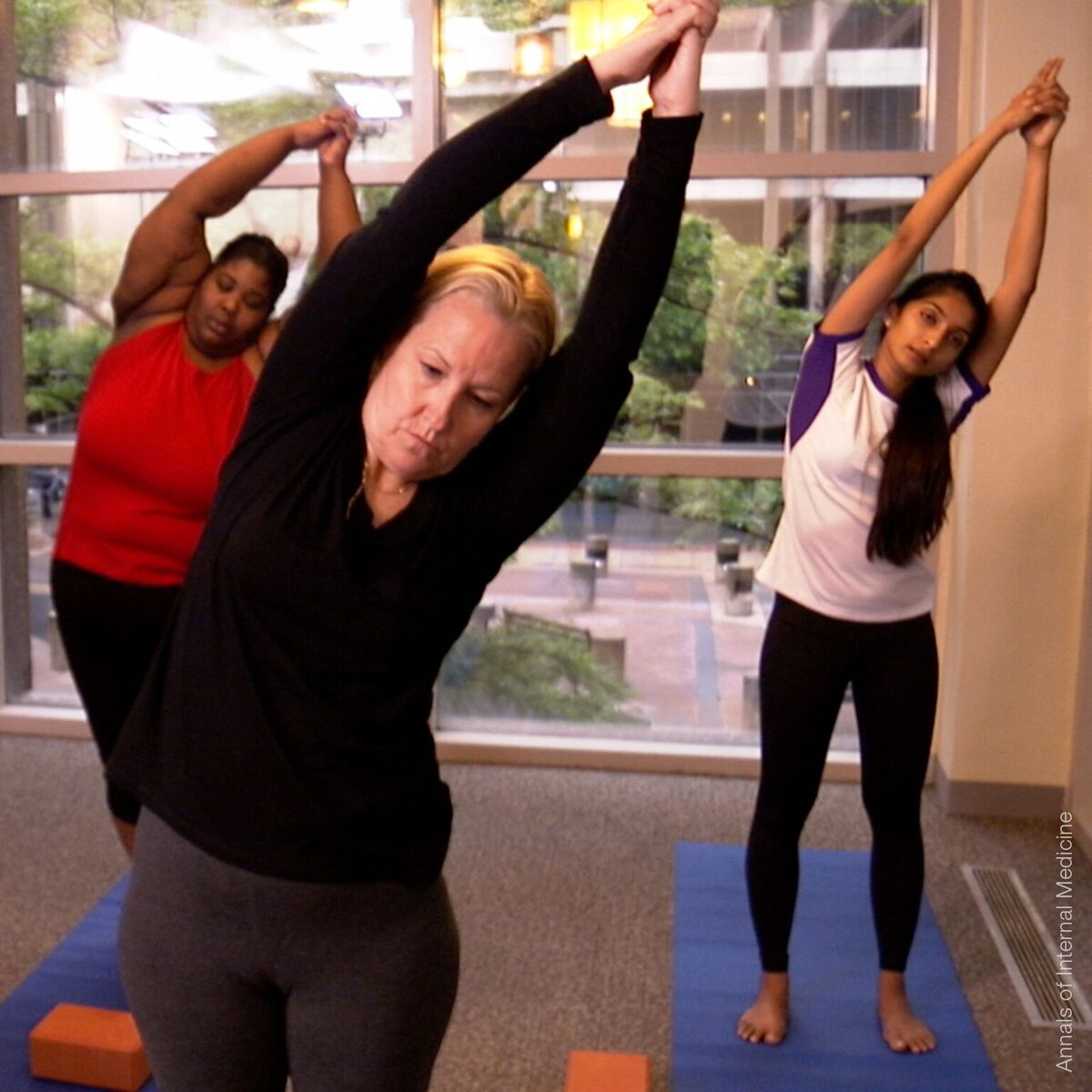 Source: Annals of Internal Medicine
Results of a new NCCIH-funded study show yoga and physical therapy offer similar pain-relief and functional benefits to people with low socioeconomic status who had chronic low-back pain. These improvements were greater than self-education; however, they were not considered significant. These findings suggest that a structured yoga program may be an alternative to physical therapy for people with chronic low-back pain, depending on individual preferences, availability, and cost.
The year-long study, which enrolled racially diverse adults with low socioeconomic status, was conducted at Boston University and included researchers from the University of Pittsburgh, Group Health Research Institute in Seattle, the University of Washington, and the RAND Corporation. It was published in the Annals of Internal Medicine.
Some studies suggest yoga helps with symptoms of chronic low-back pain. But the evidence has been sparse on whether yoga's benefits extend across diverse populations, including racial or ethnic minorities, those with lower socioeconomic status, or those with challenges in obtaining medical care because of health disparities.
In the first 12-week phase of the study, researchers randomly assigned 320 predominantly low-income, racially diverse adults aged 18 to 64 with chronic low-back pain (of no specific cause) to one of three groups:
One group participated in a 75-minute yoga class, once per week, taught by a yoga instructor, along with home practice.
Another group received individual physical therapy of up to 15 one-hour sessions delivered by a physical therapist and combined with home practice.
The final group received an education handbook on self-care for back pain; every 3 weeks, they received brief newsletters that summarized the main points from assigned chapters. Members of this group also received r periodic check-in calls.
The researchers measured participants' average pain intensity and disability related to back pain at the study's start and then at 6, 12, 26, 40, and 52 weeks.
In the next phase of the study, members of the yoga and physical therapy groups who had attended at least one of their classes or sessions were randomly assigned to new groups. For example, the yoga participants were assigned to either home practice or drop-in yoga classes, and the physical therapy participants to either home practice only or five "booster" sessions of physical therapy. The education group continued reviewing their materials and receiving check-in calls.
The researchers found that for pain and function, yoga and physical therapy had similar results, and both were better than the education group. Further, at 12 weeks, the yoga and physical therapy groups were less likely than the education group to use any pain medication. Improvements in the yoga and physical therapy groups were maintained at the end of the 52 weeks. The benefits of these two groups appeared to be associated with the number of classes/sessions participants attended.
Additional analyses of these data are planned, including on cost effectiveness, work productivity, and perceived depression and anxiety.
Publication Date: June 19, 2017