Join Us for an NIH HEAL Initiative Workshop on Whole Joint Health
Director's Page
Helene M. Langevin, M.D.
June 29, 2023
When people have pain in their joints, it's often assumed that the cartilage in the joint is to blame, and that damage to cartilage is a progressive and irreversible process that can only be managed until the joint needs to be replaced. But the situation is both more complex and more hopeful. Joints are integrated organs that consist of a variety of different tissues—not just cartilage, but also bone, tendons, ligaments, muscle, synovium, myofascial tissues, the joint capsule, and others. Each can play a role in joint pain. Understanding the interactions between these tissues is key to knowing how joint pain can be resolved, joint function restored, and further deterioration prevented.
To fully understand joint pain and address it effectively, we need to support research that both considers the joint as a whole and investigates mechanisms of joint health restoration. Most studies of the joints, however, have not looked at them in this comprehensive way. Instead, studies have focused on individual components of the joints, with less attention to the ways in which they relate to and interact with one another. 
Research on joint health has also been fragmented and siloed in other ways. Much has been learned about joint tissues at both the macro and micro levels, but, for example, investigators who study biomechanics don't necessarily interact with those who study genetics and biochemistry. And researchers who specialize in one type of joint, like the knee or hip, haven't spent much time with those who study other joints, like the facet joints of the spine or the temporomandibular joint. 
At the National Center for Complementary and Integrative Health (NCCIH), we advocate for taking a whole person approach to health research that includes both analysis and synthesis. Analysis breaks things down into their individual components, enabling us to understand each of them better. Synthesis puts the components back together to enhance our understanding of the whole. We can make the greatest progress in research if we strive for a balance between analysis and synthesis and integrate knowledge across disciplines. This type of thinking applies to joint pain just as it does to other health issues. In the past few decades, remarkable progress has been made in developing a detailed understanding of the structures of individual tissues within the joint and how these tissues function in health and disease. Now, the time is ripe for integrating this knowledge to develop a fuller understanding of the joint as a whole.
I'm therefore thrilled that we are heading into a new chapter of joint health research that will be kicked off during an upcoming workshop. To bring the many threads of joint pain research together and identify critical gaps in our knowledge of the joint as a whole, the Helping to End Addiction Long-term® Initiative, or NIH HEAL Initiative®, will hold a virtual workshop on understanding and restoring whole joint health in pain management on July 25 and 26, 2023. NCCIH is leading the planning for this workshop. Our co-sponsors are the National Institute of Arthritis and Musculoskeletal and Skin Diseases (NIAMS), the National Institute on Aging (NIA), the National Cancer Institute (NCI), the National Institute of Biomedical Imaging and Bioengineering (NIBIB), the National Institute of Neurological Disorders and Stroke (NINDS), and the National Institute of Dental and Craniofacial Research (NIDCR). 
The workshop speakers and panelists will examine the structural and mechanical factors in joint pain and the mechanisms of whole joint pathology, focusing on the relationships and interactions among different tissue components of joints, their roles in joint pain, and their potential contributions to preserving and restoring joint health and function. We will also have sessions on differences among joint types and joint pain populations, emerging technologies for studying the joint as a whole, and interventions to address joint pain, including nonpharmacologic approaches. 
The workshop will conclude with a general discussion period, which Dr. Gayle Lester, director of the NIAMS Division of Extramural Research, and I will moderate. We will have ample time to talk about all aspects of whole joint health, and we're hoping for a great deal of interaction with the audience. Whether you are a researcher, clinician, patient, advocate, or other stakeholder with an interest in joint health and disease, we want your input. 
I hope you'll register now to join us on July 25 and 26 as we embark on this exciting new direction in joint pain research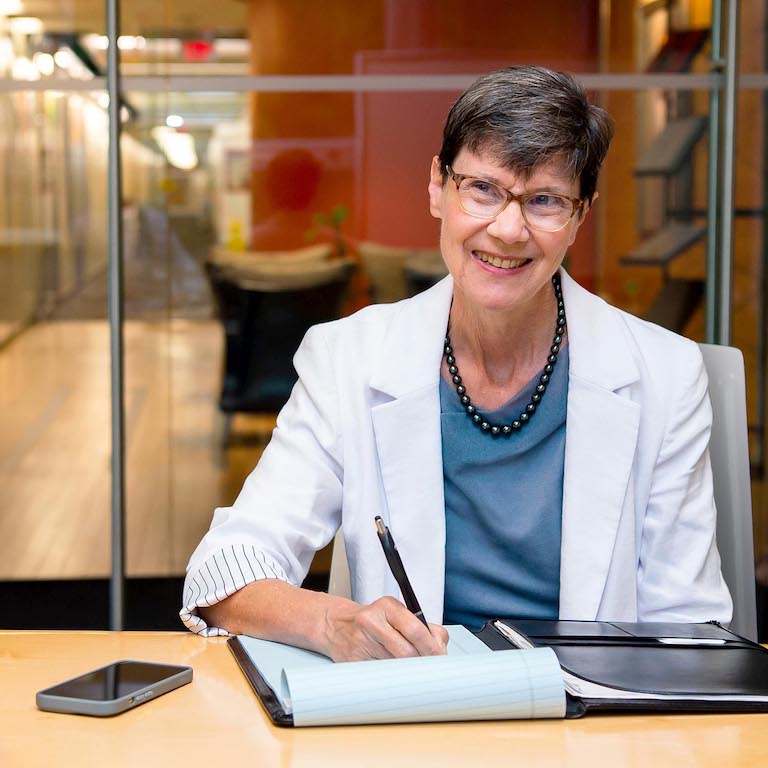 Helene M. Langevin, M.D.