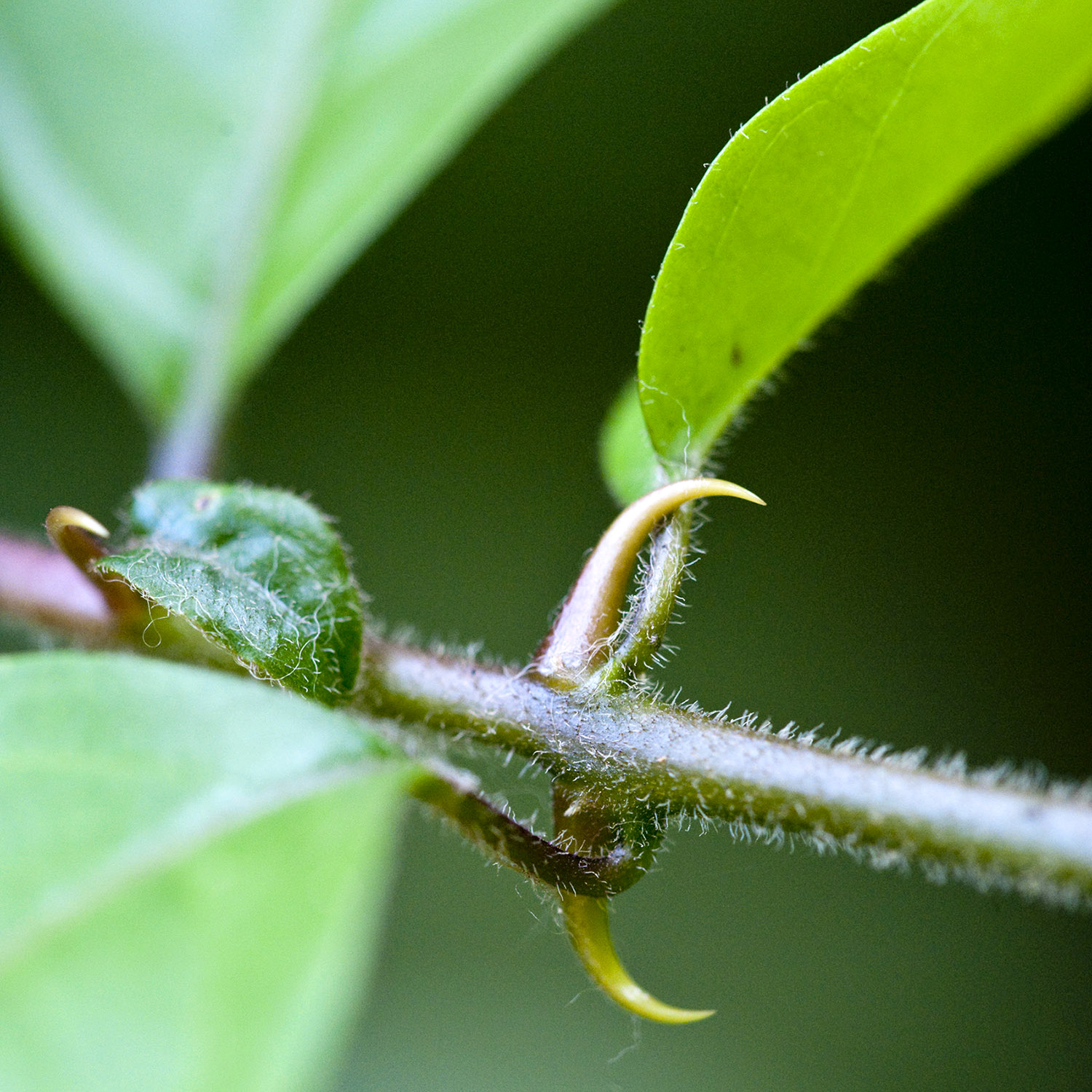 Common Names: cat's claw, uña de gato
Latin Names: Uncaria tomentosa, Uncaria guianensis
Cat's claw is a woody vine that grows wild in the Amazon rainforest and other tropical areas of Central and South America. Its thorns resemble a cat's claws.
The two most common species are U. tomentosa and U. guianensis. Most commercial preparations of cat's claw contain U. tomentosa.
Using cat's claw for health dates back to the Inca civilization. Its historical uses have included for contraception, inflammation, cancer, and viral infections, and to stimulate the immune system.
Today, cat's claw is used as a dietary supplement for a variety of health conditions including viral infections (such as herpes and HIV), Alzheimer's disease, cancer, arthritis, diverticulitis, peptic ulcers, colitis, gastritis, hemorrhoids, parasites, and leaky bowel syndrome.
The bark and root of cat's claw are used to make liquid extracts, capsules, tablets, and tea.
There have been very few high quality clinical trials (studies done in people) of cat's claw.
There's no conclusive scientific evidence based on studies in people that supports using cat's claw for any health purpose.
What Do We Know About Safety?
Few side effects have been reported for cat's claw when taken in small amounts.
Women who are pregnant or trying to become pregnant should avoid using cat's claw because of its past use for preventing and aborting pregnancy.
Tell all your health care providers about any complementary or integrative health approaches you use. Give them a full picture of what you do to manage your health. This will help ensure coordinated and safe care.
NCCIH Clearinghouse
The NCCIH Clearinghouse provides information on NCCIH and complementary and integrative health approaches, including publications and searches of Federal databases of scientific and medical literature. The Clearinghouse does not provide medical advice, treatment recommendations, or referrals to practitioners.
Toll-free in the U.S.: 1-888-644-6226
tty (for deaf and hard-of-hearing callers):
1-866-464-3615
Website: https://nccih.nih.gov/
Email: info@nccih.nih.gov (link sends e-mail)
Office of Dietary Supplements (ODS), National Institutes of Health (NIH)
ODS seeks to strengthen knowledge and understanding of dietary supplements by evaluating scientific information, supporting research, sharing research results, and educating the public. Its resources include publications (such as Dietary Supplements: What You Need to Know), fact sheets on a variety of specific supplement ingredients and products (such as vitamin D and multivitamin/mineral supplements), and the PubMed Dietary Supplement Subset.
Website: https://ods.od.nih.gov/
Email: ods@nih.gov (link sends e-mail)
Cat's claw. Natural Medicines Web site. Accessed at naturalmedicines.therapeuticresearch.com/ on March 24, 2015. [Database subscription].
Erowele GI, Kalejaiye AO. Pharmacology and therapeutic uses of cat's claw. American Journal of Health-System Pharmacy. 2009;66(11):992-995.
This publication is not copyrighted and is in the public domain. Duplication is encouraged.
NCCIH has provided this material for your information. It is not intended to substitute for the medical expertise and advice of your health care provider(s). We encourage you to discuss any decisions about treatment or care with your health care provider. The mention of any product, service, or therapy is not an endorsement by NCCIH.
Last Updated: September 2016