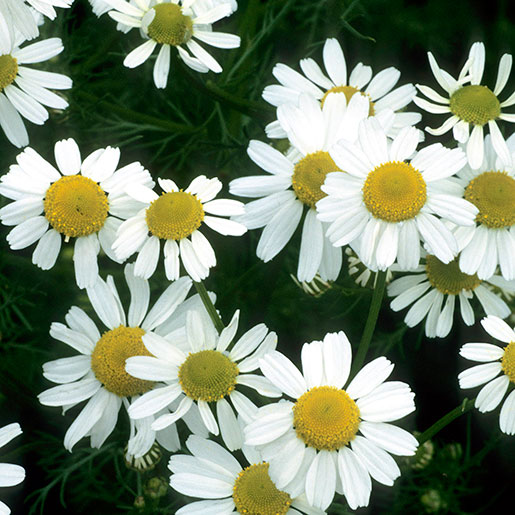 Common Names: chamomile, German chamomile
Latin Names: Matricaria recutita, Chamomilla recutita
There are two types of chamomile: German chamomile and Roman chamomile. This fact sheet focuses on German chamomile.
Chamomile was described in ancient medical writings and was an important medicinal herb in ancient Egypt, Greece, and Rome.
Today, chamomile is promoted for sleeplessness, anxiety, and gastrointestinal conditions such as upset stomach, gas, and diarrhea. It is also used topically for skin conditions and for mouth sores resulting from cancer treatment.
Not much is known about the health effects of chamomile because there are few studies on chamomile in people for individual conditions. Also, some studies look at products made of chamomile plus other herbs, so it is difficult to know chamomile's role from those studies.
Some preliminary studies suggest that a chamomile dietary supplement might be helpful for generalized anxiety disorder.
Some research has found that products containing certain combinations of herbs that include chamomile may be of benefit for upset stomach, for diarrhea in children, and for infants with colic. But chamomile alone has not been shown to be helpful for these conditions.
There's very little information on chamomile's effect on insomnia. A 2019 review of six small studies included only one study on insomnia. That one study found that chamomile had no benefit for insomnia. The same 2019 review looked at five studies on chamomile's effect in non-insomnia populations. The review concluded that chamomile might help improve the individual component of sleep quality over a 4-week period in people without insomnia.
What Do We Know About Safety?
Chamomile is likely safe when used in amounts commonly found in teas. It might be safe when used orally for medicinal purposes over the short term. The long-term safety of using chamomile on the skin for medicinal purposes is unknown.
Side effects are uncommon and may include nausea, dizziness, and allergic reactions. Rare cases of anaphylaxis (a life-threatening allergic reaction) have occurred in people who consumed or came into contact with chamomile products.
People are more likely to experience allergic reactions to chamomile if they're allergic to related plants such as ragweed, chrysanthemums, marigolds, or daisies.
Interactions between chamomile and cyclosporine (a drug used to prevent rejection of organ transplants) and warfarin (a blood thinner) have been reported, and there are theoretical reasons to suspect that chamomile might interact with other drugs as well. Talk to your health care provider before taking chamomile if you're taking any type of medicine.
Little is known about whether it's safe to use chamomile during pregnancy or while breastfeeding. 
Take charge of your health—talk with your health care providers about any complementary health approaches you use. Together, you can make shared, well-informed decisions.
NCCIH Clearinghouse
The NCCIH Clearinghouse provides information on NCCIH and complementary and integrative health approaches, including publications and searches of Federal databases of scientific and medical literature. The Clearinghouse does not provide medical advice, treatment recommendations, or referrals to practitioners.
Toll-free in the U.S.: 1-888-644-6226
Telecommunications relay service (TRS): 7-1-1
Website: https://www.nccih.nih.gov
Email: info@nccih.nih.gov (link sends email)
Office of Dietary Supplements (ODS), National Institutes of Health (NIH)
ODS seeks to strengthen knowledge and understanding of dietary supplements by evaluating scientific information, supporting research, sharing research results, and educating the public. Its resources include publications (such as Dietary Supplements: What You Need To Know) and fact sheets on a variety of specific supplement ingredients and products (such as vitamin D and multivitamin/mineral supplements).
Website: https://ods.od.nih.gov
Email: ods@nih.gov (link sends email)
Anheyer D, Frawley J, Koch AK, et al. Herbal medicines for gastrointestinal disorders in children and adolescents: a systematic review. Pediatrics. 2017;139(6):e20170062.
Chamomile. Drugs and Lactation Database (LactMed). Bethesda, MD: National Library of Medicine (US); 2019. Accessed at https://www.ncbi.nlm.nih.gov/books/NBK501808/ on November 6, 2019. 
Chamomile. LiverTox: clinical and research information on drug-induced liver injury. Bethesda, MD: National Institute of Diabetes and Digestive and Kidney Diseases; 2017. Accessed at https://www.ncbi.nlm.nih.gov/books/NBK548163/ on November 6, 2019.
Colombo D, Lunardon L, Bellia G. Cyclosporine and herbal supplement interactions. Journal of Toxicology. 2014;2014:145325.
German chamomile. Natural Medicines website. Accessed at naturalmedicines.therapeuticresearch.com on November 6, 2019. [Database subscription].
Hieu TH, Dibas M, Surya Dila KA, et al. Therapeutic efficacy and safety of chamomile for state anxiety, generalized anxiety disorder, insomnia, and sleep quality: a systematic review and meta-analysis of randomized trials and quasi-randomized trials. Phytotherapy Research. 2019;33(6):1604-1615.
Srivastava JK, Shankar E, Gupta S. Chamomile: a herbal medicine of the past with bright future. Molecular Medicine Reports. 2010;3(6):895-901.
This publication is not copyrighted and is in the public domain. Duplication is encouraged.
NCCIH has provided this material for your information. It is not intended to substitute for the medical expertise and advice of your health care provider(s). We encourage you to discuss any decisions about treatment or care with your health care provider. The mention of any product, service, or therapy is not an endorsement by NCCIH.