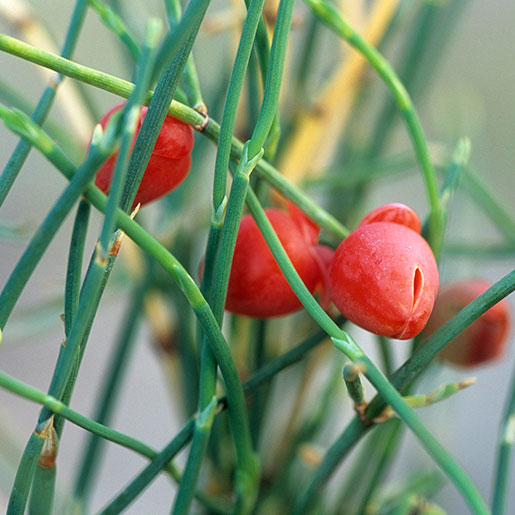 Common Names: ephedra, Chinese ephedra, ma huang
Latin Names: Ephedra sinica
Ephedra is a low evergreen shrub with small scaly leaves. It has a long history of medicinal use in China and India to treat colds, fever, headaches, coughing, wheezing, and other conditions.
The U.S. Food and Drug Administration (FDA) banned the sale of dietary supplements containing ephedrine alkaloids (stimulant compounds found in Ephedra sinica and some other plants) in the United States in 2004. Prior to the ban, ephedra was an ingredient in some dietary supplements promoted for weight loss, increased energy, and enhanced athletic performance.
Almost no new research on ephedra has been performed in the years since its use in dietary supplements was banned in the United States. Prior to the ban, substantial research had been done on ephedra's short-term effects on weight loss and its harmful effects.
Prior to the ban, research showed that dietary supplements containing ephedra/ephedrine (usually in combination with caffeine) had modest short-term effects on weight loss. However, this benefit was considered insufficient to outweigh the serious risks of these supplements. No studies had assessed long-term effects on weight. The evidence regarding athletic performance was insufficient to allow any conclusions to be reached.
What Do We Know About Safety?
The FDA banned dietary supplements containing ephedrine alkaloids because of their serious safety risks. The supplements were associated with cases of heart attack, seizure, stroke, and sudden death. People with a history of cardiovascular disease, those taking high doses of ephedra, and those taking it in combination with other stimulants such as caffeine would be expected to be at increased risk, but some of the severe events occurred in people with no preexisting medical problems, people taking relatively low doses of ephedra, or people taking ephedra alone.
Taking ephedra may also cause anxiety, dizziness, dry mouth, headache, irritability, nausea, personality changes, insomnia, and other symptoms.
Because of ephedra's serious risks, it is considered unsafe for use during pregnancy or while breastfeeding.
Take charge of your health—talk with your health care providers about any complementary health approaches you use. Together, you can make shared, well-informed decisions.
NCCIH Clearinghouse
The NCCIH Clearinghouse provides information on NCCIH and complementary and integrative health approaches, including publications and searches of Federal databases of scientific and medical literature. The Clearinghouse does not provide medical advice, treatment recommendations, or referrals to practitioners.
Toll-free in the U.S.: 1-888-644-6226
Telecommunications relay service (TRS): 7-1-1
Website: https://www.nccih.nih.gov
Email: info@nccih.nih.gov (link sends email)
Office of Dietary Supplements (ODS), National Institutes of Health (NIH)
ODS seeks to strengthen knowledge and understanding of dietary supplements by evaluating scientific information, supporting research, sharing research results, and educating the public. Its resources include publications (such as Dietary Supplements: What You Need To Know) and fact sheets on a variety of specific supplement ingredients and products (such as vitamin D and multivitamin/mineral supplements).
Website: https://ods.od.nih.gov
Email: ods@nih.gov (link sends email)
Ephedra. Natural Medicines website. Accessed at naturalmedicines.therapeuticresearch.com on November 11, 2019.
Shekelle GP, Hardy ML, Morton SC, et al. Efficacy and safety of ephedra and ephedrine for weight loss and athletic performance: a meta-analysis. JAMA. 2003;289(12):1537-1545.
Thurn AL, Betz JM. Ephedra. In: Coates P, Betz JM, Blackman MR, et al., eds. Encyclopedia of Dietary Supplements. 2nd ed. New York, NY: Informa Healthcare; 2010:250-255.
U.S. Food and Drug Administration. Final rule declaring dietary supplements containing ephedrine alkaloids adulterated because they present an unreasonable risk. Federal Register. 2004;69(28):6788-6854.
This publication is not copyrighted and is in the public domain. Duplication is encouraged.
NCCIH has provided this material for your information. It is not intended to substitute for the medical expertise and advice of your health care provider(s). We encourage you to discuss any decisions about treatment or care with your health care provider. The mention of any product, service, or therapy is not an endorsement by NCCIH.