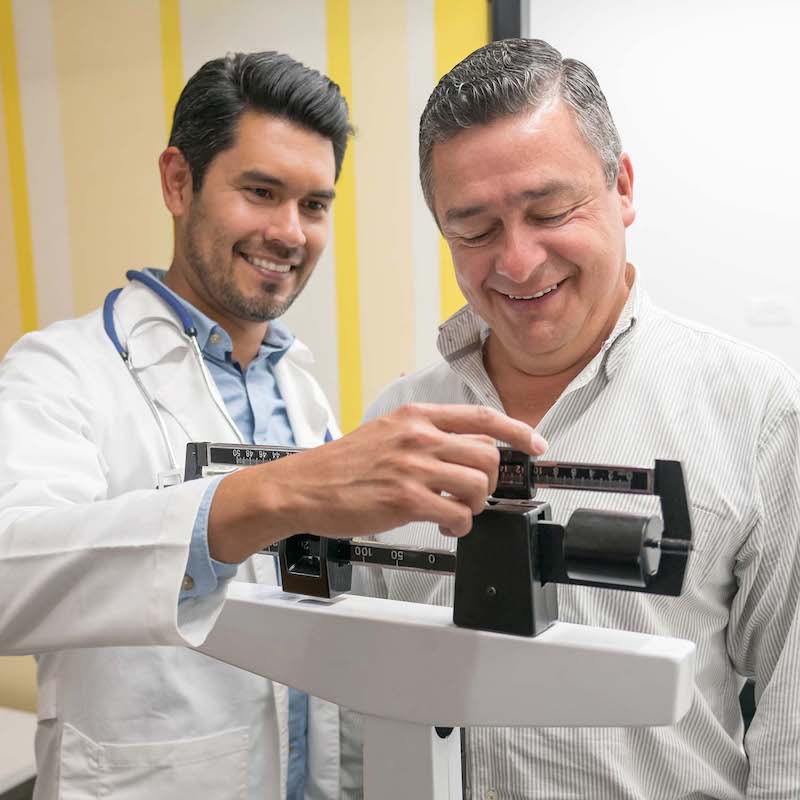 More than two-thirds of adults and one-third of children in the United States are overweight or obese. Obesity or being overweight may increase the risk of many health problems, including type 2 diabetes, heart disease, and certain cancers. If you're pregnant, excess weight may lead to short- and long-term health problems for you and your child. Achieving a healthy weight, eating a healthy diet, and being physically active can help prevent these weight-related diseases.
Some people, in their efforts to lose weight, turn to unproven dietary supplements (sometimes marketed as "fat burners" or appetite suppressants), which can have harmful side effects. If you're thinking about starting a new weight-loss program, talk with your health care provider, who can assess your weight and health risks, determine whether you need to lose weight, and provide information that will help you make informed decisions about an effective weight-loss program.
Most dietary supplements marketed for rapid weight loss, such as acai and hoodia, don't work for keeping weight off in the long term, and some are dangerous. For example, ephedra, which was used in weight loss supplements, was banned because of unreasonable risk of injury or illness.
Researchers have studied the weight loss potential of a variety of dietary supplements, including omega-3s and fish oil; chitosan, a dietary fiber from shellfish; green tea extracts; Chinese herbs; and bitter orange (Citrus aurantium) extract. None have been shown to be effective for weight loss, and each of these has side effects.
There's some emerging evidence suggesting that some mind and body approaches, such as yoga and meditation, particularly mindful eating, may be useful as complements to other weight-loss interventions.
The U.S. Food and Drug Administration (FDA) banned the sale of dietary supplements containing ephedra, which was marketed for weight loss, because of serious health risks, such as cardiovascular complications and even risk of death. Ephedra is also called ma huang.
Many ephedra-free supplements are now being sold, but side effects of some of their ingredients are similar to the banned products. Some ephedra-free supplements also have a lot of caffeine or herbs, such as guarana, that contain caffeine. The products can cause increased heart rate and abnormal heart rhythms.
Many dietary supplements marketed for weight-loss (including ones sold as "fat burners" or appetite suppressants) have not been tested for safety.
What's on the label may not be what's in the bottle. Analyses of dietary supplements, including herbal supplements, sometimes find differences between labeled and actual ingredients. Also, the FDA has found weight-loss products tainted with prescription drug ingredients.
Dietary supplements for weight loss are sometimes misused by people with eating disorders, such as anorexia nervosa or bulimia nervosa, to lose weight or induce vomiting.
If you're considering a dietary supplement for weight loss, remember that "natural" does not necessarily mean "safe."
Mind and body practices, such as meditation and yoga, are generally considered safe for healthy people when practiced appropriately under the guidance of a well-trained instructor. If you have any underlying health conditions, talk to your health care provider about any complementary approach you may be interested in using.
For more information on how to reach and maintain a healthy weight, and on the importance of doing so, visit the National Heart, Lung, and Blood Institute's Aim for a Healthy Weight website (NHLBI).
Additional safety information can be found on NCCIH's website at Safe Use of Complementary Health Products and Practices and Be an Informed Consumer.
NCCIH Clearinghouse
The NCCIH Clearinghouse provides information on NCCIH and complementary and integrative health approaches, including publications and searches of Federal databases of scientific and medical literature. The Clearinghouse does not provide medical advice, treatment recommendations, or referrals to practitioners.
Toll-free in the U.S.: 1-888-644-6226
Telecommunications relay service (TRS): 7-1-1
Website: https://www.nccih.nih.gov
Email: info@nccih.nih.gov (link sends email)
This publication is not copyrighted and is in the public domain. Duplication is encouraged.
NCCIH has provided this material for your information. It is not intended to substitute for the medical expertise and advice of your health care provider(s). We encourage you to discuss any decisions about treatment or care with your health care provider. The mention of any product, service, or therapy is not an endorsement by NCCIH.
Last Updated: September 2017