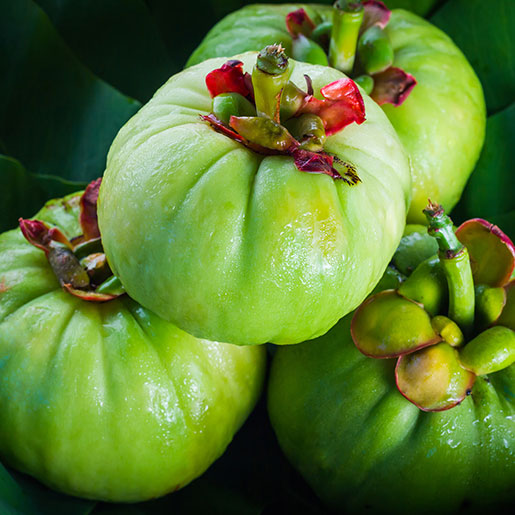 Common Names: garcinia cambogia , garcinia, Malabar tamarind, brindle berry
Latin Names: Garcinia cambogia
Garcinia cambogia (Malabar tamarind) is native to India and Southeast Asia. The rind of its fruit is used to flavor fish curries and preserve food.
The rind contains a chemical called hydroxycitric acid (HCA), which has been studied for its effect on appetite. Garcinia cambogia supplements with HCA are marketed for weight loss.
Garcinia cambogia has also been used as a dietary supplement for rheumatism, intestinal problems, and other conditions.
Garcinia cambogia is made into a tea, capsules, extracts, tablets, and lotion.
Garcinia cambogia has been studied for weight loss, but there aren't a lot of recent, reliable studies on its effectiveness.
There's no convincing evidence that garcinia cambogia will help you lose weight or control cholesterol.
In a very small study, women who were overweight were given garcinia cambogia extract or a placebo for 60 days. Triglyceride levels of the participants getting garcinia cambogia decreased by almost one-third. Triglycerides are a type of fat in blood and high levels may raise a person's risk of developing heart disease. The participants' HDL (the "good" cholesterol), LDL (the "bad" cholesterol), total cholesterol, and body weight didn't change.
In another study, people who were overweight were given either garcinia cambogia extract, soy leaf extract, or a placebo. After 10 weeks, none of the supplements promoted weight loss or lowered total cholesterol.
What Do We Know About Safety?
Taking garcinia cambogia for short periods (12 weeks or less) appears safe for most people.
Tell all your health care providers about any complementary or integrative health approaches you use. Give them a full picture of what you do to manage your health. This will help ensure coordinated and safe care.
NCCIH Clearinghouse
The NCCIH Clearinghouse provides information on NCCIH and complementary and integrative health approaches, including publications and searches of Federal databases of scientific and medical literature. The Clearinghouse does not provide medical advice, treatment recommendations, or referrals to practitioners.
Toll-free in the U.S.: 1-888-644-6226
tty (for deaf and hard-of-hearing callers):
1-866-464-3615
Website: https://nccih.nih.gov/
Email: info@nccih.nih.gov (link sends e-mail)
Office of Dietary Supplements (ODS), National Institutes of Health (NIH)
ODS seeks to strengthen knowledge and understanding of dietary supplements by evaluating scientific information, supporting research, sharing research results, and educating the public. Its resources include publications (such as Dietary Supplements: What You Need to Know), fact sheets on a variety of specific supplement ingredients and products (such as vitamin D and multivitamin/mineral supplements), and the PubMed Dietary Supplement Subset.
Website: https://ods.od.nih.gov/
Email: ods@nih.gov (link sends e-mail)
Astell KJ, Mathai ML, Su XQ. Plant extracts with appetite suppressing properties for body weight control: a systematic review of double blind randomized controlled clinical trials. Complementary Therapies in Medicine. 2013;21(4):407-416.
Garcinia. Natural Medicines Web site. Accessed at naturalmedicines.therapeuticresearch.com on April 10, 2015. [Database subscription].
Greenway F. Garcinia. In: Coates PM, Betz JM, Blackman MR, et al., eds. Encyclopedia of Dietary Supplements. 2nd ed. New York, NY: Informa Healthcare; 2010:307-313.
Kim JE, Jeon SM, Park KH, et al. Does Glycine max leaves or Garcinia cambogia promote weight-loss or lower plasma cholesterol in overweight individuals: a randomized control trial. Nutrition Journal. 2011;10:94.
Lopez AM, Kornegay J, Hendrickson RG. Serotonin toxicity associated with Garcinia cambogia over-the-counter supplement. Journal of Medical Toxicology. 2014;10(4):399-401.
Semwal RB, Semwal DK, Vermaak I, et al. A comprehensive scientific overview of Garcinia cambogia. Fitoterapia. 2015;102:134-148.
Vasques CA, Schneider R, Klein-Júnior LC, et al. Hypolipemic effect of Garcinia cambogia in obese women. Phytotherapy Research. 2014;28(6):887-891.
This publication is not copyrighted and is in the public domain. Duplication is encouraged.
NCCIH has provided this material for your information. It is not intended to substitute for the medical expertise and advice of your health care provider(s). We encourage you to discuss any decisions about treatment or care with your health care provider. The mention of any product, service, or therapy is not an endorsement by NCCIH.
Last Updated: January 2017