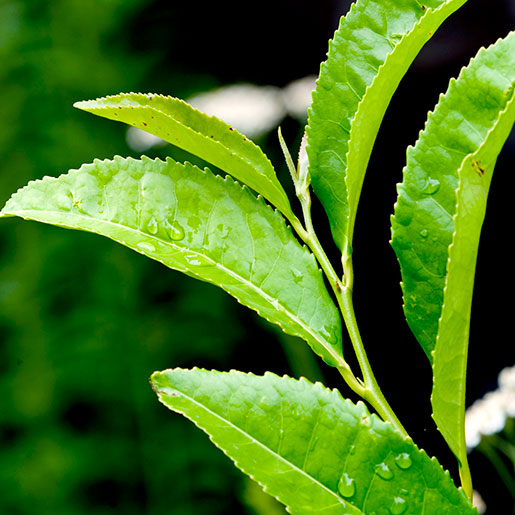 Latin Names: Camellia sinensis
Green, black, and oolong teas all come from the same plant, Camellia sinensis, but are prepared using different methods. To produce green tea, leaves from the plant are steamed, pan fried, and dried.
Tea has been used for medicinal purposes in China and Japan for thousands of years.
Green tea as a beverage or dietary supplement is promoted for improving mental alertness, relieving digestive symptoms and headaches, and promoting weight loss. Green tea and its components, including epigallocatechin-3-gallate (EGCG), have been studied for their possible protective effects against heart disease and cancer.
The U.S. Food and Drug Administration (FDA) has approved a topical ointment, sinecatechins (brand name Veregen), which includes extracted components of green tea leaves and is used for the treatment of genital warts.
Although many studies have been done on green tea and its extracts, definite conclusions cannot yet be reached on whether green tea is helpful for most of the purposes for which it is used.
Green tea contains caffeine. Drinking caffeinated beverages throughout the day seems to prevent a decline in alertness. One study looked at the effect of taking only a main component of green tea—EGCG—on mental capabilities. In that study, mental capabilities in adults didn't improve.
The FDA has approved a specific green tea extract ointment as a prescription drug for treating genital warts.
Studies of green tea and cancer in people have had inconsistent results. The National Cancer Institute does not recommend for or against using green tea to reduce the risk of any type of cancer.
A small number of studies suggests that both green and black tea might have beneficial effects on some heart disease risk factors, including blood pressure and cholesterol. The research has limitations though, including how the data was evaluated and differences in study populations, so no definite conclusions have been reached.
Green tea extracts haven't been shown to produce a meaningful weight loss in adults who are overweight or obese. They also haven't been shown to help people maintain a weight loss.
It's uncertain whether green tea is helpful for other conditions.
The National Center for Complementary and Integrative Health (NCCIH) is funding research on green tea and its extracts, including studies on new forms of green tea extracts for preventing symptoms of inflammatory bowel disease and for lowering cholesterol.
What Do We Know About Safety?
Green tea, when consumed as a beverage, is believed to be safe when used in amounts up to 8 cups per day. Keep in mind that only the amount of added caffeine must be stated on product labels and not the caffeine that naturally occurs in green tea.
Drinking green tea may be safe during pregnancy and while breastfeeding when consumed in amounts up to 6 cups per day (no more than about 300 mg of caffeine). Drinking more than this amount during pregnancy may be unsafe and may increase the risk of negative effects. Green tea may also increase the risk of birth defects associated with folic acid deficiency. Caffeine passes into breast milk and can affect a breastfeeding infant.
Although uncommon, liver problems have been reported in a number of people who took green tea products, primarily green tea extracts in pill form. People with liver disease should consult a health care provider before taking products with green tea extract. People taking green tea extracts, especially those with liver disease, should discontinue use and consult a health care provider if they develop symptoms of liver trouble (such as abdominal pain, dark urine, or jaundice).
Green tea is an ingredient in many over-the-counter weight loss products, some of which have been identified as the likely cause of rare cases of liver injury.
Green tea at high doses has been shown to reduce blood levels and therefore the effectiveness of the drug nadolol, a beta-blocker used for high blood pressure and heart problems. It may also interact with other medicines.
Take charge of your health—talk with your health care providers about any complementary health approaches you use. Together, you can make shared, well-informed decisions.
NCCIH Clearinghouse
The NCCIH Clearinghouse provides information on NCCIH and complementary and integrative health approaches, including publications and searches of Federal databases of scientific and medical literature. The Clearinghouse does not provide medical advice, treatment recommendations, or referrals to practitioners.
Toll-free in the U.S.: 1-888-644-6226
Telecommunications relay service (TRS): 7-1-1
Website: https://www.nccih.nih.gov
Email: info@nccih.nih.gov (link sends email)
Office of Dietary Supplements (ODS), National Institutes of Health (NIH)
ODS seeks to strengthen knowledge and understanding of dietary supplements by evaluating scientific information, supporting research, sharing research results, and educating the public. Its resources include publications (such as Dietary Supplements: What You Need To Know) and fact sheets on a variety of specific supplement ingredients and products (such as vitamin D and multivitamin/mineral supplements).
Website: https://ods.od.nih.gov
Email: ods@nih.gov (link sends email)
Chung M, Zhao N, Wang D, et al. Dose-response relation between tea consumption and risk of cardiovascular disease and all-cause mortality: a systematic review and meta-analysis of population-based studies. Advances in Nutrition. February 19, 2020. [Epub ahead of print].
Filippini T, Malavolti M, Borrelli F, et al. Green tea (Camellia sinensis) for the prevention of cancer. Cochrane Database of Systematic Reviews. 2020;(3):CD005004. Accessed at https://www.cochranelibrary.com on March 21, 2020.
Fujiki H, Watanabe T, Sueoka E, et al. Cancer prevention with green tea and its principal constituent, EGCG: from early investigations to current focus on human cancer stem cells. Molecules and Cells. 2018;41(2):73-82.
Green tea. Natural Medicines website. Accessed at naturalmedicines.therapeuticresearch.com on March 21, 2020. [Database subscription].
Hartley L, Flowers N, Holmes J, et al. Green and black tea for the primary prevention of cardiovascular disease. Cochrane Database of Systematic Reviews. 2013;(6):CD009934. Accessed at https://www.cochranelibrary.com on March 23, 2020.
Khan N, Mukhtar H. Tea polyphenols in promotion of human health. Nutrients. 2018;11(1):pii: E39.
Green tea. LiverTox: clinical and research information on drug-induced liver injury. Bethesda, MD: National Institute of Diabetes and Digestive and Kidney Diseases; 2018. Accessed at https://www.ncbi.nlm.nih.gov/books/NBK547925/ on May 4, 2020.
National Cancer Institute. Tea and Cancer Prevention. National Cancer Institute website. Accessed at https://www.cancer.gov/cancertopics/causes-prevention/risk/diet/tea-fact-sheet on March 21, 2020.
Van Baak MA, Mariman ECM. Dietary strategies for weight loss maintenance. Nutrients. 2019;11(8):pii: E1916.
This publication is not copyrighted and is in the public domain. Duplication is encouraged.
NCCIH has provided this material for your information. It is not intended to substitute for the medical expertise and advice of your health care provider(s). We encourage you to discuss any decisions about treatment or care with your health care provider. The mention of any product, service, or therapy is not an endorsement by NCCIH.
Last Updated: October 2020