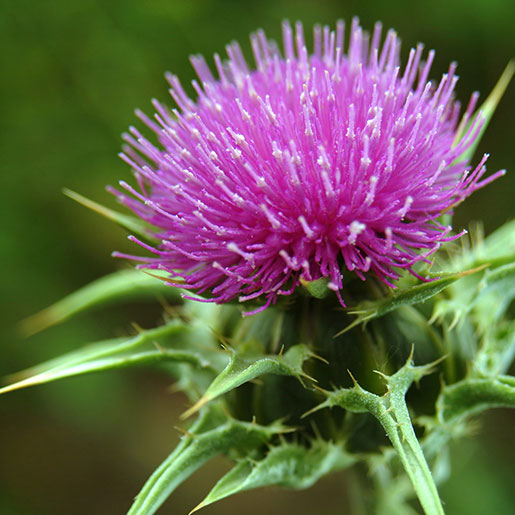 Common Names: milk thistle, Mary thistle, holy thistle
Latin Names: Silybum marianum, synonym Carduus marianus
Milk thistle is native to Europe and was introduced into North America by early colonists. Milk thistle is found throughout the eastern United States, California, South America, Africa, Australia, and Asia.
The terms "milk thistle" and "silymarin" are often used interchangeably.
Historically, people have used milk thistle for liver disorders and gallbladder problems.
Milk thistle is promoted as a dietary supplement for hepatitis, cirrhosis, jaundice, diabetes, indigestion, and other conditions.
We know little about whether milk thistle is effective in people, as only a few well-designed clinical studies have been conducted.
Results from clinical trials of milk thistle for liver diseases have been conflicting or haven't been clinically meaningful. Some of the studies have been of poor quality, too.
Although some studies have shown positive results on milk thistle for people with chronic hepatitis C virus (HCV) infection, the overall research does not show a benefit.
A small number of studies have suggested that milk thistle extract might be beneficial for diabetes, but the conclusions about its effectiveness are not definite.
It's not known whether milk thistle is helpful for other conditions.
What Do We Know About Safety?
In clinical trials, milk thistle appears to be well tolerated in recommended doses. Occasionally, people report various digestive side effects.
Milk thistle may produce allergic reactions, which tend to be more common among people who are allergic to plants in the same family (for example, ragweed, chrysanthemum, marigold, and daisy).
Milk thistle may lower blood sugar levels in people with type 2 diabetes. People with diabetes should use caution.
Little is known about whether it's safe to use milk thistle during pregnancy or while breastfeeding.
Take charge of your health—talk with your health care providers about any complementary health approaches you use. Together, you can make shared, well-informed decisions.
NCCIH Clearinghouse
The NCCIH Clearinghouse provides information on NCCIH and complementary and integrative health approaches, including publications and searches of Federal databases of scientific and medical literature. The Clearinghouse does not provide medical advice, treatment recommendations, or referrals to practitioners.
Toll-free in the U.S.: 1-888-644-6226
Telecommunications relay service (TRS): 7-1-1
Website: https://www.nccih.nih.gov
Email: info@nccih.nih.gov (link sends email)
Office of Dietary Supplements (ODS), National Institutes of Health (NIH)
ODS seeks to strengthen knowledge and understanding of dietary supplements by evaluating scientific information, supporting research, sharing research results, and educating the public. Its resources include publications (such as Dietary Supplements: What You Need To Know) and fact sheets on a variety of specific supplement ingredients and products (such as vitamin D and multivitamin/mineral supplements).
Website: https://ods.od.nih.gov
Email: ods@nih.gov (link sends email)
Abenavoli L, Izzo AA, Millić N, et al. Milk thistle (Silybum marianum): a concise overview of its chemistry, pharmacological and nutraceutical uses in liver diseases. Phytotherapy Research. 2018;32(11):2202-2213.
Camini FC, Costa DC. Silymarin: not just another antioxidant. Journal of Basic and Clinical Physiology and Pharmacology. 2020;31(4): :/j/jbcpp.2020.31.issue-4/jbcpp-2019-0206/jbcpp-2019-0206.xml.
de Avelar CR, Pereira EM, de Farias Costa PR, et al. Effect of silymarin on biochemical indicators in patients with liver disease: systematic review with meta-analysis. World Journal of Gastroenterology. 2017;23(27):5004-5017.
Milk Thistle. Natural Medicines website. Accessed at naturalmedicines.therapeuticresearch.com on April 1, 2020. [Database subscription].
Tajmohammadi A, Razavi BM, Hosseinzadeh H. Silybum marianum (milk thistle) and its main constituent, silymarin, as a potential therapeutic plant in metabolic syndrome: a review. Phytotherapy Research. 2018;32(10):1933-1949.
This publication is not copyrighted and is in the public domain. Duplication is encouraged.
NCCIH has provided this material for your information. It is not intended to substitute for the medical expertise and advice of your health care provider(s). We encourage you to discuss any decisions about treatment or care with your health care provider. The mention of any product, service, or therapy is not an endorsement by NCCIH.
Last Updated: August 2020