Sleep Disorders: In Depth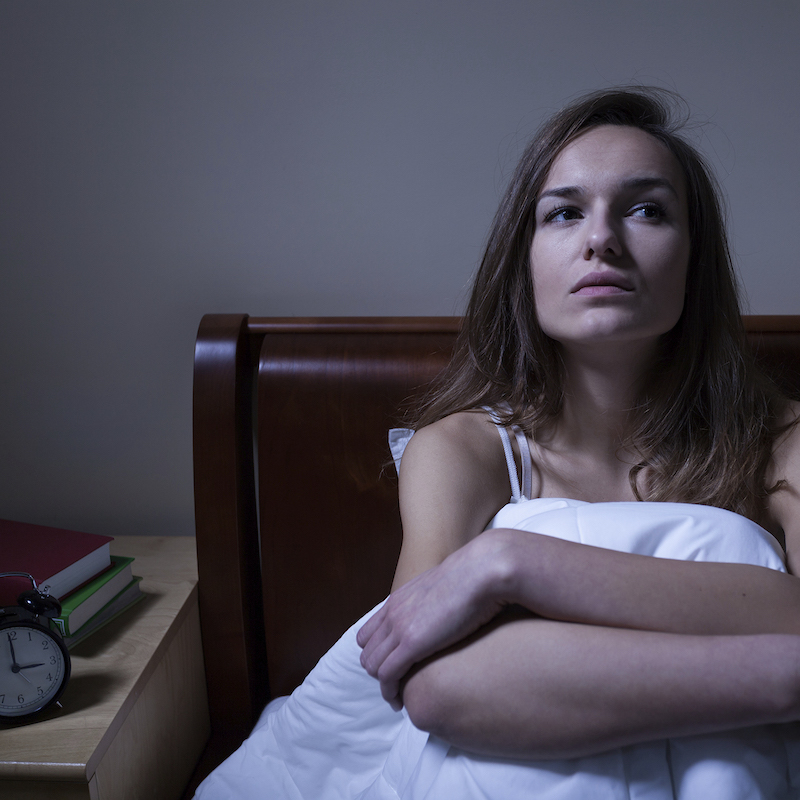 What do we know about the usefulness of complementary approaches for sleep disorders?
Relaxation techniques can be helpful for insomnia.

Melatonin supplements may be helpful for sleep problems caused by shift work or jet lag. Melatonin may also be helpful for people with insomnia, but its effect is small.

The evidence for other complementary approaches is either inconsistent or too limited to draw conclusions about whether they are helpful for sleep disorders.
What do we know about the safety of complementary approaches for sleep disorders?
Relaxation techniques are generally considered safe.

Melatonin appears to be relatively safe for short-term use, but its long-term safety has not been established.

There are serious safety concerns about kava products (which have been linked to severe liver damage) and L-tryptophan supplements (which may be associated with a potentially serious disorder called eosinophilia-myalgia syndrome).

If you use a complementary approach for a sleep problem, tell your health care providers. They can do a better job caring for you if they know what you're using.
What Are Sleep Disorders and How Important Are They?
There are more than 80 different sleep disorders. This fact sheet focuses on insomnia—difficulty falling asleep or difficulty staying asleep. Insomnia is one of the most common sleep disorders.
Chronic, long-term sleep disorders affect millions of Americans each year. These disorders and the sleep deprivation they cause can interfere with work, driving, social activities, and overall quality of life, and can have serious health implications. Sleep disorders account for an estimated $16 billion in medical costs each year, plus indirect costs due to missed days of work, decreased productivity, and other factors.
To learn more about sleep disorders, visit the National Heart, Lung, and Blood Institute (NHLBI) website.
Is It a Sleep Disorder or Not Enough Sleep?
Some people who feel tired during the day have a true sleep disorder, but for others, the real problem is not allowing enough time for sleep. Adults need at least 7 to 8 hours of sleep each night to be well rested, but the average adult sleeps for less than 7 hours a night.
Sleep is a basic human need, like eating, drinking, and breathing, and is vital to good health and well-being. Shortchanging yourself on sleep slows your thinking and reaction time, makes you irritable, and increases your risk of injury. It may even decrease your resistance to infections, increase your risk of obesity, and increase your risk of heart disease. To learn more about healthy sleep and what happens when you don't get enough sleep, visit NHLBI's Your Guide to Healthy Sleep and What Are Sleep Deprivation and Deficiency?.
What the Science Says About Complementary Health Approaches and Insomnia
Complementary approaches can be classified by their primary therapeutic input (how the therapy is taken in or delivered), which may be:
Nutritional (e.g., special diets, dietary supplements, herbs, probiotics, and microbial-based therapies).
Psychological (e.g., meditation, hypnosis, music therapies, relaxation therapies).
Physical (e.g., acupuncture, massage, spinal manipulation).
Combinations such as psychological and physical (e.g., yoga, tai chi, dance therapies, some forms of art therapy) or psychological and nutritional (e.g., mindful eating).
Nutritional approaches include what the National Center for Complementary and Integrative Health (NCCIH) previously categorized as natural products, whereas psychological and/or physical approaches include what was referred to as mind and body practices.
Research has produced promising results for some complementary health approaches for insomnia, such as relaxation techniques. However, evidence of effectiveness is still limited for most products and practices, and safety concerns have been raised about a few.
Psychological and Physical Approaches
There is evidence that relaxation techniques can be effective in treating chronic insomnia.
Progressive relaxation may help people with insomnia and nighttime anxiety.

Music-assisted relaxation may be moderately beneficial in improving sleep quality in people with sleep problems, but the number of studies has been small.

Various forms of relaxation are sometimes combined with components of cognitive-behavioral therapy (such as sleep restriction and stimulus control), with good results.

Using relaxation techniques before bedtime can be part of a strategy to improve sleep habits that also includes other steps, such as maintaining a consistent sleep schedule; avoiding caffeine, alcohol, heavy meals, and strenuous exercise too close to bedtime; and sleeping in a quiet, cool, dark room.

Relaxation techniques are generally safe. However, rare side effects have been reported in people with serious physical or mental health conditions. If you have a serious underlying health problem, it would be a good idea to consult your health care provider before using relaxation techniques.
In a preliminary study, mindfulness-based stress reduction, a type of meditation, was as effective as a prescription drug in a small group of people with insomnia.
Several other studies have also reported that mindfulness-based stress reduction improved sleep, but the people who participated in these studies had other health problems, such as cancer.
Preliminary studies in postmenopausal women and women with osteoarthritis suggest that yoga may be helpful for insomnia.

Some practitioners who treat insomnia have reported that hypnotherapy enhanced the effectiveness of cognitive-behavioral therapy and relaxation techniques in their patients, but very little rigorous research has been conducted on the use of hypnotherapy for insomnia.

A small 2012 study on massage therapy showed promising results for insomnia in postmenopausal women. However, conclusions cannot be reached on the basis of a single study.

Most of the studies that have evaluated acupuncture for insomnia have been of poor scientific quality. The current evidence is not rigorous enough to show whether acupuncture is helpful for insomnia.
Melatonin and Related Dietary Supplements
Melatonin may help with jet lag and sleep problems related to shift work.
A 2013 evaluation of the results of 19 studies concluded that melatonin may help people with insomnia fall asleep faster, sleep longer, and sleep better, but the effect of melatonin is small compared to that of other treatments for insomnia.
Studies of melatonin in children with sleep problems suggest that it may be helpful, both in generally healthy children and in those with conditions such as autism or attention-deficit hyperactivity disorder. However, both the number of studies and the number of children who participated in the studies are small, and all of the studies tested melatonin only for short periods of time.
Melatonin supplements appear to be relatively safe for short-term use, although the use of melatonin was linked to bad moods in elderly people (most of whom had dementia) in one study.
The long-term safety of melatonin supplements has not been established.
Dietary supplements containing substances that can be changed into melatonin in the body—L-tryptophan and 5-hydroxytryptophan (5-HTP)—have been researched as sleep aids.
Studies of L-tryptophan supplements as an insomnia treatment have had inconsistent results, and the effects of 5-HTP supplements on insomnia have not been established.
The use of L-tryptophan supplements may be linked to eosinophilia-myalgia syndrome (EMS), a complex, potentially fatal disorder with multiple symptoms including severe muscle pain. It is uncertain whether the risk of EMS associated with L-tryptophan supplements is due to impurities in L-tryptophan preparations or to L-tryptophan itself.
Although chamomile has traditionally been used for insomnia, often in the form of a tea, there is no conclusive evidence from clinical trials showing whether it is helpful. Some people, especially those who are allergic to ragweed or related plants, may have allergic reactions to chamomile.
Although kava is said to have sedative properties, very little research has been conducted on whether this herb is helpful for insomnia. More importantly, kava supplements have been linked to a risk of severe liver damage.
Clinical trials of valerian (another herb said to have sedative properties) have had inconsistent results, and its value for insomnia has not been demonstrated. Although few people have reported negative side effects from valerian, it is uncertain whether this herb is safe for long-term use.
Some "sleep formula" dietary supplements combine valerian with other herbs such as hops, lemon balm, passionflower, and kava or other ingredients such as melatonin and 5-HTP. There is little evidence on these preparations from studies in people.
For more information on dietary supplements.
Other Complementary Health Approaches
Aromatherapy is the therapeutic use of essential oils from plants. It is uncertain whether aromatherapy is helpful for treating insomnia because little rigorous research has been done on this topic.
A 2010 systematic review concluded that current evidence does not demonstrate significant effects of homeopathic medicines for insomnia.
NCCIH Research on Sleep Disorders
NCCIH funds research on complementary health approaches for sleep disorders.
Recent projects include studies on:
How mindfulness meditation training may affect the amount and quality of sleep
The effect of blue-white light on sleep disorders in patients with Alzheimer's disease
Whether acupuncture can help insomnia
How two forms of mindfulness-based therapy compare with behavior therapy for treating insomnia.
Could You Have Sleep Apnea?
Do you snore loudly? Does your bed partner say that you make gasping or snorting sounds during the night? Do you fight off sleepiness during the day?
If you have any of these symptoms, talk to your health care provider. You might have sleep apnea—a condition in which sleep is disrupted because of pauses in breathing. For more information, visit the NHLBI website.
If You're Considering Complementary Health Approaches for Sleep Problems
Talk to your health care providers. Tell them about the complementary health approach you are considering and ask any questions you may have. Because trouble sleeping can be an indication of a more serious condition, and because some prescription and over-the-counter drugs can contribute to sleep problems, it is important to discuss your sleep-related symptoms with your health care providers before trying any complementary health product or practice.

Be cautious about using any sleep product—prescription medications, over-the-counter medications, dietary supplements, or homeopathic remedies. Find out about potential side effects and any risks from long-term use or combining products.

Keep in mind that "natural" does not always mean safe. For example, kava products can cause serious harm to the liver. Also, a manufacturer's use of the term "standardized" (or "verified" or "certified") does not necessarily guarantee product quality or consistency. Dietary supplements can cause health problems if not used correctly. The health care providers you see about your sleep problems can advise you.

If you are pregnant, nursing a child, or considering giving a child a dietary supplement, it is especially important to consult your (or your child's) health care provider.

If you are considering a practitioner-provided complementary health practice, check with your insurer to see if the services will be covered, and ask a trusted source (such as your health care provider or a nearby hospital or medical school) to recommend a practitioner.

Tell all your health care providers about any complementary health approaches you use. Give them a full picture of what you do to manage your health. This will help ensure coordinated and safe care.
NCCIH Clearinghouse
The NCCIH Clearinghouse provides information on NCCIH and complementary and integrative health approaches, including publications and searches of Federal databases of scientific and medical literature. The Clearinghouse does not provide medical advice, treatment recommendations, or referrals to practitioners.
Toll-free in the U.S.: 1-888-644-6226
Telecommunications relay service (TRS): 7-1-1
Website: https://www.nccih.nih.gov
Email: info@nccih.nih.gov (link sends email)
National Heart, Lung, and Blood Institute (NHLBI)
The NHLBI Health Information Center provides information to health professionals, patients, and the public about heart, lung, and blood diseases and sleep disorders and accepts orders for publications.
P.O. Box 30105
Bethesda, MD 20824-0105
National Center on Sleep Disorders Research
Toll-free in the U.S.: 1-877-NHLBI4U (1-877-645-2448)
Website: https://www.nhlbi.nih.gov
Email: nhlbiinfo@nhlbi.nih.gov (link sends email)
MedlinePlus
To provide resources that help answer health questions, MedlinePlus (a service of the National Library of Medicine) brings together authoritative information from the National Institutes of Health as well as other Government agencies and health-related organizations.
Information on sleep disorders
Website: https://www.medlineplus.gov
Allen JA, Peterson A, Sufit R, et al. Post-epidemic eosinophilia-myalgia syndrome associated with L-tryptophan. Arthritis and Rheumatism. 2011;63(11):3633–3639.
Cheuk DKL, Yeung WF, Chung KF, et al. Acupuncture for insomnia. Cochrane Database of Systematic Reviews. 2012;(9):CD005472. Accessed at www.thecochranelibrary.com on January 20, 2014.
Cooper KL, Relton C. Homeopathy for insomnia: a systematic review of research evidence. Sleep Medicine Reviews. 2010;14(5):329–337.
de Niet G, Tiemens B, Lendemeijer B, et al. Music-assisted relaxation to improve sleep quality: meta-analysis. Journal of Advanced Nursing. 2009;65(7):1356–1364.
Ernst E, Lee MS, Choi T-Y. Acupuncture for insomnia? An overview of systematic reviews. European Journal of General Practice. 2011;17(2):116–123.
Ferracioli-Oda E, Qawasmi A, Bloch MH. Meta-analysis: melatonin for the treatment of primary sleep disorders. PLoS One. 2013;8(5):e63773.
Gooneratne NS. Complementary and alternative medicine for sleep disturbances in older adults. Clinics in Geriatric Medicine. 2008;24(1):121–138.
Gross CR, Kreitzer MJ, Reilly-Spong M, et al. Mindfulness-based stress reduction versus pharmacotherapy for chronic primary insomnia: a randomized controlled clinical trial. Explore. 2011;7(2):76–87.
Kierlin L. Sleeping without a pill: nonpharmacologic treatments for insomnia. Journal of Psychiatric Practice. 2008;14(6):403–407.
National Cancer Institute. Aromatherapy and Essential Oils. National Cancer Institute website. Accessed at cancer.gov/cancertopics/pdq/cam/aromatherapy/healthprofessional/AllPages on January 20, 2014.
Ng B-Y, Lee T-S. Hypnotherapy for sleep disorders. Annals of the Academy of Medicine, Singapore. 2008;37(8):683–688.
Oliveira DS, Hachul H, Goto V, et al. Effect of therapeutic massage on insomnia and climacteric symptoms in postmenopausal women. Climacteric. 2012;15(1):21–29.
Pearson NJ, Johnson LL, Nahin RL. Insomnia, trouble sleeping, and complementary and alternative medicine: analysis of the 2002 National Health Interview Survey Data. Archives of Internal Medicine. 2006;166(16):1775–1782.
Riemersma-van der Lek RF, Swaab DF, Twisk J, et al. Effect of bright light and melatonin on cognitive and noncognitive function in elderly residents of group care facilities: a randomized controlled trial. JAMA. 2008;299(22):2642–2655.
Sarris J, Byrne GJ. A systematic review of insomnia and complementary medicine. Sleep Medicine Reviews. 2011;15(2):99–106.
Siebern AT, Manber R. Insomnia and its effective non-pharmacologic treatment. Medical Clinics of North America. 2010;94(3):581–591.
Taibi DM, Landis CA, Petry H, et al. A systematic review of valerian as a sleep aid: safe but not effective. Sleep Medicine Reviews. 2007;11(3):209–230.
Taibi DM, Vitiello MV. A pilot study of gentle yoga for sleep disturbance in women with osteoarthritis. Sleep Medicine. 2011;12(5):512–517.
Afonso RF, Hachul H, Kozasa EH, et al. Yoga decreases insomnia in postmenopausal women: a randomized clinical trial. Menopause. 2012;19(2):186–193.
Andersen SR, Würtzen H, Steding-Jessen M, et al. Effect of mindfulness-based stress reduction on sleep quality: results of a randomized trial among Danish breast cancer patients. Acta Oncologica. 2013;52(2):336–344.
Balick MJ, Herrera K, Musser SM. Kava. In: Coates PM, Betz JM, Blackman MR, et al., eds. Encyclopedia of Dietary Supplements. 2nd ed. New York, NY: Informa Healthcare; 2010:459–468.
Belongia EA, Hedberg CW, Gleich GJ, et al. An investigation of the cause of the eosinophilia-myalgia syndrome associated with tryptophan use. New England Journal of Medicine. 1990;323(6):357–365.
Britton WB, Haynes PL, Fridel KW, et al. Mindfulness-based cognitive therapy improves polysomnographic and subjective sleep profiles in antidepressant users with sleep complaints. Psychotherapy and Psychosomatics. 2012;81(5):296–304.
Brzezinski A, Vangel MG, Wurtman RJ, et al. Effects of exogenous melatonin on sleep: a meta-analysis. Sleep Medicine Reviews. 2005;9(1):41–50.
Buscemi N, Vandermeer B, Hooton N, et al. The efficacy and safety of exogenous melatonin for primary sleep disorders. A meta-analysis. Journal of General Internal Medicine. 2005;20(12):1151–1158.
Cappuccio FP, Taggart FM, Kandala N-B, et al. Meta-analysis of short sleep duration and obesity in children and adults. Sleep. 2008;31(5):619–626.
Carlson LE, Garland SN. Impact of mindfulness-based stress reduction (MBSR) on sleep, mood, stress and fatigue symptoms in cancer outpatients. International Journal of Behavioral Medicine. 2005;12(4):278–285.
Carter PJ, Taylor BJ, Williams SM, et al. Longitudinal analysis of sleep in relation to BMI and body fat in children: the FLAME study. BMJ. 2011;342:d2712.
Centers for Disease Control and Prevention. Epidemiologic notes and reports: eosinophilia-myalgia syndrome and L-tryptophan-containing products—New Mexico, Minnesota, Oregon, and New York, 1989. MMWR. 1989;38(46):785–788.
Centers for Disease Control and Prevention. Hepatic toxicity possibly associated with kava-containing products—United States, Germany, and Switzerland, 1999–2002. MMWR. 2002;51(47):1065–1067.
Cummings C, Canadian Paediatric Society, Community Paediatrics Committee. Melatonin for the management of sleep disorders in children and adolescents. Paediatrics and Child Health. 2012;17(6):331–336.
Fernández-San-Martín MI, Masa-Font R, Palacios-Soler L, et al. Effectiveness of valerian on insomnia: a meta-analysis of randomized placebo-controlled trials. Sleep Medicine. 2010;11(6):505–511.
Gross CR, Kreitzer MJ, Thomas W, et al. Mindfulness-based stress reduction for solid organ transplant recipients: a randomized controlled trial. Alternative Therapies in Health and Medicine. 2010;16(5):30–38.
Gyllenhaal C, Merritt SL, Peterson SD, et al. Efficacy and safety of herbal stimulants and sedatives in sleep disorders. Sleep Medicine Reviews. 2000;4(3):229–251.
Herxheimer A, Petrie KJ. Melatonin for the prevention and treatment of jet lag. Cochrane Database of Systematic Reviews. 2002;(2):CD001520 [edited 2009]. Accessed at www.thecochranelibrary.com on January 20, 2014.
Jacobs GD. Clinical applications of the relaxation response and mind-body interventions. Journal of Alternative and Complementary Medicine. 2001;7 (suppl 1):S93–101.
Kleinman NL, Brook RA, Doan JF, et al. Health benefit costs and absenteeism due to insomnia from the employer's perspective: a retrospective, case-control, database study. Journal of Clinical Psychiatry. 2009;70(8):1098–1104.
Meoli AL, Rosen C, Kristo D, et al. Oral nonprescription treatment for insomnia: an evaluation of products with limited evidence. Journal of Clinical Sleep Medicine. 2005;1(2):173–187.
Morgenthaler TI, Lee-Chiong T, Alessi C, et al. Practice parameters for the clinical evaluation and treatment of circadian rhythm sleep disorders. An American Academy of Sleep Medicine report. Sleep. 2007;30(11):1445–1459.
Morin CM, Bootzin RR, Buysse DJ, et al. Psychological and behavioral treatment of insomnia: update of the recent evidence (1998–2004). Sleep. 2006;29(11):1398–1414.
Morin AK, Jarvis CI, Lynch AM. Therapeutic options for sleep-maintenance and sleep-onset insomnia. Pharmacotherapy. 2007;27(1):89–110.
Morone NE, Lynch CS, Greco CM, et al. "I felt like a new person." The effects of mindfulness meditation on older adults with chronic pain: qualitative narrative analysis of diary entries. Journal of Pain. 2008;9(9):841–848.
National Institute of Neurological Disorders and Stroke. Brain Basics: Understanding Sleep. National Institute of Neurological Disorders and Stroke website. Accessed at ninds.nih.gov/health-information/public-education/brain-basics/brain-basics-understanding-sleep on January 20, 2014.
National Institutes of Health. NIH State-of-the-Science Conference Statement on Manifestations and Management of Chronic Insomnia in Adults. NIH Consensus Science Statements. 2005;22(2):1–30.
Naudé DF, Couchman IM, Maharaj A. Chronic primary insomnia: efficacy of homeopathic simillimum. Homeopathy. 2010;99(1):63–68.
Ngan A, Conduit R. A double-blind, placebo-controlled investigation of the effects of Passiflora incarnata (passionflower) herbal tea on subjective sleep quality. Phytotherapy Research. 2011;25(8):1153–1159.
Office of Dietary Supplements. Valerian. Office of Dietary Supplements website. Accessed at ods.od.nih.gov/factsheets/Valerian-HealthProfessional/ on January 20, 2014.
Ong JC, Shapiro SL, Manber R. Mindfulness meditation and cognitive behavioral therapy for insomnia: a naturalistic 12-month follow-up. Explore. 2009;5(1):30–36.
Patel SR, Blackwell T, Redline S, et al. The association between sleep duration and obesity in older adults. International Journal of Obesity. 2008;32(12):1825–1834.
Smith MJ, Garrett RH. A heretofore undisclosed crux of eosinophilia-myalgia syndrome: compromised histamine degradation. Inflammation Research. 2005;54(11):435–450.
Srivastava JK, Shankar E, Gupta S. Chamomile: a herbal medicine of the past with bright future. Molecular Medicine Reports. 2010;3(6):895–901.
Taavoni S, Ekbatani N, Kashaniyan M, et al. Effect of valerian on sleep quality in postmenopausal women: a randomized placebo-controlled clinical trial. Menopause. 2011;18(9):951–955.
Teschke R, Sarris J, Schweitzer I. Kava hepatotoxicity in traditional and modern use: the presumed Pacific kava paradox hypothesis revisited. British Journal of Clinical Pharmacology. 2012;73(2):170–174.
Vickers A, Zollman C, Payne DK. Hypnosis and relaxation therapies. Western Journal of Medicine. 2001;175(4):269–272.
Zick SM, Wright BD, Sen A, et al. Preliminary examination of the efficacy and safety of a standardized chamomile extract for chronic primary insomnia: a randomized placebo-controlled pilot study. BMC Complementary and Alternative Medicine. 2011;11:78.
Acknowledgments
NCCIH thanks Ronald Glick, M.D., University of Pittsburgh; Nalaka Gooneratne, M.D., University of Pennsylvania; Michael Twery, Ph.D., National Heart, Lung, and Blood Institute; and D. Lee Alekel, Ph.D., and John (Jack) Killen, Jr., M.D., NCCIH, for their contributions to the 2014 update of this publication.
This publication is not copyrighted and is in the public domain. Duplication is encouraged.
NCCIH has provided this material for your information. It is not intended to substitute for the medical expertise and advice of your health care provider(s). We encourage you to discuss any decisions about treatment or care with your health care provider. The mention of any product, service, or therapy is not an endorsement by NCCIH.
Last Updated: October 2015