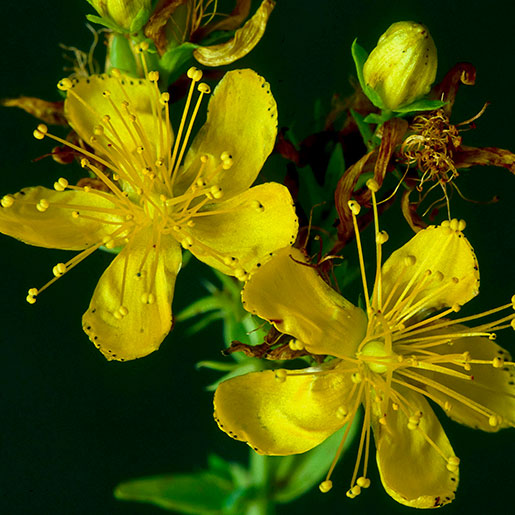 Common Names: St. John's wort, hypericum, Klamath weed, goatweed
Latin Names: Hypericum perforatum
St. John's wort is a plant with yellow flowers that has been used in traditional European medicine as far back as the ancient Greeks. The name St. John's wort apparently refers to John the Baptist, as the plant blooms around the time of the feast of St. John the Baptist in late June.
Historically, St. John's wort has been used for a variety of conditions, including kidney and lung ailments, insomnia, and depression, and to aid wound healing.
Currently, St. John's wort is promoted for depression, menopausal symptoms, attention-deficit hyperactivity disorder (ADHD), somatic symptom disorder (a condition in which a person feels extreme, exaggerated anxiety about physical symptoms), obsessive-compulsive disorder, and other conditions. Topical use (applied to the skin) of St. John's wort is promoted for various skin conditions, including wounds, bruises, and muscle pain.
There has been extensive research on the use of St. John's wort for depression and on its interactions with medications. It has been clearly shown that St. John's wort can interact in dangerous, sometimes life-threatening ways with a variety of medicines.
St. John's wort appears to be more effective than a placebo (an inactive substance) and as effective as standard antidepressant medications for mild and moderate depression. It's uncertain whether this is true for severe depression and for time periods longer than 12 weeks.
St. John's wort has also been studied for conditions other than depression. For some, such as irritable bowel syndrome, chronic hepatitis C virus (HCV) infection, HIV infection, and social anxiety disorder, current evidence suggests that St. John's wort isn't helpful.
St. John's wort might be helpful for menopausal symptoms, wound healing, and somatic symptom disorder, but there's not enough evidence to know for certain.
There's not enough reliable evidence to know whether St. John's wort might be beneficial for quitting smoking or improving memory or for many conditions, including anxiety, ADHD, and seasonal affective disorder.
What Do We Know About Safety?
In research studies, taking St. John's wort by mouth for up to 12 weeks has seemed to be safe. But because St. John's wort interacts with many drugs, it might not be safe for many people, especially those who take conventional medicines.
St. John's wort can weaken the effects of many medicines, including crucially important medicines such as

Antidepressants
Birth control pills
Cyclosporine, which prevents the body from rejecting transplanted organs
Some heart medications, including digoxin and ivabradine
Some HIV drugs, including indinavir and nevirapine
Some cancer medications, including irinotecan and imatinib
Warfarin, an anticoagulant (blood thinner)
Certain statins, including simvastatin.

Taking St. John's wort with certain antidepressants or other drugs that affect serotonin, a substance produced by nerve cells, may lead to increased serotonin-related side effects, which may be potentially serious.
St. John's wort may cause increased sensitivity to sunlight, especially when taken in large doses. Other side effects can include insomnia, anxiety, dry mouth, dizziness, gastrointestinal symptoms, fatigue, headache, or sexual dysfunction.
There isn't enough reliable information available to know if St. John's wort is safe when it's used topically. It may cause severe skin reactions to sun exposure.
It may not be safe to use St. John's wort during pregnancy or while breastfeeding. It has caused birth defects in laboratory animals. Breastfeeding infants of mothers who take St. John's wort can experience colic, drowsiness, and fussiness.
Depression can be a serious illness. If you or someone in your family may have depression, consult a health care provider.
Take charge of your health—talk with your health care providers about any complementary health approaches you use. Together, you can make shared, well-informed decisions. Although it is important to tell your health care providers about any complementary health approaches you use, this is especially crucial for St. John's wort because this herb interacts with so many medicines. Interactions with St. John's wort can weaken the effects of life-saving medicines or cause dangerous side effects.
NCCIH Clearinghouse
The NCCIH Clearinghouse provides information on NCCIH and complementary and integrative health approaches, including publications and searches of Federal databases of scientific and medical literature. The Clearinghouse does not provide medical advice, treatment recommendations, or referrals to practitioners.
Toll-free in the U.S.: 1-888-644-6226
Telecommunications relay service (TRS): 7-1-1
Website: https://www.nccih.nih.gov
Email: info@nccih.nih.gov (link sends email)
Office of Dietary Supplements (ODS), National Institutes of Health (NIH)
ODS seeks to strengthen knowledge and understanding of dietary supplements by evaluating scientific information, supporting research, sharing research results, and educating the public. Its resources include publications (such as Dietary Supplements: What You Need To Know) and fact sheets on a variety of specific supplement ingredients and products (such as vitamin D and multivitamin/mineral supplements).
Website: https://ods.od.nih.gov
Email: ods@nih.gov (link sends email)
Apaydin EA, Maher AR, Shanman R, et al. A systematic review of St. John's wort for major depressive disorder. Systematic Reviews. 2016;5(1):148.
Cott JM. St. John's wort. In: Coates PM, Betz JM, Blackman MR, et al., eds. Encyclopedia of Dietary Supplements. 2nd ed. New York, NY: Informa Healthcare; 2010:727-737.
Gurley BJ, Fifer EK, Gardner Z. Pharmacokinetic herb-drug interactions (part 2): drug interactions involving popular botanical dietary supplements and their clinical relevance. Planta Medica. 2012;78(13):1490-1514.
Ng QX, Venkatanarayanan N, Ho CYX. Clinical use of Hypericum perforatum (St John's wort) in depression: A meta-analysis. Journal of Affective Disorders. 2017;210:211-221.
Qaseem A, Barry MJ, Kansagara D. Nonpharmacologic versus pharmacologic treatment of adult patients with major depressive disorder: a clinical practice guideline from the American College of Physicians. Annals of Internal Medicine. 2016;164:350-359.
Soleymani S, Bahramsoltani R, Rahimi R, et al. Clinical risks of St John's wort (Hypericum perforatum) co-administration. Expert Opinion on Drug Metabolism & Toxicology. 2017;13(10):1047-1062.
St. John's wort. In: Blumenthal M, Goldberg A, Brinckmann J, eds. Herbal Medicine: Expanded Commission E Monographs. Newton, MA: Integrative Medicine Communications; 2000:359-366.
St. John's wort. Natural Medicines website. Accessed at naturalmedicines.therapeuticresearch.com on May 10, 2020. [Database subscription].
This publication is not copyrighted and is in the public domain. Duplication is encouraged.
NCCIH has provided this material for your information. It is not intended to substitute for the medical expertise and advice of your health care provider(s). We encourage you to discuss any decisions about treatment or care with your health care provider. The mention of any product, service, or therapy is not an endorsement by NCCIH.
Last Updated: October 2020