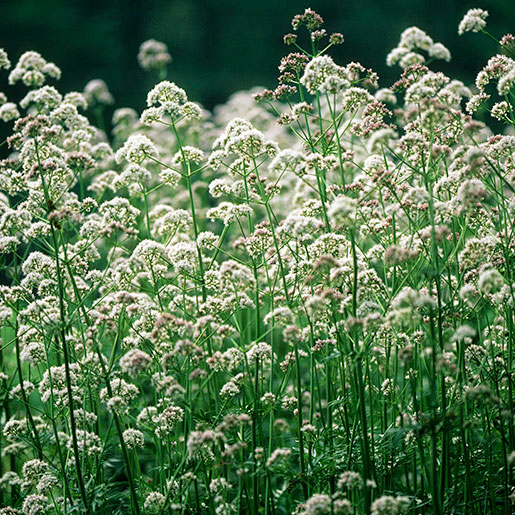 Common Names: valerian, all-heal, garden heliotrope
Latin Names: Valeriana officinalis
Valerian is a plant native to Europe and Asia; it also grows in North America.
Valerian has been used medicinally since the times of early Greece and Rome. Historically, valerian was used to treat insomnia, migraine, fatigue, and stomach cramps.
Today, valerian is promoted for insomnia, anxiety, depression, premenstrual syndrome (PMS), menopause symptoms, and headaches.
The roots and rhizomes (underground stems) of valerian are used for medicinal purposes.
Knowledge about valerian is limited because a relatively small amount of research has looked at valerian's effects on various conditions.
The evidence on whether valerian is helpful for sleep problems is inconsistent. In its 2017 clinical practice guidelines, the American Academy of Sleep Medicine recommended against using valerian for chronic insomnia in adults.
Two small studies suggest that valerian might be helpful for menopausal symptoms, but there is not enough evidence to know for certain.
There's not enough evidence to allow any conclusions about whether valerian is helpful for anxiety, depression, premenstrual syndrome, menstrual cramps, stress, or other conditions.
What Do We Know About Safety?
Research suggests that valerian is generally safe for short-term use by most adults. It has been used with apparent safety in studies lasting up to 28 days. The safety of long-term use of valerian is unknown.
Little is known about whether it's safe to use valerian during pregnancy or while breastfeeding. 
Side effects of valerian include headache, stomach upset, mental dullness, excitability, uneasiness, heart disturbances, and even insomnia in some people. A few people feel drowsy in the morning after taking valerian, especially at higher doses. Some people experience dry mouth or vivid dreams.
Because it is possible (though not proven) that valerian might have a sleep-inducing effect, it should not be taken along with alcohol or sedatives.
Take charge of your health—talk with your health care providers about any complementary health approaches you use. Together, you can make shared, well-informed decisions.
NCCIH Clearinghouse
The NCCIH Clearinghouse provides information on NCCIH and complementary and integrative health approaches, including publications and searches of Federal databases of scientific and medical literature. The Clearinghouse does not provide medical advice, treatment recommendations, or referrals to practitioners.
Toll-free in the U.S.: 1-888-644-6226
Telecommunications relay service (TRS): 7-1-1
Website: https://www.nccih.nih.gov
Email: info@nccih.nih.gov (link sends email)
Office of Dietary Supplements (ODS), National Institutes of Health (NIH)
ODS seeks to strengthen knowledge and understanding of dietary supplements by evaluating scientific information, supporting research, sharing research results, and educating the public. Its resources include publications (such as Dietary Supplements: What You Need To Know) and fact sheets on a variety of specific supplement ingredients and products (such as vitamin D and multivitamin/mineral supplements).
Website: https://ods.od.nih.gov
Email: ods@nih.gov (link sends email)
Abad VC, Guilleminault C. Insomnia in elderly patients: recommendations for pharmacological management. Drugs Aging. 2018;35(9):791-817.
Awang DVC. Valerian. In: Coates PM, Betz JM, Blackman MR, et al., eds. Encyclopedia of Dietary Supplements. 2nd ed. New York, NY: Informa Healthcare; 2010:766-777.
Jenabi E, Shobeiri F, Hazavehei SMM, et al. The effect of valerian on the severity and frequency of hot flashes: a triple-blind randomized clinical trial. Women Health. 2018;58(3):297-304.
Leach MJ, Page AT. Herbal medicine for insomnia: a systematic review and meta-analysis. Sleep Medicine Reviews. 2015;24:1-12.
Mirabi P, Mojab F. The effects of valerian root on hot flashes in menopausal women. Iranian Journal of Pharmaceutical Research. 2013;12(1):217-222.
Pattanittum P, Kunyanone N, Brown J, et al. Dietary supplements for dysmenorrhoea. Cochrane Database of Systematic Reviews. 2016;(3):CD002124. Accessed at www.cochranelibrary.com on May 1, 2020.
Sateia MJ, Buysse DJ, Krystal AD, et al. Clinical practice guideline for the pharmacological treatment of chronic insomnia in adults: an American Academy of Sleep Medicine Clinical Practice Guideline. Journal of Clinical Sleep Medicine. 2017;13(2):307-349.
Valerian. Natural Medicines website. Accessed at naturalmedicines.therapeuticresearch.com on May 1, 2020. [Database subscription].
This publication is not copyrighted and is in the public domain. Duplication is encouraged.
NCCIH has provided this material for your information. It is not intended to substitute for the medical expertise and advice of your health care provider(s). We encourage you to discuss any decisions about treatment or care with your health care provider. The mention of any product, service, or therapy is not an endorsement by NCCIH.
Last Updated: October 2020