Music and Health: Assessing and Measuring Target Engagement—Mechanistic and Clinical Outcome Measures for Brain Disorders of Aging
Date: June 18, 2021 - 1:00 p.m. ET to 4:00 p.m. ET
Virtual
This is the second of three meetings that are part of Phase I of a National Institutes of Health (NIH)/Foundation for the National Institutes of Health (FNIH) project to develop evidence-based music therapies for brain disorders of aging.
This meeting will gather input from participants in the music therapy/music medicine, neuroscience, behavioral intervention development, clinical trial methodology, and patient advocacy/art organization communities. The NIH planning committee will assess, evaluate, and identify the most feasible and relevant functional outcome measures in domains relevant to brain disorders of aging: cognition, emotion, and motor and sensory functions. This core dataset of outcome measures will be used in future NIH-funded music-based intervention protocols.
NIH Music and Health Meeting Series: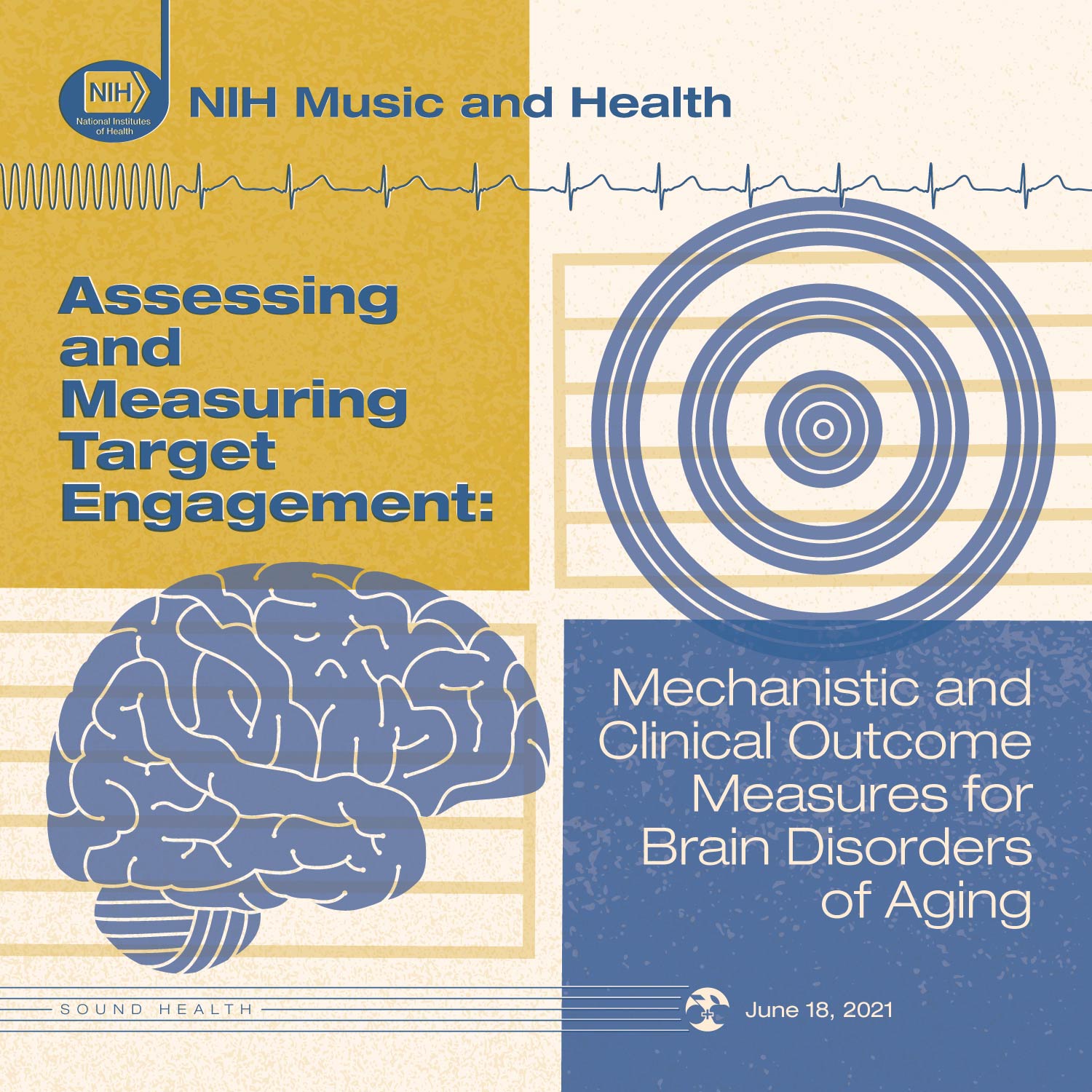 1:00–1:10 p.m. | Welcome
Francis S. Collins, M.D., Ph.D., Director, National Institutes of Health (NIH)
Renée Fleming, Renowned Soprano, Arts and Health Advocate
1:10–1:15 p.m. | Setting the Stage: Music-Based Interventions (MBIs) for Brain Disorders of Aging
Coryse St. Hillaire-Clarke, Ph.D., Program Director, Sensory and Motor Disorders of Aging Program, Division of Neuroscience, National Institute on Aging
1:15–1:40 p.m. | Measurement Advances: Implications for the Sound Health Initiative
William T. Riley, Ph.D., Director, Office of Behavioral and Social Sciences Research
Presentation (20 minutes)
Question and Answer Session (5 minutes)
1:40–1:50 p.m. | Charge to Panelists and Thematic Group Discussion Setup
Emmeline Edwards, Ph.D., Director, Division of Extramural Research, National Center for Complementary and Integrative Health
Alan Weil, J.D., M.P.P., Editor-in-Chief, Health Affairs
1:50–2:10 p.m. | Question 1: What are the important considerations for selecting mechanistic and clinical outcome measures for brain disorders of aging? When designing MBIs for brain disorders of aging, what are the most important functional domains to be considered (cognition, emotion, motor, sensory, interoception)?
2:10–2:30 p.m. | Question 2: What are the most useful mechanistic outcomes for Alzheimer's disease and Alzheimer's disease related dementias (AD/ADRD), Parkinson's disease (PD), and stroke that can be used to assess target engagement?
Functional imaging and functional connectivity outcomes
Electrophysiological outcomes
Social and behavioral outcomes
Cognitive and physiological outcomes
Linguistic responses/processes
Music-centered responses/processes
2:30–2:40 p.m. | Break
2:40–3:10 p.m. | Question 3: What are the advantages and disadvantages to be considered when prioritizing clinical outcome measures for AD/ADRD, PD, and stroke (e.g., objective, performance-based, patient-reported, functional)?
Prioritization based on the intervention
Primary vs. secondary outcome measures
Proximal vs. distal (i.e., short- and long-term) outcome measures
Engaging participants and caregivers
Remotely collected measures (i.e., ecological momentary assessment [EMA])
Linguistic outcomes
Music-centered outcomes
3:10–3:25 p.m. | Question 4: How valid and reliable are existing tools and resources (e.g., the Patient-Reported Outcomes Measurement Information System [PROMIS®], the NIH Toolbox®, Quality of Life in Neurological Disorders [Neuro-QoL™], Science of Behavior Change [SOBC]) for studying MBIs for brain disorders of aging? 
What new tools or resources are needed?
3:25–3:55 p.m. | Broad Question and Answer Session
Videocast audience and Zoom meeting participants
3:55–4:00 p.m. | Wrap-Up and Next Steps
Robert Finkelstein, Ph.D., Director, Division of Extramural Activities, National Institute of Neurological Disorders and Stroke
---
Individuals who need reasonable accommodation to participate should contact info@nccih.nih.gov or the Federal Relay, 1-800-877-8339, by Friday, June 11.