Addressing Big Data Challenges for Life Science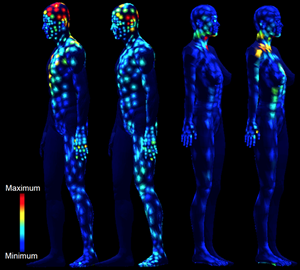 3D mapping of the chemistry and microbes on human skin. Credit:Theodore Alexandrov
As part of the NCCIH Integrative Medicine Research Lecture Series, we were pleased to host Pieter Dorrestein, Ph.D., this spring to deliver a lecture on "Social Networks For Molecular Analysis." Dr. Dorrestein is professor at the Skaggs School of Pharmacy and Pharmaceutical Sciences at the University of California at San Diego. We were very interested in learning more about the power of social tools to gather and make sense of big data for natural products research.
In this lecture, Dr. Dorrestein discussed strategies for organizing and visualizing vast amounts of information collected using mass spectrometry; a very powerful technique for the interrogation of microbiology at the molecular level. He also discussed a social networking tool his lab launched to annotate molecular information and how this tool, when jointly used by researchers in over 65 countries, could enhance understanding of molecular complexities for various molecular entities from different environments around the world. This information can lead to novel discoveries that could be applied to the understanding and treatment of illness and disease.
Following his lecture the NCCIH blog team interviewed Dr. Dorrestein:
Comments
Comments are now closed for this post.