Finding Funding for the Building Blocks of Natural Product Clinical Trials
Are you a researcher who's planning to submit an NIH application for natural products clinical research? Have you heard about NCCIH's new approach to funding clinical trial research?
NCCIH has developed a new series of funding opportunity announcements (FOAs) specifically for investigator-initiated clinical trials. They focus on natural product studies and mind and body intervention studies. In this blog post, I will explain how our FOAs will support researchers making discoveries in natural product clinical research.
It's important to know that we are no longer accepting most clinical trial applications through the Parent R01 FOA because we have developed more specific funding opportunities that will allow researchers to incorporate a larger amount of relevant information in their grant applications (see NOT-AT-17-006).
The development and testing of natural products requires multiple stages—and we're committed to providing funding opportunities for each stage. NCCIH has determined that clinical trials of natural products can be most informative when there is reproducible evidence that the product can have a measurable impact on a biological signature of the potential mechanism of action. There are funding opportunities to support early stage human research on natural products to demonstrate that the product can produce a reproducible impact on this biological signature. When enough preliminary data exists, researchers can use a different funding mechanism to support the conduct of a multisite efficacy trial.
Find the Right Funding to Obtain Preliminary Data
There are a number of "building blocks" or preliminary data needed to build a solid foundation for a large-scale efficacy study of a natural product (see figure below).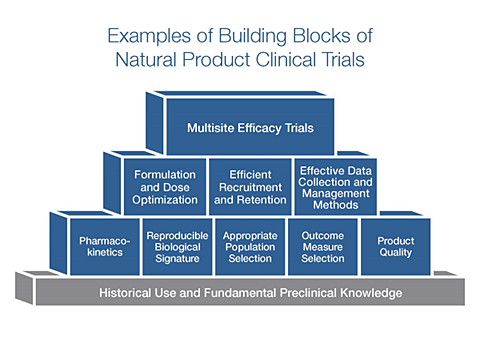 Pyramid—top row: Multisite Efficacy Trials; second row: Formulation and Dose Optimization, Efficient Recruitment and Retention, Effective Data Collection and Management Methods; third row: Pharmacokinetics, Reproducible Biological Signature, Appropriate Population Selection, Outcome Measure Selection, Product Quality; bottom row: Historical Use of Fundamental Preclinical Knowledge (this row block spans all above it)
In the past, it was often difficult for investigators to find research funding to establish these building blocks. Some examples of the building blocks needed for planning the design of an efficacy trial include:
Animal or in vivo establishment of mechanisms/biological effect (if available).
Pharmacokinetics of the product in the patient population to determine what frequency of dosing is needed (and possibly assess different formulations or delivery systems—e.g., enteric coating).
Pharmacodynamics—to establish that the product can produce a measurable (and ideally clinically meaningful) impact on a biological signature when given to humans.
Replication of the pharmacodynamics—to replicate impact of the product on the biological signature and ideally optimize the dose to have the largest impact on the biological signature without the production of frequent or severe adverse events.
Along the way, establishment of the feasibility of trial methods such as recruitment, retention, data collection, participant followup, and data management.
To learn more about how NCCIH funds clinical trials of natural products, visit the NCCIH Web site and register for this webinar:
New NCCIH Funding Opportunities for Natural Products Clinical Trials
Date: May 9, 2017 Time: 2 p.m. ET
You can register online.
Comments
Comments are now closed for this post.