Lifestyle Interventions May Limit Weight Gain During Pregnancy in Overweight or Obese Women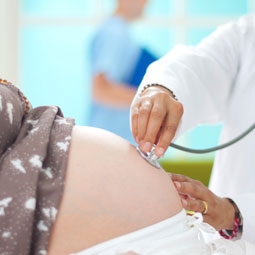 In a new study, behavioral lifestyle intervention programs that focused primarily on diet and physical activity limited weight gain during pregnancy in overweight or obese women. The study, called Lifestyle Interventions for Expectant Moms (LIFE-Moms), is a consortium of seven independent but collaborative clinical trials supported by the National Institutes of Health through the National Institute of Diabetes and Digestive and Kidney Diseases; the National Heart, Lung, and Blood Institute; the Eunice Kennedy Shriver National Institute of Child Health and Human Development; the National Center for Complementary and Integrative Health; and other Federal offices and agencies.
Researchers at seven clinical centers randomly assigned 1,150 overweight or obese pregnant women to participate in lifestyle intervention programs or receive standard care. Each center tested a different intervention, such as meal replacements, a modified Diabetes Prevention Program intervention, the Dietary Approaches to Stop Hypertension (DASH) diet, a smartphone-based intervention, or a parent-educator intervention, in racially and socioeconomically diverse populations.
The percentage of women who gained more than the recommended amount of weight was significantly lower in the lifestyle intervention group than the standard care group (61.8 percent versus 75.0 percent). There were no differences between the groups in pregnancy outcomes or infant birth weight. The researchers noted that there is a growing body of evidence reporting a lack of association between improved maternal weight gain with lifestyle interventions and reduced risk of adverse pregnancy outcomes, and that evaluating effects on the woman's body composition, as opposed to only measuring weight, might be more informative.
Publication Date: September 6, 2018