Acting Chairperson
LANGEVIN, Helene, M.D.
Director
National Center for Complementary and Integrative Health
National Institutes of Health
Bethesda, Maryland

Members
ANDERSON, Belinda, Ph.D., L.Ac. (07/21)
Director
Institute for Health and Wellness
Professor
School of Nursing and Health Studies
Monmouth University
West Long Branch, New Jersey
BRAVER, Todd, Ph.D. (07/23)
Full Professor
Department of Psychological and Brain Sciences
Washington University
St. Louis, Missouri
DEBAR, Lynn L., Ph.D., M.P.H. (07/20)
Senior Scientist
Kaiser Permanente Washington Health Research Institute
Seattle, Washington
DELITTO, Anthony, Ph.D., P.T., F.A.P.T.A. (07/23)
Professor and Dean
School of Health & Rehabilitation Sciences
University of Pittsburgh
Pittsburgh, Pennsylvania
EVANS, Roni, D.C., Ph.D. (07/22)
Associate Professor, Director
Integrative Health & Wellbeing Research Program
Earl E. Bakken Center for Spirituality & Healing
University of Minnesota
Minneapolis, Minnesota
FISHBEIN, Diana H., Ph.D. (07/22)
Professor
Department of Human Development and Family Studies
Director, Program for Translational Research on Adversity and Neurodevelopment
The Pennsylvania State University
University Park, Pennsylvania
GREENSPAN, Joel D., Ph.D. (07/20)
Professor and Chair
Department of Neural and Pain Sciences
University of Maryland School of Dentistry
Baltimore, Maryland
HARRIS, Richard E., Ph.D. (07/22)
Director of Neuroimaging
Associate Professor of Anesthesiology and Internal Medicine
University of Michigan
Ann Arbor, Michigan
HENSEL, Kendi, D.O., Ph.D., F.A.A.O. (07/22)
Associate Professor
Department of Osteopathic Manipulative Medicine
Texas College of Osteopathic Medicine
University of North Texas Health Science Center
Fort Worth, Texas
HERMAN, Patricia M., N.D., Ph.D. (01/20)
Senior Behavioral Scientist
RAND Health
RAND Corporation
Santa Monica, California
HUIZENGA, Tammy Born, D.O. (07/22)
Chief Medical Officer
Born Clinic
Grand Rapids, Michigan
KING, Jean A., Ph.D. (07/20)
Dean, Arts & Sciences
Professor of Psychiatry, Radiology and Neurology
Worcester Polytechnic Institute
Worcester, Massachusetts
MACMILLAN, John, Ph.D. (07/21)
Professor
Department of Chemistry and Biochemistry
University of California, Santa Cruz
Santa Cruz, California
MEHLING, Wolf, M.D. (07/23)
Professor
Clinical Family & Community Medicine
School of Medicine
University of California, San Francisco
San Francisco, California
SHINTO, Lynne, N.D., M.P.H. (07/23)
Professor
Neurology and Ob-Gyn/Center for Women's Health
Oregon Health and Science University
Portland, Oregon
SONNENBURG, Justin L., Ph.D. (07/22)
Associate Professor
Department of Microbiology and Immunology
Stanford University School of Medicine
Stanford, California
TIMMERMANN, Barbara, Ph.D. (07/21)
Distinguished Professor
Department of Medicinal Chemistry
School of Pharmacy
University of Kansas
Lawrence, Kansas
YEH, Gloria, M.D., M.P.H. (07/21)
Associate Professor of Medicine
Harvard Medical School
Boston, Massachusetts
Ex Officio Members
COLLINS, Francis, M.D., Ph.D.
Director
National Institutes of Health
Bethesda, Maryland
AZAR, Alex
Secretary
U.S. Department of Health and Human Services
Washington, District of Columbia
SCHOOMAKER, Eric B., M.D., Ph.D., F.A.C.P.
Lieutenant General, U.S. Army (Ret)
Professor and Vice Chair of Centers and Programs
Department of Military Emergency Medicine
Uniformed Services University of the Health Sciences
Bethesda, Maryland
Executive Secretary
KHALSA, Partap, D.C., Ph.D., D.A.B.C.O.
Director
Division of Extramural Activities
National Center for Complementary and Integrative Health
National Institutes of Health
Bethesda, Maryland

---
Unless otherwise noted, terms end on July 31 of the year posted next to the member's name.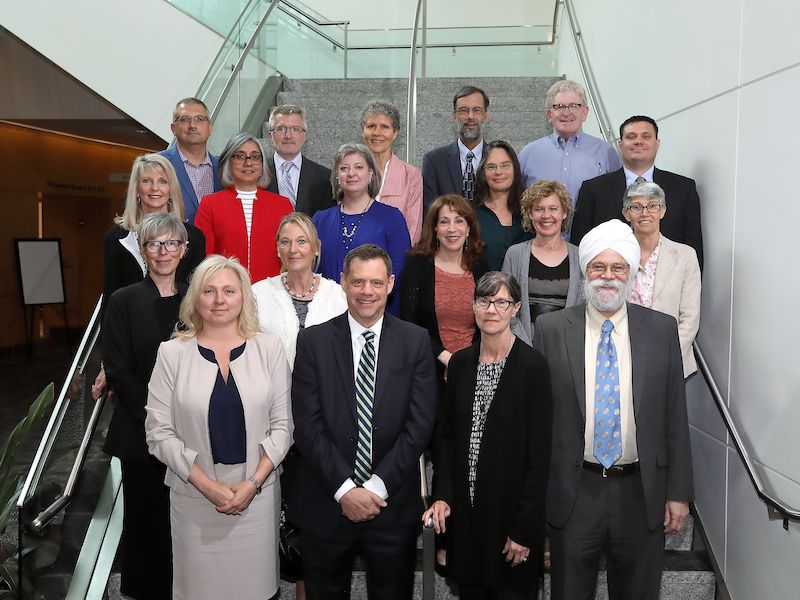 The National Advisory Council for Complementary and Integrative Health (NACCIH) met on September 20, 2019.

Last row (top of steps): Steven George, Richard Harris, Patricia Herman, Joel Greenspan, Eric Schoomaker

Middle row Tammy Born- Huizenga, Susmita Kashikar-Zuck, Kendi Hensel, Cynthia Price, John MacMillan

Roni Evans, Barbara Timmermann, Diana Fishbein, Lynn DeBar, Belinda Anderson

Front Row: Ginger Betson, David Shurtleff, Helene Langevin, Partap Khalsa
Members
NACCIH consists of 18 members, including the Chair, appointed by the Secretary of the Department of Health and Human Services.