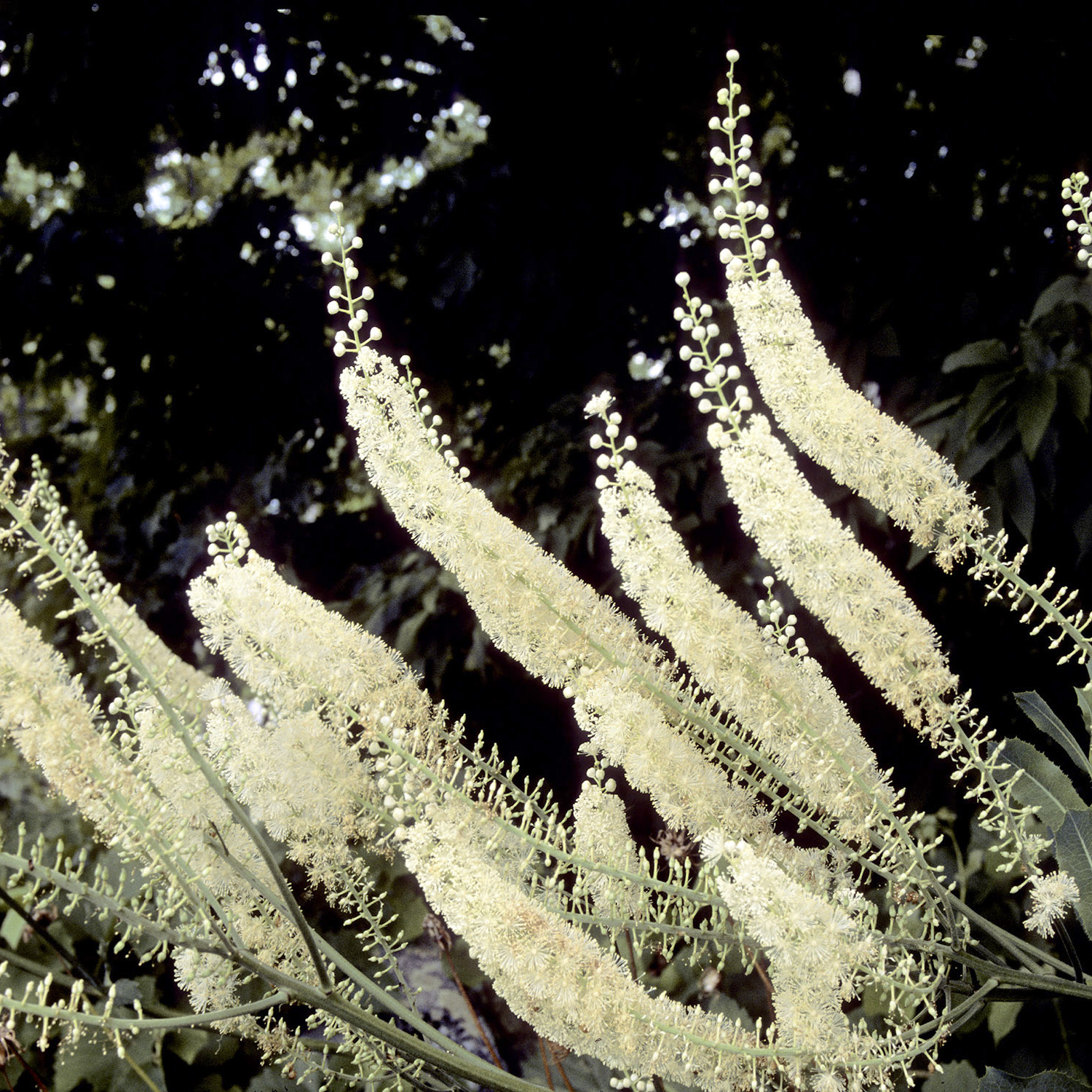 Common Names: black cohosh, black snakeroot, macrotys, bugbane, bugwort, rattleroot, rattleweed
Latin Names: Actaea racemosa, Cimicifuga racemosa
Black cohosh, a member of the buttercup family, is a plant native to North America. Native American and Chinese herbalists have traditionally used black cohosh for a variety of ailments and as an insect repellent.
Currently, people use black cohosh as a dietary supplement for hot flashes and other menopausal symptoms. It's also been used as a dietary supplement for other conditions, including menstrual cramps and premenstrual syndrome, and to induce labor.
The part of the black cohosh plant used in herbal preparations is the root or rhizome (underground stem). Black cohosh is sold as the dried root, in tablets and capsules, and as an extract.
Black cohosh has been studied for menopause symptoms in people, but most of the studies were not of the highest quality. Therefore, knowledge of the effects of black cohosh is limited.
Studies that tested black cohosh for menopause symptoms have had inconsistent results. The overall evidence is insufficient to support using black cohosh for this purpose.
There are not enough reliable data to show whether black cohosh is effective for other uses.
The National Center for Complementary and Integrative Health (NCCIH) is funding research to identify active components in black cohosh and understand their effects in the body.
What Do We Know About Safety?
In clinical trials, people have taken black cohosh for as long as 12 months with no serious harmful effects. The only reported side effects were minor problems such as upset stomach or rashes.
Some commercial black cohosh products have been found to contain the wrong herb or to contain mixtures of black cohosh and other herbs that are not listed on the label.
Cases of liver damage—some of them very serious—have been reported in people taking commercial black cohosh products. These problems are rare, and it is uncertain whether black cohosh was responsible for them. Nevertheless, people with liver disorders should consult a health care provider before taking black cohosh products, and anyone who develops symptoms of liver trouble, such as abdominal pain, dark urine, or jaundice, while taking black cohosh should stop using it and consult a health care provider.
The risk of interactions between black cohosh and medicines appears to be small. NCCIH is funding research to learn more about possible interactions involving black cohosh.
It's not clear if black cohosh is safe for women who have had hormone-sensitive conditions such as breast cancer or for pregnant women or nursing mothers.
Black cohosh should not be confused with blue cohosh (Caulophyllum thalictroides), which has different effects and may not be safe. Black cohosh has sometimes been used with blue cohosh to stimulate labor, but this use was linked to severe adverse effects in at least one newborn.
Tell all your health care providers about any complementary or integrative health approaches you use. Give them a full picture of what you do to manage your health. This will help ensure coordinated and safe care.
NCCIH Clearinghouse
The NCCIH Clearinghouse provides information on NCCIH and complementary and integrative health approaches, including publications and searches of Federal databases of scientific and medical literature. The Clearinghouse does not provide medical advice, treatment recommendations, or referrals to practitioners.
Toll-free in the U.S.: 1-888-644-6226
tty (for deaf and hard-of-hearing callers):
1-866-464-3615
Website: https://nccih.nih.gov/
Email: info@nccih.nih.gov (link sends e-mail)
Office of Dietary Supplements (ODS), National Institutes of Health (NIH)
ODS seeks to strengthen knowledge and understanding of dietary supplements by evaluating scientific information, supporting research, sharing research results, and educating the public. Its resources include publications (such as Dietary Supplements: What You Need to Know), fact sheets on a variety of specific supplement ingredients and products (such as vitamin D and multivitamin/mineral supplements), and the PubMed Dietary Supplement Subset.
Website: https://ods.od.nih.gov/
Email: ods@nih.gov (link sends e-mail)
Black cohosh. Natural Medicines Web site. Accessed at naturalmedicines.therapeuticresearch.com/ on March 31, 2015. [Database subscription].
Borrelli F, Ernst E. Black cohosh (Cimicifuga racemosa): a systematic review of adverse events. American Journal of Obstetrics and Gynecology. 2008;199(5):455-466.
Fabricant DS, Krause EC, Farnsworth NR. Black cohosh. In: Coates PM, Betz JM, Blackman MR, et al., eds. Encyclopedia of Dietary Supplements. 2nd ed. New York, NY: Informa Healthcare; 2010:60-74.
Gurley BJ, Fifer EK, Gardner Z. Pharmacokinetic herb-drug interactions (part 2): drug interactions involving popular botanical dietary supplements and their clinical relevance. Planta Medica. 2012;78(13):1490-1514.
Jiang B, Kronenberg F, Nuntanakorn P, et al. Evaluation of the botanical authenticity and phytochemical profile of black cohosh products by high-performance liquid chromatography with selected ion monitoring liquid chromatography-mass spectrometry. Journal of Agricultural and Food Chemistry. 2006;54(9):3242-3253.
Leach MJ, Moore V. Black cohosh (Cimicifuga spp.) for menopausal symptoms. Cochrane Database of Systematic Reviews. 2012;(9):CD007244. Accessed at https://www.cochranelibrary.com/ on April 1, 2015.
Office of Dietary Supplements. Dietary Supplement Fact Sheet: Black Cohosh. Office of Dietary Supplements Web site. Accessed at http://ods.od.nih.gov/factsheets/BlackCohosh-HealthProfessional/ on April 1, 2015.
Painter D, Perwaiz S, Murty M. Black cohosh products and liver toxicity: update. Canadian Adverse Reaction Newsletter. 2010;20(1):1-2.
Sarma ND, Giancaspro GI, Griffiths J, et al. Black cohosh…more data, please! Menopause. 2011;18(4):350-351.
This publication is not copyrighted and is in the public domain. Duplication is encouraged.
NCCIH has provided this material for your information. It is not intended to substitute for the medical expertise and advice of your health care provider(s). We encourage you to discuss any decisions about treatment or care with your health care provider. The mention of any product, service, or therapy is not an endorsement by NCCIH.
Last Updated: September 2016