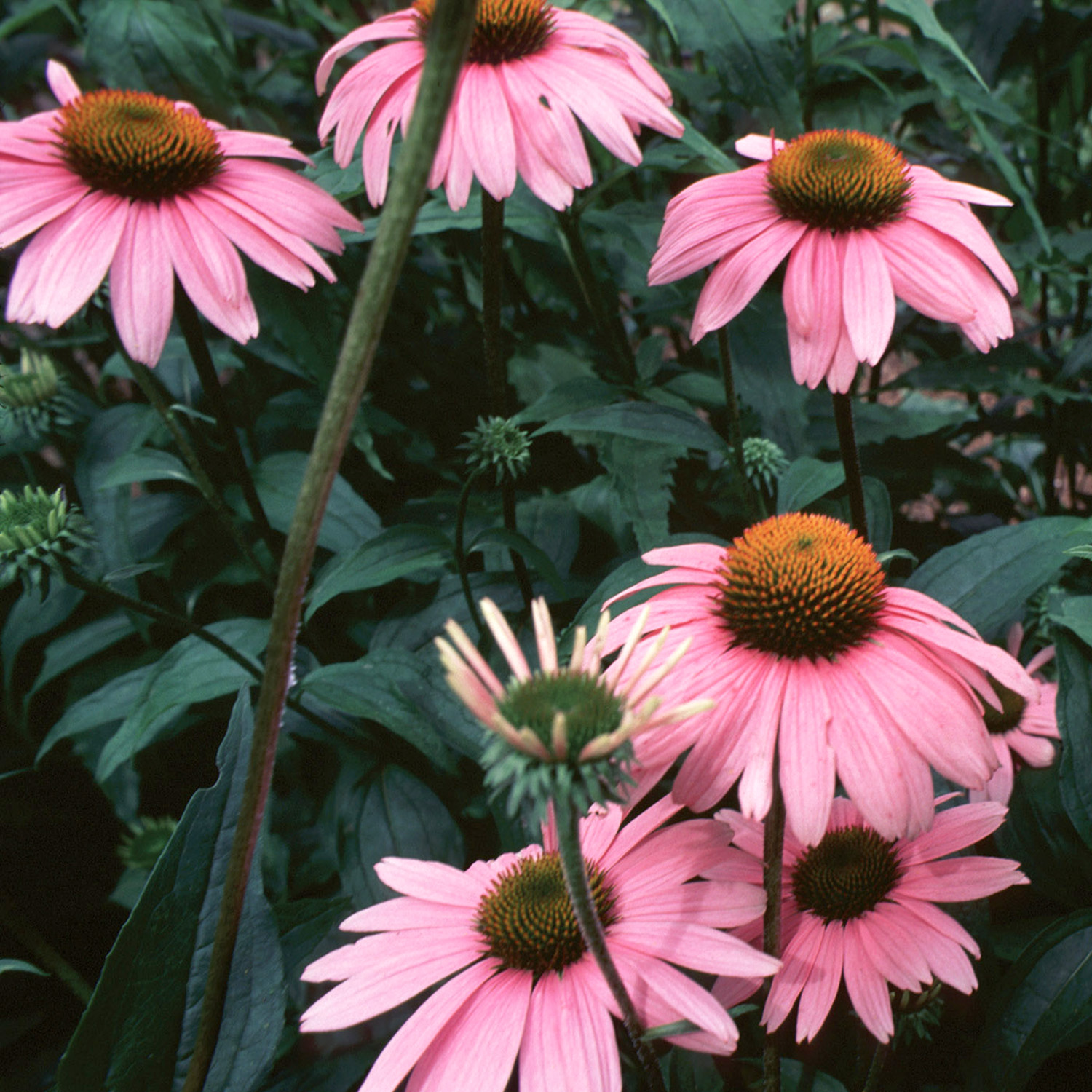 Common Names: echinacea, purple coneflower, coneflower, American coneflower
Latin Names: Echinacea purpurea, Echinacea angustifolia, Echinacea pallida
There are nine known species of echinacea, all of which are native to North America. They were used by Native Americans of the Great Plains region as traditional medicines.
Echinacea is used as a dietary supplement for the common cold and other infections, based on the idea that it might stimulate the immune system to more effectively fight infection. Echinacea preparations have been used topically (applied to the skin) for wounds and skin problems.
The roots and above-ground parts of the echinacea plant are used fresh or dried to make teas, squeezed (expressed) juice, extracts, capsules and tablets, and preparations for external use. Several species of echinacea, most commonly Echinacea purpurea or Echinacea angustifolia, may be included in dietary supplements.
Many studies have been done on echinacea and the common cold. Much less research has been done on the use of echinacea for other health purposes.
Taking echinacea after you catch a cold has not been shown to shorten the time that you'll be sick.
Taking echinacea while you're well may slightly reduce your chances of catching a cold. However, the evidence on this point isn't completely certain. Currently, the National Center for Complementary and Integrative Health (NCCIH) is funding research to identify the active constituents in echinacea and to study the effects on the human immune system of substances in bacteria that live within echinacea plants.
What Do We Know About Safety?
There are many different echinacea products. They may contain different species of plants or different parts of the plant, be manufactured in different ways, and have other ingredients in addition to echinacea. Most of these products have not been tested in people.
For most people, short-term oral (by mouth) use of echinacea is probably safe; the safety of long-term use is uncertain.
The most common side effects of echinacea are digestive tract symptoms, such as nausea or stomach pain.
Some people have allergic reactions to echinacea, which may be severe. Some children participating in a clinical trial of echinacea developed rashes, which may have been caused by an allergic reaction. People with atopy (a genetic tendency toward allergic reactions) may be more likely to have an allergic reaction when taking echinacea.
Current evidence indicates that the risk of interactions between echinacea supplements and most medications is low.
Tell all your health care providers about any complementary or integrative health approaches you use. Give them a full picture of what you do to manage your health. This will help ensure coordinated and safe care.
NCCIH Clearinghouse
The NCCIH Clearinghouse provides information on NCCIH and complementary and integrative health approaches, including publications and searches of Federal databases of scientific and medical literature. The Clearinghouse does not provide medical advice, treatment recommendations, or referrals to practitioners.
Toll-free in the U.S.: 1-888-644-6226
tty (for deaf and hard-of-hearing callers):
1-866-464-3615
Website: https://nccih.nih.gov/
Email: info@nccih.nih.gov (link sends e-mail)
Office of Dietary Supplements (ODS), National Institutes of Health (NIH)
ODS seeks to strengthen knowledge and understanding of dietary supplements by evaluating scientific information, supporting research, sharing research results, and educating the public. Its resources include publications (such as Dietary Supplements: What You Need to Know), fact sheets on a variety of specific supplement ingredients and products (such as vitamin D and multivitamin/mineral supplements), and the PubMed Dietary Supplement Subset.
Website: https://ods.od.nih.gov/
Email: ods@nih.gov (link sends e-mail)
Barrett B, Brown R, Rakel D, et al. Echinacea for treating the common cold: a randomized trial. Annals of Internal Medicine. 2010;153(12):769-777.
Bauer R, Woelkart K. Echinacea species. In: Coates PM, Betz JM, Blackman MR, et al., eds. Encyclopedia of Dietary Supplements. 2nd ed. New York, NY: Informa Healthcare; 2010:226-234.
Echinacea. In: Blumenthal M, Goldberg A, Brinckmann J, eds. Herbal Medicine: Expanded Commission E Monographs. Newton, MA: Integrative Medicine Communications; 2000:88-102.
Echinacea. Natural Medicines Web site. Accessed at naturalmedicines.therapeuticresearch.com on April 3, 2015. [Database subscription].
Gurley BJ, Fifer EK, Gardner Z. Pharmacokinetic herb-drug interactions (part 2): drug interactions involving popular botanical dietary supplements and their clinical relevance. Planta Medica. 2012;78(13):1490-1514.
Karsch-Völk M, Barrett B, Kiefer D, et al. Echinacea for preventing and treating the common cold. Cochrane Database of Systematic Reviews. 2014;(2):CD000530. Accessed at https://www.cochranelibrary.com on April 6, 2015.
Karsch-Völk M, Barrett B, Linde K. Echinacea for preventing and treating the common cold. JAMA. 2015;313(6):618-619.
Taylor JA, Weber W, Standish L, et al. Efficacy and safety of echinacea in treating upper respiratory tract infections in children: a randomized controlled trial. JAMA. 2003;290(21):2824-2830.
This publication is not copyrighted and is in the public domain. Duplication is encouraged.
NCCIH has provided this material for your information. It is not intended to substitute for the medical expertise and advice of your health care provider(s). We encourage you to discuss any decisions about treatment or care with your health care provider. The mention of any product, service, or therapy is not an endorsement by NCCIH.
Last Updated: September 2016